Pitt Engineer Addresses Aneurysms, Mentors Students
By B. Denise Hawkins
Issue Date:
December 15, 2016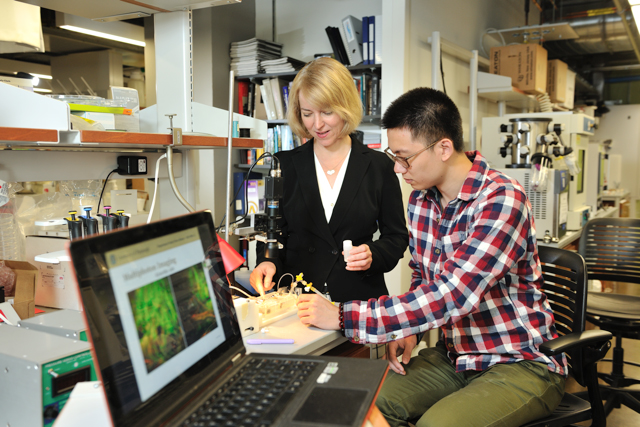 Robertson (left) with doctoral student Fangzhou Cheng.
When she was a senior in high school, Anne M. Robertson had to complete a form indicating the career she wanted to pursue. Engineering was listed among the choices, but Robertson didn't know what it was.
"I asked the guy sitting next to me what he chose. He told me engineering because he was good in math. Then, I thought, 'What?' I was doing better than him in math. So I wrote down engineering, too," Robertson says with a laugh. She never looked back.
Today, Robertson is Pitt's William Kepler Whiteford Endowed Professor in Engineering in the Swanson School of Engineering and an internationally renowned researcher of biomedical materials. In late August, she added a new honor to her string of credentials: Robertson was appointed by the National Institutes of Health to the Neuroscience and Ophthalmic Imaging Technologies Study Section at the Center for Scientific Review. During her four-year term as a reviewer, Robertson will evaluate federal grant applications and make recommendations that guide funding decisions by the NIH.
At Pitt, Robertson marries engineering and theoretical work with her longtime interest in biology. She currently leads a research team that investigates cerebral aneurysms in a pioneering project that looks at how artery walls can be repaired. Aneurysms are enlargements or weak points in the blood vessels. If one of these points in the brain bursts, blood rushes out, which puts pressure on the brain and is fatal in nearly 50 percent of cases.
Robertson's team, which includes researchers at the University of Illinois at Chicago, Kuopio University in Finland, and Pittsburgh's Allegheny General Hospital, as well as engineers from George Mason University and Pitt's Center for Biological Imaging director Simon Watkins, wants to create drug therapies for aneurysms and create tools to better identify which aneurysms are likely to rupture and can be treated before they burst.
To do so, Robertson was recently awarded a five-year, $2.95 million NIH grant to advance her work. In a related study published as a cover story in December's Annals of Biomedical Engineering, her team outlined an imaging technique that creates a 3-D image of a vessel and its aneurysm to help assess the risk of rupture. The team modeled the vessels and the flowing blood inside and mapped this data to biological images inside the aneurysm. This technique could help surgeons decide whether to attempt the difficult procedure to address the aneurysm.
Last year, INSIGHT Into Diversity magazine named her one of their 100 Inspiring Women in STEM (science, technology, engineering, and math) whose work and achievements encourage others and inspire a new generation of young women to consider careers in those fields. Robertson has also been recognized for her mentoring at Pitt.
As the first woman hired into a tenure-track position in Swanson's Department of Mechanical Engineering, Robertson is sensitive to and plays a key role in mentoring the next generation of female students and her junior colleagues. At Pitt, where about 25 percent of engineering students are female, Robertson knows that making a difference in the lives of female students and emerging professionals "is not always about the big things we do. The small things matter, too."
"It's people looking you in the eye and taking you seriously, or offering a word of encouragement at the right moment," Robertson says. She cited an example from her time as a graduate student at UC Berkeley, when she took encouragement from a poster that a male professor put up on his door. It showed a "young girl fixing a bike and saying to her mother that she wants to be just like her — an engineer."
Even today, says Robertson, "some people aren't as comfortable with a woman leading as you would think."
She notes that "Pitt offers an excellent environment for a woman who wants to lead." After Robertson developed a program in her department to enhance the success rate of tenure-track faculty, Gerald Holder, Swanson's engineering dean, invited her to extend the program across the school as founding director of the new Center for Faculty Excellence. Robertson's aim is to create an environment for junior faculty to do their best work and her efforts have included establishing a mentoring program for more than 25 junior faculty that matches them with more than 65 senior faculty.
"It has been phenomenal to see the synergy arising from bringing established, successful colleagues together to mentor our talented junior faculty," says Robertson.
Other Stories From This Issue
There are no stories for the issue at this time.
On the Freedom Road

Follow a group of Pitt students on the Returning to the Roots of Civil Rights bus tour, a nine-day, 2,300-mile journey crisscrossing five states.
Day 1: The Awakening
Day 2: Deep Impressions
Day 3: Music, Montgomery, and More
Day 4: Looking Back, Looking Forward
Day 5: Learning to Remember
Day 6: The Mountaintop
Day 7: Slavery and Beyond
Day 8: Lessons to Bring Home
Day 9: Final Lessons