Pitt Faculty and Alumnae Among New Pittsburgh Courier's 2013 Women of Excellence
By Anthony M. Moore
Issue Date:
July 2, 2013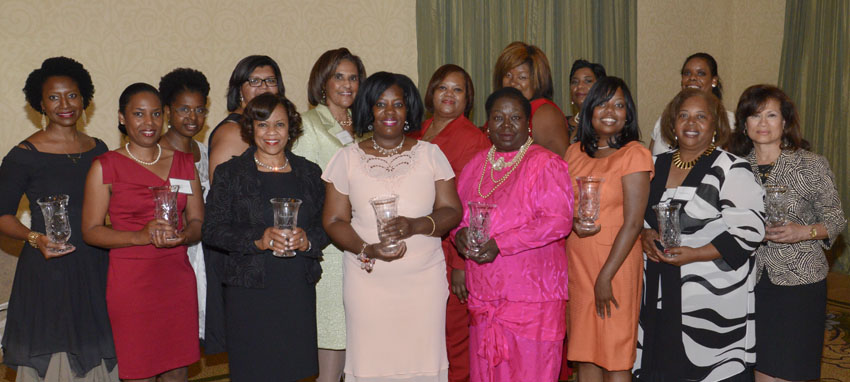 Two professors within the University of Pittsburgh's School of Medicine and 14 Pitt alumni have been named 2013 New Pittsburgh Courier Women of Excellence. The designation recognizes an individual's contributions to her profession as well as to the local community.
In front of more than 375 family, friends, and well-wishers, a total of 50 women received the honor during the Courier's June 20 Women of Excellence Awards Luncheon in the Omni William Penn Hotel, Downtown. Robert Hill, the recently retired Pitt vice chancellor for public affairs, served as the event's master of ceremonies.
The two Pitt faculty honorees were Charlotte Brown and Esa Matius Davis.
Charlotte Brown is a professor of psychiatry in the Pitt School of Medicine. Her research and clinical interests focus on the mental health of women, people from underrepresented populations, and other underserved populations. She is the president of the board of trustees of the Pittsburgh Child Guidance Foundation and has served on the boards of the Good Grief Center for Bereavement Support and Mental Health America. A native of New York, Brown earned a Master of Science degree at Howard University and a PhD degree at American University.
Esa Matius Davis is a professor of medicine in Pitt's School of Medicine. She is a practicing physician who is board certified in family medicine and a clinical researcher who focuses on obesity and cardiovascular diseases in women. A native of North Carolina, Davis earned a Bachelor of Science degree in biology from the University of North Carolina at Chapel Hill, a Master of Public Health degree from the Johns Hopkins University, and a Doctor of Medicine degree from the New Jersey Medical School.
The names and professional positions of the Pitt alumni named 2013 New Pittsburgh Courier Women of Excellence follow.
Francine Cameron (BUS '04G), president and CEO of Cameron Professional Services Group, LLC; Renee Smith Clark (A&S '71, GSPIA '74, EDUC '91G), dean of student development at the Community College of Allegheny County's (CCAC) South Campus; Lutitia A. Clipper (EDUC '08G), a manager of natural gas vehicles business development with the Peoples Natural Gas Company; Imogene Hines (A&S '72G), a CCAC professor of journalism; Monica Lamar (EDUC '01G), principal of Pittsburgh Dilworth PreK-5; Kilolo Luckett (A&S '98), director of development at the Andy Warhol Museum; Arnetta Kelly McCormick (A&S '91), director of corporate human resources for Giant Eagle, Inc.; Monique McIntosh (A&S '90), senior director of programs for the YWCA of Greater Pittsburgh; Donna Micheaux (EDUC '81G, '95G), assistant executive director of the Allegheny Intermediate Unit; Carol A. Neyland (A&S '75G, BUS '77G), vice president of community development at Dollar Bank; Staycee R. Pearl (A&S '09), a cofounding director of Pearl Arts Studios; Ebony Pugh (CGS '99), the public information officer for Pittsburgh Public Schools; Anita B. Walker (EDUC '83, 90G), an assistant principal at Allegheny K-8 School; and Erroline Williams (CGS '80, EDUC '07G), director of professional development and corporate outreach in Duquesne University's School of Leadership and Professional Advancement.
Other Stories From This Issue
There are no stories for the issue at this time.
On the Freedom Road

Follow a group of Pitt students on the Returning to the Roots of Civil Rights bus tour, a nine-day, 2,300-mile journey crisscrossing five states.
Day 1: The Awakening
Day 2: Deep Impressions
Day 3: Music, Montgomery, and More
Day 4: Looking Back, Looking Forward
Day 5: Learning to Remember
Day 6: The Mountaintop
Day 7: Slavery and Beyond
Day 8: Lessons to Bring Home
Day 9: Final Lessons