Pitt Forms New Center to Accelerate Global Research, Outreach Efforts on Healthy Aging
By Jim Swyers
Issue Date:
October 2, 2006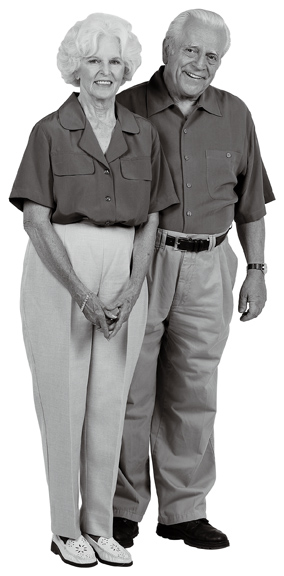 Internationally recognized researcher on aging Anne B. Newman to head new center in GSPH
Striving to apply recent scientific advances in understanding the determinants of healthy aging, Pitt's Graduate School of Public Health (GSPH) has announced the formation of a new Center for Aging and Population Health (CAPH), which will be led by Anne B. Newman, a GSPH professor of epidemiology and medicine.
Internationally renowned for her work in the epidemiology of aging, longevity, and disability, Newman has established that the potential for healthy aging far exceeds previous expectations.
"Previously, aging research focused on preventing advanced disability," Newman said. "However, we and others recently have found important medical, behavioral, and genetic determinants of healthy aging without major disability. Yet, the potential for substantially reducing disease and disability in our elderly population is far from being realized. By forming this center, our goal is to leverage what we know about successful aging and make it possible for a large segment of the U.S. and global population to reach that potential."
To accomplish this goal, CAPH will incorporate several entities within GSPH's Department of Epidemiology, including the Center for Healthy Aging, the Health Studies Office, and the Epidemiology of Aging training program.
The Center for Healthy Aging, which is funded by a grant from the U.S. Centers for Disease Control and Prevention, conducts health promotion and disease prevention activities targeted toward the older adult population. The Health Studies Office is a clinical research facility for conducting large epidemiological studies and clinical trials. It serves as the field laboratory for trainees in GSPH's Epidemiology of Aging program, which focuses on research to determine factors that cause disability and premature death in older adults and methods for preventing them.
According to Roberta Ness, professor and chair in the GSPH epidemiology department, the formation of CAPH allows for better collaboration among these entities. In addition, it gives departmental researchers on aging access to greater resources and collaborations both within the University and with researchers at other institutions, nationally and internationally.
"Establishing this center allows us to link population-based research with new techniques in genetics, imaging, and advanced laboratory diagnostics available here at Pitt and at other institutions," said Ness. "In addition, CAPH will allow the Department of Epidemiology to expand its current research programs on aspects of healthy aging and the genetics of longevity and exceptional survival as well as investigations into the determinants of aging in the brain and cardiovascular system."
To extend its global reach, CAPH plans to collaborate with research institutions in Asia, Latin America, and the Caribbean, which are the world's fastest-aging regions; recent projections estimate that the percentage of elderly living in these developing regions of the world will double in the next 20 to 30 years. Without adequate preparation, less developed countries—which already have overburdened health-care systems and few social safety nets—will have difficulty meeting the health-care needs of their growing elderly populations. Therefore, they need better resources and information on how to help people age successfully.
"Our country has had a long time to learn how to deal with its aging population. However, this phenomenon is just beginning in many developing countries and at a much faster rate. Given what we have learned, we have the opportunity to help them prepare for how to deal with this problem," said Donald S. Burke, GSPH dean, Pitt's vice chancellor for global health, and the UPMC-Jonas Salk Professor of Global Health.
One of CAPH's first initiatives will be to hold an international, invitation-only symposium on the topic of successful aging. According to Newman, the primary goal of the symposium will be to gather new knowledge from current national and international population studies on aging.
"We plan to invite aging researchers from around the world to assess both where we are and where we need to go," she said. "Ultimately, we hope this conference will set forth new research goals for learning how to deal with the global aging issue."
Other Stories From This Issue
There are no stories for the issue at this time.
On the Freedom Road

Follow a group of Pitt students on the Returning to the Roots of Civil Rights bus tour, a nine-day, 2,300-mile journey crisscrossing five states.
Day 1: The Awakening
Day 2: Deep Impressions
Day 3: Music, Montgomery, and More
Day 4: Looking Back, Looking Forward
Day 5: Learning to Remember
Day 6: The Mountaintop
Day 7: Slavery and Beyond
Day 8: Lessons to Bring Home
Day 9: Final Lessons