Pitt-Greensburg Installs Sharon P. Smith as President
By Wendy Mackall
Issue Date:
April 7, 2008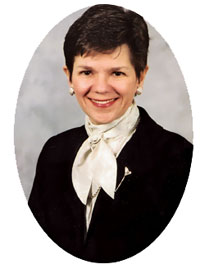 The University of Pittsburgh at Greensburg's mission should be to open new windows that allow students to explore opportunities and meet challenges, Pitt-Greensburg President Sharon P. Smith said at her installation ceremony April 2.
"Education enables each person to realize the opportunities available in a free society, and, at the same time, it helps to sustain the institutions that promote those freedoms," Smith said during her inaugural address in Ferguson Theater. "What kind of people do we want our students to become in the 21st century? I believe we want our students to be able to discern value in both the experiences of the past and the prospects in the present. We want them prepared to face the challenges of the future, equipped with the skills they will need to embrace the opportunities that await them."
Smith, who began her position at Pitt-Greensburg on July 7, 2007, has significant expertise in higher-education administration and economics. She previously had served as vice chancellor for academic affairs, provost, and vice president for academic affairs at National University and the National University System. At Fordham University, Smith served as professor of management systems and dean of the Colleges of Business and business faculty. She is Pitt-Greensburg's fourth president, and her installation comes as the University prepares to celebrate its 45th year.
"President Sharon Smith, you already are an accomplished leader," Pitt Chancellor Mark A. Nordenberg said during the installation ceremony. "Today, we welcome you to your new leadership role, the most important you have held in your distinguished career, and we look forward to years of continued high achievement under your committed leadership."
Other top Pitt officials attending the ceremony were Provost and Senior Vice Chancellor James V. Maher; Vice Provost for Academic Planning and Resources Management Robert F. Pack; G. Reynolds "Renny" Clark, vice chancellor for community initiatives and chief of staff, Office of the Chancellor; B. Jean Ferketish, secretary of the University's Board of Trustees and assistant chancellor; Albert J. Novak Jr., vice chancellor for Institutional Advancement; and William Trueheart and E. Jeanne Gleason, both Pitt Board of Trustees members.
A native of New Jersey, Smith received her A.B. degree, summa cum laude, in 1970; master's degree in 1972; and doctoral degree in 1974, all in economics from Rutgers University. She received a distinguished alumni award from Rutgers in 1998.
At Princeton University, Smith was a Visiting Senior Research Economist in the Department of Economics and associate director of the Project on Faculty Retirement. Outside of academia, Smith was a senior economist with the Federal Reserve Bank of New York. She is the coauthor of Finding the Best Business School for You: Looking Past the Rankings (Praeger Publishers, 2006) and Faculty Retirement in the Arts and Sciences (Princeton University Press, 1991).
In her inaugural address, Smith said higher education has three important responsibilities: investing in people, enriching lives, and informing citizens. Pitt-Greensburg meets those responsibilities by drawing on the resources of one of the world's great research universities while, at the same time, remaining small enough to give students unique opportunities.
"In meeting (the) challenges for the 21st century," Smith said, "Pitt-Greensburg has special strengths. It is a place where students are known and nurtured as individuals by their faculty. Students can open new windows and explore the panoramas they offer with the encouragement and support of faculty and staff. This environment can be transformational in its impact on everyone's lives—especially the students, but also the faculty and, indeed, all members of the University community."
Smith described a world where the pace of acquiring knowledge is accelerating and where success is linked to one's own skills. "This suggests a society dedicated to the idea of continuous learning and ready to reinvent itself to keep pace with change," she said. "Education is more important than ever before to equip people for increasingly complex jobs at the beginning of their careers, but it is equally important to facilitate their lifelong learning as they maintain their employability."
As an institution committed to providing a liberal arts education, Smith said, Pitt-Greensburg also enriches the lives of its students by exposing them to "the breadth and depth of subjects—from archaeology to philosophy, from art to physics, from literature to mathematics-—that expand their understanding of the world around them and awaken their imagination to what it might be."
As a liberal arts college, Smith said, Pitt-Greensburg is uniquely suited to provide just the sort of education that an ever-changing world requires. She quoted former Princeton University President Harold Shapiro, who said that "the philosophy of a liberal arts education presumes learning experiences that enable citizens to understand their interrelated social, moral, and professional responsibilities. ... A liberal education is directly connected to the nature of the society we wish to sustain. ... It is not simply what we teach, or even what our students learn, but what kind of persons they become that really matters."
Founded in 1963 as a two-year institution in downtown Greensburg, Pitt-Greensburg now offers to some 1,700 students 20 degree programs and 19 minors, in addition to numerous pre-professional programs. The campus' commitment to the academic experience of the student is evident in the 12 UPG faculty members who have received the Chancellor's Award for Distinguished Teaching.
Other Stories From This Issue
There are no stories for the issue at this time.
On the Freedom Road

Follow a group of Pitt students on the Returning to the Roots of Civil Rights bus tour, a nine-day, 2,300-mile journey crisscrossing five states.
Day 1: The Awakening
Day 2: Deep Impressions
Day 3: Music, Montgomery, and More
Day 4: Looking Back, Looking Forward
Day 5: Learning to Remember
Day 6: The Mountaintop
Day 7: Slavery and Beyond
Day 8: Lessons to Bring Home
Day 9: Final Lessons