Pitt Has Impressive History in Graduate Research
By James V. Maher, Provost and Senior Vice Chancellor
Issue Date:
December 10, 2007
This is the launch of a yearlong series about the University of Pittsburgh's programs in graduate and professional education.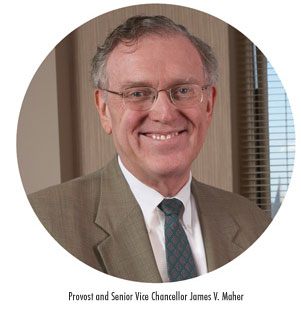 As one of the nation's best public research universities, the University of Pittsburgh takes very seriously its mission to offer educational programs that will prepare the leadership for a broad range of the nation's institutions and for the practice of its professions, to provide high-quality undergraduate programs and to run research programs that will drive the development of human understanding and the economy.
In all of these endeavors, graduate—and graduate-level professional—education plays a very important role. The complexity of graduate education makes it difficult to talk about this critical endeavor in easy sound bites. Through this opening article and through subsequent articles in this series on Graduate and Professional Education at the University of Pittsburgh, I hope that the richness and value of those programs become apparent.
Advanced education at Pitt is designed to provide innovators for all fields. In science, engineering, and technology, we seek to drive the deepening of our understanding of nature along with the growth and competitiveness of our economy. Enhanced creativity in the social sciences and humanities lays the foundation for greater understanding across cultural, economic, and political boundaries. Leadership in business, health sciences, public affairs, law, and government—along with leadership in academia —strengthens the institutional framework of both private and public sectors of our country and our world.
Graduate and Professional Education at Pitt
Looking more closely at how that advanced education is carried out here, we see that, like many of the country's very best public research universities, only a little more than half of the degrees granted from Pitt are at the undergraduate level. Graduate and professional programs here produce 42 percent of all Pitt degrees. We are consistently one of the top 25 producers of doctoral degrees among public universities in the United States and in the top 30 among both public and private universities. This is an expensive form of education for the University, but it is an expense we embrace because of our understanding of our mission and the value of graduate education.
The students in our graduate programs are educated by faculty in 14 schools of the University, with the largest number of those students in the School of Arts and Sciences. As is true of most of the best graduate and professional programs in this country, admissions, curriculum, and other programmatic decisions are determined by the faculty of the graduate programs themselves. That lack of a centralized structure means that our graduate education can be both highly specialized and multidimensional, always directed at the perceived needs of the discipline or profession.
Describing such a multidimensional enterprise in sweeping terms is a challenge. Future stories in this series will delve into specifics of some interesting examples of graduate education programs. For now, while acknowledging the inherent fallibility of any imposed taxonomy for categorizing graduate education, let me propose two very broad groupings to describe the numerous specific programs in which students at the University pursue graduate education:
Master's and professional education
PhD education
Through master's and professional education, we develop highly skilled professionals operating at the frontiers of that profession's practice.
Throughout Pennsylvania, alumni of Pitt's master's and professional education programs serve as doctors, corporate leaders, lawyers, engineers, librarians and information science specialists, teachers, pharmacists, social workers, occupational therapists….. The list goes on and on. We meet the region's, the country's, and the world's needs through these specifically designed programs. Two of the three Pitt alumni honored as Nobel Laureates received their advanced degrees in these programs: Philip Showalter Hench, who won the Nobel Prize in Medicine in 1950, earned his Doctor of Medicine degree at our School of Medicine; and Wangari Matthai, who won the Nobel Peace Prize in 2004, earned her Master of Science in biological sciences in the School of Arts and Sciences.
Our third Nobel Laureate, Paul Lauterbur, earned his PhD in chemistry, again in the School of Arts and Sciences. Through the PhD, the Doctor of Philosophy degree, we educate people who are expected to extend human knowledge. This mission is slightly different from the mission of graduate professional education, for with the PhD we prepare people to meet needs that we may not yet be aware of. This is truly education for a future world. With PhD education, we prepare research scientists and engineers, world-class scholars, and those researchers and scholars who often go on to become the faculty of colleges and universities. Our tradition of strong disciplinary programs develops graduates who are professors around the country or who are leading researchers at industrial laboratories and government laboratories or who contribute in many ways to the development of human understanding of the fields they've chosen.
This University, one of the country's leaders in research, must also be a leader in producing the most highly qualified graduates to work in these research disciplines in the future. In the overall approach to graduate education at Pitt, we recognized that our PhD students, who are earning that very advanced degree by working in a pioneering area of the field with faculty here, are working at the intersection of older questions that may have come from different fields in those strong disciplinary programs.
And so we have, in the last 10 years, instituted a number of interdisciplinary degrees at the graduate level to link important activities in various schools. For example, in the biological sciences there is no longer the separation that once existed between the biology PhD programs in the Arts and Sciences and the biologically-oriented PhD programs in the health sciences. Instead there are now campuswide PhD programs in biological specialties that are sciences in themselves:
Molecular Biophysics and Structural Biology: Arts and Sciences/School of Medicine
Integrative Molecular Biology: Arts and Sciences/School of Medicine
Computational Biology: Arts and Sciences/School of Medicine
Neuroscience: Arts and Sciences/School of Medicine
Bioengineering: Engineering/School of Medicine.
The Students
The quality of students admitted to our graduate and professional programs continues to improve. This is somewhat harder to capture quantitatively at the graduate level compared with the undergraduate level because we don't have access to across-the-board standard measures, like the SATs and class rank, for graduate students nationally. But a survey of entrance exam scores of students admitted into key programs indicates a steady increase in quality in the past 10 years, enhancing what was already a very good standard.
Not only do very many good students want to come here to the University and pursue a degree, but we are consistently in the top 25 public universities in doctorates awarded, according to The Center for Measuring University Performance. That's a very effective measure of how many of the good young people in the country who want an advanced degree are choosing the University of Pittsburgh because of its eminence—and because of how well we are doing in educating and mentoring them to graduation.
Measuring Success
On the whole, then, we have very competitive raw material to work with as we develop graduate programs: strong students and exceptional faculty. We match that raw material with significant University investments. And so how do we know if the investments are worth it? What are we—and by 'we' I'm referring not so much even to the University as to our broader communities —getting in return?
First of all, as noted earlier, we are producing students with degrees demonstrating advanced skills. The largest proportion of our graduate and professional students graduate with master's degrees (67 percent in 2007), and many of those students with advanced degrees are settling across Pennsylvania, providing exactly the kind of professional needs the Commonwealth demands for growth and development. In addition to our master's-level graduates, graduates of our professional programs that are not called master's degree programs (such as those in law, medicine, and pharmacy, among others) have a strong impact on the region's health and infrastructure.
A majority of our PhD graduates go on to become faculty and researchers. Some who graduate and move directly into postdoctoral positions will move into faculty positions, while others will move on to industry or corporate positions. In addition to working in research and academia, graduates of Pitt's PhD programs become business and civic leaders, corporate and nonprofit CEOs, and assume other positions of leadership.
Our collection of placement data at the graduate level is a work in progress, but the picture that emerges is one of which to be very proud.
For instance, five members of Harvard's faculty are recent graduates of Pitt's graduate programs in Arts and Sciences. Three of these faculty members graduated with PhDs in philosophy.
And if we look not just at recent graduate and professional alumni, but those who have had more time to make an impact, we note the Nobel Prize winners mentioned earlier, U.S. Congress members, a governor, scholars, and researchers who have received the highest acclaim in their fields by being elected to the Academies, and faculty who are awarded named professorships or who have served as college deans or presidents. For example:
General Roscoe Robinson Jr., who earned his master's degree in international affairs at GSPIA, was the first African American to achieve the rank of 4-star general in the U.S. Army.
John A. Swanson, who received his PhD from Pitt's School of Engineering, is an acclaimed inventor, the founder of ANSYS, Inc., and a philanthropist. His $41.3 million of support to the University's School of Engineering, announced last week, is the largest individual contribution made in the history of Pitt.
Sung-Hou Kim, a prominent graduate of our Department of Chemistry in Arts and Sciences, heads the structural biology group at the University of California, Berkeley, and led the team that mapped the protein universe.
Herb Boyer, of our biological sciences department in the Arts and Sciences, is the founder of Genentech.
Graduates of our law school have been in very prominent government positions: U.S. Senator Orin Hatch; former Congresswoman Melissa Hart; Allegheny County Chief Executive Dan Onorato; Pennsylvania Chief Justice Ralph Cappy; former Speaker of the House K. Leroy Irvis; and former Governor Dick Thornburgh, who also served as U.S. Attorney General.
These are just a few examples of leaders who received their graduate and professional education at the University of Pittsburgh. Many more examples can be seen by visiting the Legacy Gallery kiosks in the lobby of Alumni Hall.
The University's commitment to and success in graduate and professional education are worth celebrating. I hope that this brief overview of some of the factors underlying graduate education here helps to lay the groundwork for the more in-depth considerations you will read in the coming months regarding this very complex endeavor.
Other Stories From This Issue
There are no stories for the issue at this time.
On the Freedom Road

Follow a group of Pitt students on the Returning to the Roots of Civil Rights bus tour, a nine-day, 2,300-mile journey crisscrossing five states.
Day 1: The Awakening
Day 2: Deep Impressions
Day 3: Music, Montgomery, and More
Day 4: Looking Back, Looking Forward
Day 5: Learning to Remember
Day 6: The Mountaintop
Day 7: Slavery and Beyond
Day 8: Lessons to Bring Home
Day 9: Final Lessons