Pitt Hosts 50 Students From Around World For 5th Annual Hesselbein Global Academy
Issue Date:
July 22, 2013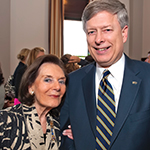 The University of Pittsburgh is hosting 50 student leaders from across the globe for the Fifth Annual Hesselbein Global Academy for Student Leadership and Civic Engagement Summit.
The summit, which opened July 20 in the William Pitt Union's Lower Lounge, will also include the annual Hesselbein Lecture at 5 p.m. July 22 in the O'Hara Student Center's second-floor ballroom. The keynote speaker will be Regina Herzlinger, who is the Nancy R. McPherson Business Professor of Business Administration at the Harvard Business School. Herzlinger was the first woman to be tenured and chaired at the Harvard Business School, and she is widely known for her innovative research in health care.
The annual by-invitation summit aims to nurture tomorrow's global leaders through a series of interactive workshops, the utilization of government and business leaders as mentors, and hands-on problem-solving sessions at local community agencies. The students and their mentors work together to develop personalized "Leadership Action Plans," and also attend "Dinner Dialogues" in the homes of civic and community leaders in Pittsburgh.
"It is truly an honor to be celebrating the fifth anniversary of the Hesselbein Summit," said Pitt Vice Provost and Dean of Students Kathy Humphrey. "Our entire University community is certainly enriched by hosting such a dynamic group of students and mentors from around the world. Moreover, the summit enables us as a University to advance our mission of cultivating conscientious and globally minded young leaders who will be more than capable of solving the problems of tomorrow."
Established in 2009, the Hesselbein Global Academy is named in honor of Pitt alumnus Frances Hesselbein, recipient of the 1998 Presidential Medal of Freedom and chair of the board of governors of the Leader to Leader Institute. Hesselbein is currently the president and CEO of The Frances Hesselbein Leadership Institute (formally The Peter F. Drucker Foundation for Nonprofit Management).
Fifty students from all over the world have convened for the summit, which provides a forum for student leaders to engage in an elevated level of leadership training by working closely with accomplished professionals during the four-day event that ends July 23. Among the countries represented by the Hesselbein delegates are Belgium, Brazil, Egypt, Iraq, Nigeria, Pakistan, Philippines, Rwanda, Sri Lanka, and Zimbabwe.
Five Pitt students—three from the Kenneth P. Dietrich School of Arts and Sciences, one from the College of Business Administration, and one from the Swanson School of Engineering—were chosen to participate in the summit: Mimi Frisch, a senior urban studies major; John Cordier, a senior biology and sociology major; Zachary Patton, a senior philosophy and communication major; Cathleen Bonge, a junior business major; and Joseph Andros, a senior engineering major.
Ten distinguished professionals will serve as mentors during the summit, including Pitt alumnus Anthony S. Fountain (A&S '70), senior vice president of business operations at URS Corporation in Oak Ridge, Tenn.; Maj. Gen. Randal D. Fullhart, Major General and director of Global Reach Programs for the U.S. Air Force in Arlington, Va.; Rick Gibbs, Brigadier General in the U.S. Army and adjunct professor, Pitt's School of Health and Rehabilitation Sciences; Carla Grantham, retired Lieutenant Commander in the U.S. Coast Guard and Congressional liaison for diversity recruiting and talent management in Washington, D.C.; Jessica G. Hartung, CEO and founder of Integrated Work Strategies, LLC in Boulder, Colo.; Toshiko Inoue, financial advisor at AXA Equitable in New York, N.Y.; Diane M. Ryan, Colonel, academy professor and program director, Behavioral Sciences and Leadership at the United States Military Academy in West Point, N.Y.; Christine Jack Toretti, chair and CEO of S.W. Jack Drilling Co. in Indiana, Pa.; Tamara Woodbury, CEO of the Girl Scouts/Arizona Cactus-Pine Council in Phoenix, Ariz.; and Todd Woodruff, Lieutenant Colonel, academy professor and director of Leadership and Management Studies at the United States Military Academy in West Point, N.Y.
Other Stories From This Issue
There are no stories for the issue at this time.
On the Freedom Road

Follow a group of Pitt students on the Returning to the Roots of Civil Rights bus tour, a nine-day, 2,300-mile journey crisscrossing five states.
Day 1: The Awakening
Day 2: Deep Impressions
Day 3: Music, Montgomery, and More
Day 4: Looking Back, Looking Forward
Day 5: Learning to Remember
Day 6: The Mountaintop
Day 7: Slavery and Beyond
Day 8: Lessons to Bring Home
Day 9: Final Lessons