Pitt to Induct Six Donors Into Cathedral Of Learning Society
Issue Date:
June 23, 2008
Passion for education define inductees, each of whom has given lifetime gifts totaling $1 million or more
The University of Pittsburgh will recognize the philanthropy of six donors who have contributed a lifetime total of $1 million or more each by inducting them into the Cathedral of Learning Society in a by-invitation-only ceremony June 27 in the Cathedral of Learning Commons Room.
"The Cathedral of Learning stands as a monument to our never-ending pursuit of even higher levels of achievement," said Pitt Chancellor Mark A. Nordenberg. "Through the Cathedral of Learning Society, we recognize those outstanding individuals who have energized many of our University's most important initiatives and have made it possible for us to achieve our towering ambitions. As we continue to press forward with programs of positive impact, we are deeply grateful to our most generous donors for their remarkable leadership support."
This year's Cathedral of Learning Society inductees are Bettye J. Bailey and Ralph E. Bailey; Tina B. Bellet and David F. Bellet; Marshall P. Katz and Wallis F. Katz; John C. and Darlene D. Mascaro; David Alan Tepper; and Dick and Ginny Thornburgh. Information about the honorees follows.
Bettye J. Bailey and Ralph E. Bailey
Bettye Bailey enrolled in the University of Pittsburgh as her husband, Ralph, was becoming a prominent leader in the American energy and financial sectors and her four children were beginning their own college careers. After years of balancing her life as mother, wife, and student, she received a Bachelor of Arts degree in social sciences from Pitt's College of General Studies in 1984.
Before then, Bettye studied at various schools as Ralph pursued a distinguished career that has included posts as chair of Consolidated Coal (now CONSOL Energy); chair and CEO of its parent company, Conoco, Inc; board vice-chair of E.I. DuPont deNemours and Company; founder of XPRONET, Inc., and United Meridian Corporation; and his current service as board chair of the American Bailey Corporation and executive chair of Fuel-Tech, Inc.
The Baileys' appreciation for the challenges faced by adult students inspired them to establish in 2005 the Bettye J. and Ralph E. Bailey Scholarship in Pitt's College of General Studies, a fund for nontraditional adult students who pursue an education while tending to family and work. In 2007, they endowed the deanship of Pitt's School of Arts and Sciences with a gift to be used as a discretionary fund to support the development and enhancement of programs throughout the school.
Tina B. Bellet and David F. Bellet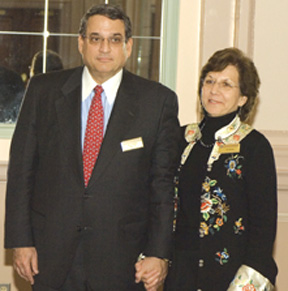 Good teachers not only educate, but also provide direction and inspiration to their students. For these reasons, David and Tina Bellet believe, educators should be rewarded and supported. In accordance with that credo, the Bellets have for a decade supported the Tina and David Bellet Arts and Sciences Excellence Awards, which recognize outstanding and innovative undergraduate teaching in Pitt's School of Arts and Sciences, the hallmark of their generous donations to the University.
Since 1998, 28 Pitt faculty members have received the Tina and David Bellet Arts and Sciences Teaching Excellence Award, an acknowledgement of their influence as educators, which also bestows a $5,000 prize. In April, the Bellets presented the University with a gift to permanently endow the award, which was previously funded on an annual basis.
The Bellets' appreciation stems from a lifelong involvement in teaching and success derived from quality education. David Bellet is the retired chair and founder of Crown Advisors, Ltd., a global investment firm. He earned his Bachelor of Arts degree in political science at Pitt in 1967 and his MBA at Columbia University. He is a member of the Pitt School of Arts and Sciences Board of Visitors, was selected for inclusion in the inaugural class of Pitt's Legacy Laureates in 2000, and was named a Pitt Distinguished Alumni Fellow in 2001. Bellet has been a guest lecturer at Stanford and Columbia universities.
Tina Bellet taught at the Fleming School in New York City and has been an active board member at other schools. She sits on the Lesley University Board of Trustees. She also is a trustee emeritus of the Horace Mann School, an independent, coeducational, pre-K-12 school in Riverdale, N.Y., where she continues to serve as a member of the Board of Trustees' education committee.
Marshall P. Katz and Wallis F. Katz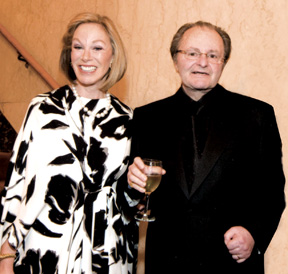 Marshall Katz and his wife Wallis have dutifully sustained the generosity to Pitt and Pittsburgh that was initiated by Marshall's late father, industrialist and entrepreneur Joseph M. Katz, who earned his bachelor's degree at Pitt's School of Arts and Sciences in 1935 and supported his alma mater throughout his life. In recognition of his philanthropy, the University dedicated and renamed its Graduate School of Business the Joseph M. Katz Graduate School of Business in 1987. The school is recognized as a national leader in business education and research.
The Katz family also has made gifts to Pitt's College of Business Administration, School of Medicine, University Center for International Studies, General University Fund, School of Arts and Sciences, and Department of Athletics. Marshall serves the University as a member of the Board of Visitors of the College of Business Administration and the Joseph M. Katz Graduate School of Business. Marshall and Wallis also are patrons of Pittsburgh-based arts organizations and other charitable entities.
Marshall has served as chair and CEO of the Papercraft Corporation in Blawnox, the company his father founded. Katz also is a recognized authority and collector of 19th-century Palissy Ware—ceramic, three-dimensional still-lifes—and maintains a Web site about the highly distinctive pottery of natural scenes. He has lent works from his collection to various museums throughout the world. He also has written three books, and numerous articles.
John C. and Darlene D. Mascaro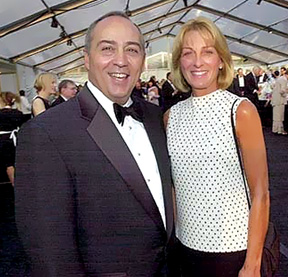 John Mascaro transformed his family's longtime business in the building trade into one of the largest general contracting, construction management, and architectural firms in Western Pennsylvania. But as founder and chair of Mascaro Construction, John Mascaro wanted to do more than construct buildings: He wanted to change the way in which buildings are constructed.
In league with his alma mater, the University of Pittsburgh, Mascaro created the Mascaro Center for Sustainable Innovation in the Swanson School of Engineering in 2003. Supported with a generous lead gift from Mascaro and his wife, Darlene, the center explores and develops techniques and products to reduce the footprint of the construction industry. Ideas generated in the center revolve around energy efficiency and conservation, materials reuse and recycling, and maximization of the lifespan of a structure and its components. The center also hosts a biennial sustainability conference that draws the leading researchers from around the world to Pittsburgh; the third of these conferences is scheduled for 2009.
Prior to the center's establishment, Mascaro supported the construction of the Swanson School's John C. Mascaro Learning Center, a state-of-the-art, interactive learning classroom built with "green construction" principles. In addition to providing other support to the Swanson School, he helped establish the Construction Management Program in Pitt's Department of Civil and Environmental Engineering.
Mascaro earned Bachelor of Science and Master of Science degrees in civil engineering at Pitt in 1966 and 1980, respectively. He also has made contributions to Pitt's Department of Athletics, School of Medicine, and Chancellor Mark A. Nordenberg University Chair. Mascaro is president of the Master Builders Association and chair of the school's Construction Management Industry Advisory Board. He was named a Distinguished Alumnus of the Department of Civil and Environmental Engineering in 1995.
David Alan Tepper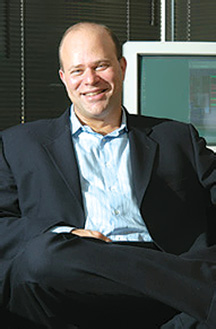 David Alan Tepper has enjoyed a highly successful career in the investment management field and has been recognized by the financial press as one of Wall Street's leading investors and one of the most successful hedge-fund managers in the nation. Tepper specializes in distressed debt and is the president of a $3 billion hedge-fund investment firm in Chatham, N.J., Appaloosa Management, which he founded in 1992.
Raised in Pittsburgh's Stanton Heights neighborhood, Tepper grew up just a few miles from Pitt, where, in 1978, he received a bachelor's degree in economics from the School of Arts and Sciences. During Tepper's time at Pitt, he was a member of Omicron Delta Kappa, the national leadership honor society that recognizes students for outstanding leadership and service in extracurricular activities. In 1982, Tepper received his MBA from Carnegie Mellon University's business school, since renamed the Tepper School of Business.
Tepper has demonstrated an exceptional commitment to the University through his gifts. He created the David A. Tepper Basketball Endowed Fund and generously supports programs that strengthen the community, such as the Graduate School of Public Health's Center for Healthy Environments and Communities, the Student Volunteer Outreach Program, and the America Reads programs. Tepper also contributed to the School of Arts and Sciences by establishing the David A. Tepper Endowed Undergraduate Scholarship Fund; the David A. Tepper Undergraduate Scholarship in the Department of Economics; and the David A. Tepper Endowed Fund, which supports academic centers of excellence in the Departments of Economics, History, and Philosophy.
Tepper serves on various boards and committees for charitable and community organizations in New York and New Jersey.
Dick and Ginny Thornburgh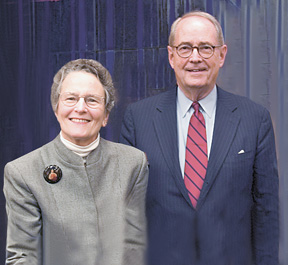 Dick Thornburgh has devoted his long career to public service as the U.S. Attorney for Western Pennsylvania, Governor of Pennsylvania, U.S. Attorney General, and the United Nations Under-Secretary-General for Administration and Management. A member of Pitt's Board of Trustees, Thornburgh received a Bachelor of Engineering degree from Yale University in 1954 and his law degree from Pitt's School of Law in 1957.
Ginny Thornburgh has been a tireless advocate for people with disabilities. As the vice president and founding director of the Religion and Disability Program of the National Organization on Disability (NOD), she has worked for the past 19 years to ensure that congregations of all faiths welcome children and adults with disabilities.
Ginny Thornburgh is also the coauthor and editor of NOD's award-winning publications That All May Worship (NOD, 1992) and From Barriers to Bridges (NOD, 2001) and editor of Loving Justice: The ADA and the Religious Community (NOD, 1995). In 2005, she was the recipient of the prestigious Hubert H. Humphrey Civil Rights Award—widely recognized as the highest honor bestowed on Civil Rights advocates.
In Dick Thornburgh's three years as attorney general in the cabinets of Presidents Ronald Reagan and George H. W. Bush, he mounted an unprecedented attack on white-collar crime and established strong ties with law enforcement officials around the world to help combat drug trafficking, money laundering, and other white-collar crimes. Thornburgh played a leading role in the enactment of the Americans with Disabilities Act and prosecuted racial, ethnic, and religious hate crimes.
In April 2007, at the dedication of the Dick Thornburgh Room in Pitt's Hillman Library, he established the Dick Thornburgh Forum in Law and Public Policy, which provides programs and activities based on Thornburgh's papers, contributions, and interests. Pitt's University Library System houses the Dick Thornburgh Archive Collection, a comprehensive set of documents, thousands of photographs, and many hours of audio and video that encompass Thornburgh's career. The collection includes family mementos, his law school textbooks, and a well-documented account of his experience as governor during the historic nuclear accident at the Three Mile Island Nuclear Generating Station in 1979.
Dick and Ginny Thornburgh were corecipients in 2003 of the Henry B. Betts Award presented by the American Association of Persons with Disabilities. With those proceeds, they established the Thornburgh Family Lecture Series on Disability Law and Policy at Pitt.
Pitt has honored Dick Thornburgh as the recipient of the Bicentennial Medal of Distinction, as a Legacy Laureate, and as a Distinguished Alumni Fellow.
Other Stories From This Issue
There are no stories for the issue at this time.
On the Freedom Road

Follow a group of Pitt students on the Returning to the Roots of Civil Rights bus tour, a nine-day, 2,300-mile journey crisscrossing five states.
Day 1: The Awakening
Day 2: Deep Impressions
Day 3: Music, Montgomery, and More
Day 4: Looking Back, Looking Forward
Day 5: Learning to Remember
Day 6: The Mountaintop
Day 7: Slavery and Beyond
Day 8: Lessons to Bring Home
Day 9: Final Lessons