Pitt Initiative Spurs Entrepreneurship In the Monongahela River Valley
By Anthony M. Moore
Issue Date:
August 18, 2014
The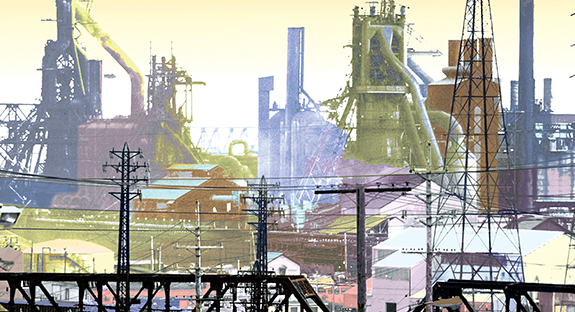 University of Pittsburgh has embarked on an initiative aimed at boosting entrepreneurial activity in Southwestern Pennsylvania's Monongahela River Valley. Through the initiative "Advancing Entrepreneurship in the Mon Valley Region," Pitt faculty and staff members have begun providing business consultation services to residents in the region interested in starting or expanding their own businesses. The project has received a two-year, $300,000 grant from the U.S. Department of Commerce's Economic Development Administration; Pitt has matched that funding, creating an initiative valued at $600,000.
The Mon Valley—a string of communities bordering the Monongahela River in Allegheny, Fayette, Washington, and Westmoreland Counties—has endured widespread economic distress since the decline of Southwestern Pennsylvania's steel industry in the 1980s. For more than 30 years, the region has consistently faced income disparities, significantly higher unemployment rates, and population declines disproportionate to national averages.
Initiative leaders view entrepreneurship efforts as a key means to drive the region's long-term economic recovery: "The mission of this initiative is to create a pathway for potential small business owners in the Mon Valley to open and develop profitable enterprises within their communities and link those enterprises to public and private partnerships throughout Southwestern Pennsylvania," said Sabina Deitrick, the initiative's principal investigator and director of Pitt's Urban and Regional Analysis Program within the University Center for Social and Urban Research.
A collaborative effort between Pitt's University Center for Social and Urban Research and its Institute for Entrepreneurial Excellence, the initiative utilizes existing resources within the institute to engage potential business owners with a variety of business consultation services. Services include one-on-one advising, business plan development, financial analysis, information technology, and regional market research, among others.
Pitt's consulting services will be provided during a series of interactive community workshops in various locations throughout the Mon Valley region. Throughout the project, the University Center for Social and Urban Research will evaluate the effectiveness of the institute's services. The center also will make recommendations for improving existing services and creating new ones.
"The Advancing Entrepreneurship in the Mon Valley Region Initiative takes business professionals from Pitt and places them within the Mon Valley community, where their experience and expertise can do good for the people of Southwestern Pennsylvania," said Rhonda Carson-Leach, director of Pitt's Urban Entrepreneurship Program within the Institute for Entrepreneurial Excellence. "This initiative is yet another example of the University of Pittsburgh reaching out and lending a helping hand to surrounding communities, being the best neighbor possible."
Other Stories From This Issue
There are no stories for the issue at this time.
On the Freedom Road

Follow a group of Pitt students on the Returning to the Roots of Civil Rights bus tour, a nine-day, 2,300-mile journey crisscrossing five states.
Day 1: The Awakening
Day 2: Deep Impressions
Day 3: Music, Montgomery, and More
Day 4: Looking Back, Looking Forward
Day 5: Learning to Remember
Day 6: The Mountaintop
Day 7: Slavery and Beyond
Day 8: Lessons to Bring Home
Day 9: Final Lessons