Pitt-Johnstown's Real World Action Program: Students Making a Difference
By Terrell Starr
Issue Date:
May 30, 2016
Vote in campus and general elections. Complete 20 hours of volunteer service each academic year. Do at least one internship or co-op. Get involved in campus and community activities.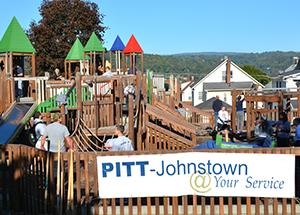 These are just some of the requirements of the Real World Action Program at the University of Pittsburgh at Johnstown. The program's goal is to expose students to out-of-classroom experiences and activities that will help make their college journey more meaningful. The program has brought national recognition to Pitt-Johnstown, most recently in 2014 when it was listed on the President's Higher Education Community Service Honor Roll. The Clinton Global Initiative has also recognized the program in 2009 for its "innovative" work in linking students to campus, community, and global engagement.
Administrators say the Real World Action Program seeks to engage students in both on- and off-campus "real world" situations to make them more marketable upon graduation. In that sense, it is similar to the Pittsburgh campus' Outside the Classroom Curriculum, a popular and nationally recognized program that encourages experiential learning such as unpaid internships, study abroad, and service learning. Research has found that these kinds of activities prepare students for graduate school and make them more competitive and better prepared to enter the workplace.
Begun in 2008, the Real World Action Program has been a key part of the college experience for many students. Take Gabrielle Morrison, for example, who hails from Kingston, Jamaica. A recent graduate who majored in political science and communication, Morrison says the program helped her to make new friends, become involved in the local community, and gain valuable professional and life skills.
Morrison began the program her freshman year, and the contacts she made led her to become a residence hall director as well as president of Pitt- Johnstown's Black Action Society. Both positions helped Morrison gain skills in fundraising, volunteer leadership, and team building. She used these skills in the community, too, doing local outreach in the nearby Moxham neighborhood, and volunteering with the Johnstown War Memorial and Johnstown's Women's Help Center.
"I developed a lot of leadership qualities," says Morrison, who worked in Pitt-Johnstown's Offices of Student Conduct and International Services before moving to Philadelphia, where she is currently a freshman admissions counselor at Drexel University. "I made a lot of connections. The program also helped me to create a support base. I was an international student, so all of the relationships that the Real World Action Program included helped me to develop a good base of friends."
This is exactly the program's intent: to stir civic enthusiasm among the student body and foster friendships among classmates who care about their communities.
Shawn Brooks, Pitt-Johnstown's vice president of student affairs, says students who complete the program are generally well-rounded professionals who have a competitive edge in the job market.
The program has five pillars:
• civic and citizenship engagement;
• career preparation, with internships playing a critical role;
• collegiate involvement;
• community engagement, which challenges students to assess how they have given back to their communities through volunteer work; and
• supporting students so they can participate in activities that will provide concrete evidence of their community impact on a micro or macro level.
"Our goal is to ensure that students graduate with the key attributes of leadership, involvement, service, and teamwork," Brooks says. Upon completion of the program, participants receive a co-curricular transcript, documenting their achievements, which helps students articulate their out-of-classroom experiences to employers and graduate schools.
Brooks adds that the Real World Action Program has been highly successful, with job and graduate school placement rates for participants that top 90 percent.
Pitt-Johnstown has established a partnership with the local community of Moxham, where the campus was once based from 1946 to 1967 and which is now struggling with urban blight. Since the fall of 2014, students have invested more than 3,000 hours resurrecting a playground in the Moxham community, in partnership with Moxham Renaissance, a community improvement group, and the Moxham Neighborhood Watch.
Pitt-Johnstown students have also helped to install security cameras throughout the Moxham neighborhood to help keep local streets safer. During the holidays, students have adopted other playgrounds to do a "light up night" for students and community members. Additionally, education students host movie-and-craft nights for elementary school students at Moxham's Park Avenue United Methodist Church and hold book drives as well.
All totaled, the campus' student community service hours topped 15,000 in 2015, Brooks says. "It is a testament to the desire of our students to be involved and to make a difference in their local and global communities," he adds.
Other Stories From This Issue
There are no stories for the issue at this time.
On the Freedom Road

Follow a group of Pitt students on the Returning to the Roots of Civil Rights bus tour, a nine-day, 2,300-mile journey crisscrossing five states.
Day 1: The Awakening
Day 2: Deep Impressions
Day 3: Music, Montgomery, and More
Day 4: Looking Back, Looking Forward
Day 5: Learning to Remember
Day 6: The Mountaintop
Day 7: Slavery and Beyond
Day 8: Lessons to Bring Home
Day 9: Final Lessons