Pitt Junior Eleanor Ott Named 2008 Truman Scholar
By Amanda Leff
Issue Date:
March 31, 2008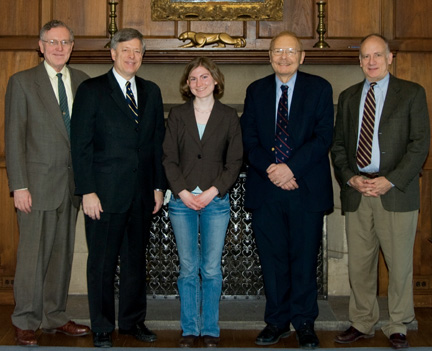 From left: Pitt Provost and Senior Vice Chancellor James V. Maher; Chancellor Mark A. Nordenberg; Truman Scholar Eleanor Ott; University Honors College Dean G. Alec Stewart; and Honors College Director of Programming Edward McCord
Pitt is Pennsylvania's only public university to win a Truman
University of Pittsburgh Honors College junior Eleanor Ott—a triple major in chemistry, history, and French—has been named a 2008 Harry S. Truman Scholarship winner for her superior academic and leadership abilities.
The scholarship was announced by former Secretary of State Madeleine K. Albright, president of The Harry S. Truman Scholarship Foundation. Pitt is the only public university in Pennsylvania with a 2008 Truman Scholar.
Ott, a Chancellor's Scholar and a Lawrence, Kan., native, is Pitt's 11th Truman winner. She is one of 65 students from 55 U.S. colleges and universities to have been chosen as a 2008 Truman Scholar. The recipients were selected from 595 candidates from 283 institutions across the country.
"The University of Pittsburgh is one of this country's most consistent producers of high-achieving students," said Pitt Chancellor Mark A. Nordenberg. "Ellie Ott's selection as a Truman Scholar extends that enviable record. She is a very worthy recipient of this high national honor, given her exemplary record as an outstanding student, a committed contributor to the broader community, and a highly effective leader. Her selection also is a tribute to our Honors College, which has helped create an institutional culture that inspires academic accomplishment and also encourages service to the greater good."
G. Alec Stewart, Pitt Honors College dean and Truman faculty representative, said, "Ellie represents a stunning combination of intellectual and leadership attainment. Anyone who knows Ellie would not be surprised that the Truman Foundation found this combination compelling.
"Ellie is a leader because she gets things done and finds the mechanism to ensure the future health and sustainability of an organization," said Stewart. "She is deliberate and determined, easily sacrificing personal recognition to get the job done. In this regard, she is not unlike the namesake of this scholarship."
At Pitt, Ott is a copresident and education chair for FORGEPitt (Facilitating Opportunities for Refugee Empowerment), a refugee advocacy organization that she helped found in 2005. In cooperation with this organization and Catholic Charities, Ott has been instrumental in assisting local refugees to obtain clothing and in starting a mentoring program to develop job skills, in which Pitt students work one-on-one with refugees.
In addition to pursuing work with refugees, Ott is dedicated to working with youth in local schools. She is an aide for the English as a Second Language class at Schenley High School and has mentored at-risk elementary and middle school students with the Beginning With Books and First Step After School programs.
Ott's long-term goals are to earn a master's degree in international affairs as well as a master's degree in public administration and work with Human Rights Watch, a nongovernmental organization dedicated to protecting all human rights. She aspires to one day be a United Nations Protection Officer in a refugee camp as an advocate for the refugees.
Congress established the Truman Scholarship in 1975 in memory of the 33rd U.S. president. It is a highly competitive, merit-based federal award to college juniors who wish to attend graduate or professional school in preparation for careers in government, the nonprofit sector, or elsewhere in public service. The scholarship, which can total up to $30,000, will benefit this year's 65 winners, who will pursue graduate studies in the United States or abroad in a wide variety of fields.
Award recipients also receive an all-expenses-paid trip to Truman Scholars Leadership Week May 13-18 at William Jewell College in Liberty, Mo., and the awards ceremony May 18 at the Harry S. Truman Library in Independence, Mo.
Other Stories From This Issue
There are no stories for the issue at this time.
On the Freedom Road

Follow a group of Pitt students on the Returning to the Roots of Civil Rights bus tour, a nine-day, 2,300-mile journey crisscrossing five states.
Day 1: The Awakening
Day 2: Deep Impressions
Day 3: Music, Montgomery, and More
Day 4: Looking Back, Looking Forward
Day 5: Learning to Remember
Day 6: The Mountaintop
Day 7: Slavery and Beyond
Day 8: Lessons to Bring Home
Day 9: Final Lessons