Pitt Lantern Night Set for Aug. 26
By Anthony M. Moore
Issue Date:
August 21, 2012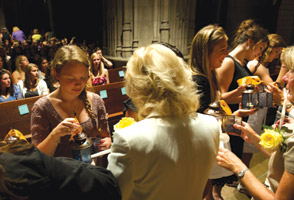 One of the oldest University of Pittsburgh traditions will continue on Aug. 26 as more than 400 incoming freshman and first-year transfer women participate in the 92nd annual Lantern Night Ceremony at 7:30 p.m. in Heinz Memorial Chapel.
The student participants will gather at 7 p.m. in the Cathedral of Learning Commons Room to receive a lantern and prepare for the 7:25 p.m. procession to the chapel.
With unlit lanterns, the women will process on the parallel sidewalks located between the cathedral's Bellefield Avenue entrance and the chapel to the 7:30 p.m. ceremony. During the ceremony, Pitt alumni "flame-bearers," including several mothers and grandmothers of incoming students, will bestow the symbolic "light of learning" by lighting the lanterns, which will remain lit for the remainder of the program. Carrying the burning lanterns, the new students will process back to the Cathedral of Learning's Commons Room for a reception.
Jane Bilewicz Allred (A&S '71), an independent marketing consultant and president of the University of Pittsburgh Alumni Association, will deliver the Lantern Night Address. Juliana Shayne (NURS '73), Lantern Night chair, will offer a greeting and the history of Lantern Night. Additional speakers were being confirmed at press time.
Following the remarks, Shayne will lead "flame-bearers" in lighting the lanterns.
A native of Carnegie, Pa., Allred has served as a director at large for the Board of Directors of the Pitt Alumni Association as well as on Pitt's Kenneth P. Dietrich School of Arts and Sciences Board of Visitors. She is a past Pitt Alumni Recruitment Team (PART) Volunteer and Arizona Pitt Club member.
Allred founded and served as president of Allred Marketing, Inc., a Phoenix-based business-to-business technology-marketing firm. She is an acknowledged authority on supply-chain logistics and emerging Radio Frequency Identification (RFID) technology. She produced the RFID Knowledge Center for the Material Handling Industry of America, gaining national recognition for her efforts. She also served as a senior vice president at Brighton Agency, Inc., where she was responsible for advanced technology business development, working primarily with Brighton's digital division to build lead-enabled client Web sites and advanced search-engine optimization and marketing programs.
While a student at Pitt, Allred was an active member of such notable organizations as the Kappa Kappa Gamma Sorority, Pitt's Panhellenic Association, and the Freshman Council. She also served on the staff of Polaris, an annual Pitt-published handbook for incoming freshman students. Allred earned a Bachelor of Arts degree in Creative Writing at Pitt and received a master's degree from Kent State University.





Other Stories From This Issue
There are no stories for the issue at this time.
On the Freedom Road

Follow a group of Pitt students on the Returning to the Roots of Civil Rights bus tour, a nine-day, 2,300-mile journey crisscrossing five states.
Day 1: The Awakening
Day 2: Deep Impressions
Day 3: Music, Montgomery, and More
Day 4: Looking Back, Looking Forward
Day 5: Learning to Remember
Day 6: The Mountaintop
Day 7: Slavery and Beyond
Day 8: Lessons to Bring Home
Day 9: Final Lessons