Pitt to Launch Annual United Way Campaign
By Laura Clark
Issue Date:
October 6, 2014
Who will help those in need in Allegheny County?
The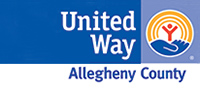 University of Pittsburgh is counting on Pitt faculty and staff, once again, to "Be the Answer" to that question during the University's annual United Way of Allegheny County fundraising campaign, which begins Oct. 8 and runs through Nov. 7.
This fall's campaign marks the 18th year of Pitt's participation in raising money for the United Way of Allegheny County, which funds community initiatives that support local families, children, seniors, and the unemployed. Organizers hope 2014 will mark the fifth consecutive year that the University community breaks its own fundraising record. Last year's efforts raised $665,001 in pledges from 2,505 Pitt employees, topping 2012's contributions by more than $44,000.
"Each year, we try harder to raise the bar a little bit," says Anne Franks, Pitt's United Way campaign manager and executive director of administration for Pitt's Office of Institutional Advancement.
A large team of Pitt people is committed to ensuring that Pitt outdoes itself each year. Many of those volunteers attended the University's Sept. 24 annual United Way Thank You Luncheon in Alumni Hall's Connolly Ballroom.
Patrick Gallagher told luncheon attendees that while he is new to his role as Pitt chancellor, he has been a longtime participant in the United Way's fundraising partnership with the federal government. (Prior to becoming Pitt's chancellor on Aug. 1, Gallagher served as acting deputy secretary of the U.S. Department of Commerce and director of the National Institute of Standards and Technology in Washington, D.C.)
He saluted Pitt for being honored in June with a Best of the Best Award from the United Way of Allegheny County for its 2013 campaign. "How do we build a campaign to be the best of the best? There is a momentum that matters and a platform of generosity that matters. Your enthusiasm, generosity, and passion will create that momentum [this year]. You will be the answer," Gallagher told the luncheon participants.
This year's campaign cochairs are G. Reynolds Clark, chief of staff to Chancellor Gallagher and vice chancellor for external relations, and David Eibling, a professor and vice chair for education, Department of Otolaryngology, and assistant chief of surgery, VA Pittsburgh. They will supervise a steering committee of 16 Pitt faculty and staff members who represent numerous departments across the University. In addition, there are about 400 fundraising coordinators and representatives spread across the campus.
"One of the things that Pitt is committed to is being a really strong community partner; that's part of our culture," says Franks. "The United Way campaign enables us to help the people in our community directly—we can reach out to some of our neighbors who live right in the shadow of the University."
Community Human Services, a nonprofit that runs the Oakland Community Food Pantry on Lawn Street, is one of many local organizations that benefit directly from Pitt's campaign. The food pantry, which helps to feed individuals and families in south Oakland, also provides a nurse-based community health clinic onsite.
"What we get back from giving," says Franks, "is a stronger community. I don't know what could be better."
Faculty and staff can make donations to the United Way by logging on through my.pitt.edu and clicking the United Way donation button. Contributions may also be made by check or payroll deduction (a minimum of $2 a month is required).
Other Stories From This Issue
There are no stories for the issue at this time.
On the Freedom Road

Follow a group of Pitt students on the Returning to the Roots of Civil Rights bus tour, a nine-day, 2,300-mile journey crisscrossing five states.
Day 1: The Awakening
Day 2: Deep Impressions
Day 3: Music, Montgomery, and More
Day 4: Looking Back, Looking Forward
Day 5: Learning to Remember
Day 6: The Mountaintop
Day 7: Slavery and Beyond
Day 8: Lessons to Bring Home
Day 9: Final Lessons