Pitt Launches 2013 United Way Campaign
By Cara Masset
Issue Date:
October 7, 2013
Pitt's United Way fundraising campaign has kicked off, and organizers are aiming to break the previous year's giving record—for the fourth consecutive year. The University's annual campaign has been steadily raising higher amounts of donations for the United Way of Allegheny County, which supports critical community initiatives and partners with charities and nonprofit organizations across the county.
Pitt's campaign, which this year will run through Nov. 1, has been one of the most successful workplace campaigns in Allegheny County. In 2012, the University broke its United Way giving record for the third consecutive year, raising $626,729. This year's push marks Pitt's 17th year of participation in the United Way campaign, which is the University's most comprehensive fundraising effort.
Campaign cochairs are G. Reynolds Clark,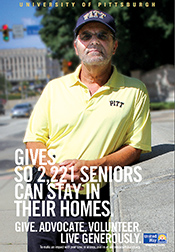 Pitt's vice chancellor for community initiatives and chief of staff for Chancellor Mark A. Nordenberg, and Loren H. Roth, associate senior vice chancellor for clinic policy and planning in the Schools of the Health Sciences, Distinguished Service Professor of Psychiatry in the School of Medicine, and professor of health policy and management in the Graduate School of Public Health. Together, they oversee a steering committee comprising 14 other participants who represent a wide range of departments within the University.
"Our annual Pitt United Way campaign provides an excellent way for each of us to provide much needed support to many of those in the neighborhoods close to campus as well as in our home communities," said Clark. "Pitt has an enviable record of solid support of the United Way. In fact, since 1995, the members of Pitt's Oakland campus family have contributed a cumulative total of $10.3 million to the United Way."
"For the interested donor, the return on investment is tremendous," said Roth. "The United Way does a spectacular job of growing and maintaining the safety net for persons in need in our community. We are very proud of Pitt's record with respect to past United Way participation and hope to do even better this year at a time of great community and personal need. We thank all donors."
Faculty and staff can make a contribution to the United Way online by logging on through my.pitt.edu and clicking the United Way donation button. Contributions may also be made by check or payroll deduction. A minimum of $2 per month is required for payroll deduction. Many departments sponsor special events throughout the campaign to raise money for United Way; these activities include raffles, flea markets, recycling programs for electronics, and snack carts.
Anne Franks, Pitt's United Way campaign manager and executive director of administration in Pitt's Office of Institutional Advancement, is marking her ninth year of volunteering for the campaign. "The United Way message for this year's campaign is 'Live Generously,' and I am confident that once again the Pitt community will do exactly that," she said. "We will give, advocate, and volunteer for the people in our region who need our help."
Pitt's 2012 United Way campaign raised $626,729 through 2,384 gifts from University employees and 131 gifts from retirees and departmental gifts. In 2011, the campaign raised $617,161, surpassing 2010's fundraising efforts by more than $7,000. The 2010 campaign raised $610,609, surpassing that year's goal by more than $9,000.
Other Stories From This Issue
There are no stories for the issue at this time.
On the Freedom Road

Follow a group of Pitt students on the Returning to the Roots of Civil Rights bus tour, a nine-day, 2,300-mile journey crisscrossing five states.
Day 1: The Awakening
Day 2: Deep Impressions
Day 3: Music, Montgomery, and More
Day 4: Looking Back, Looking Forward
Day 5: Learning to Remember
Day 6: The Mountaintop
Day 7: Slavery and Beyond
Day 8: Lessons to Bring Home
Day 9: Final Lessons