Pitt Law School Celebrates Creation of Health Law Discipline With Oct. 11 Symposium
By Diane Hernon Chavis
Issue Date:
October 8, 2012
What began at the University of Pittsburgh more than a half century ago as a two-year study on the laws governing the operation of hospitals gave rise to the emergence of a distinct body of law known as health law.
"There At the Creation: Nathan Hershey, the History of Health Law, and Health Care Reform," a one-day symposium presented by the University of Pittsburgh School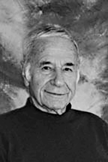 of Law, will honor Pitt Professor Emeritus of Health Law Nathan Hershey and others by recalling the history and exploring the future of health law and health care reform. The program, which is free and open to the public, will take place from 9 a.m. to 5 p.m. Oct. 11 in the Barco Law Building's Teplitz Memorial Courtroom.
Hershey joined Pitt as a research associate in 1956 and played an integral role in the Graduate School of Public Health's Health Law Center project that wrote the first
compendium of all state laws pertaining to hospitals. Under the leadership of John Horty, the center's inaugural director, the scope of the project expanded to include computerization of the health law statutes of all 50 states. Horty and Hershey both served as adjunct professors at Pitt's law school. Today, Horty is widely credited with creating the first full-text legal information retrieval system.
"This symposium celebrates Pitt as the birthplace of health law, defined as the bodies of law that regulate the nation's largest industry—health care," said symposium convener Alan Meisel, Dickie, McCamey & Chilcote Professor of Bioethics and professor of law and psychiatry at Pitt. Meisel is the founder and director of Pitt's Center for Bioethics and Health Law and the law school's Health Law Certificate Program.
The share of the economy devoted to health care has increased dramatically in the past half century—from 5.2 percent in 1960 to 16.2 percent in 2008, according to the U.S. Department of Commerce's Bureau of Economic Analysis. Health spending accounted for 17.9 percent of Gross Domestic Product (GDP) in 2010 and is predicted to increase to more than 19 percent of GDP by 2019. Whether the framework of laws underlying the nation's health care industry contributes to the rise in health care spending remains an open question.
The symposium's featured presenters will be Mark Hall, Fred D. & Elizabeth L. Turnage Professor of Law at Wake Forest University School of Law; Wendy Mariner, professor of law and Edward R. Utley Professor of Health Law, Bioethics, and Human Rights at Boston University School of Public Health; and Pitt alumnus Peter D. Jacobson (LAW '70), professor of health law and policy and director of the Center for Law, Ethics, and Health at the University of Michigan School of Public Health.
Everette James, professor of health policy and management in Pitt's Graduate School of Public Health, will moderate a panel of Pitt alumni who will discuss the future
of health care reform: Thomas E. Boyle (LAW '77), a shareholder with the Pittsburgh law office of Buchanan Ingersoll & Rooney; Linda Haddad (LAW '76), a senior partner in the Pittsburgh law firm of Horty, Springer & Mattern; George Huber (ENGR '65), ?professor of public health practice and associate dean for public policy in Pitt's Graduate School of Public Health and Of Counsel to Pitt's Office of General Counsel; and Deborah J. Robinson (LAW '80), who heads the Health Care Law Group at the Pittsburgh law office of Houston Harbaugh.
Pitt Law School Celebrates Creation of Health Law Discipline With Oct. 11 Symposium A complete schedule of the symposium is available via www.law.pitt.edu/events or by contacting Alan Meisel at meisel@pitt.edu. To register, visit www.law.pitt.edu/hershey/registration. The symposium has been approved by the Pennsylvania Continuing Legal Education Board for 5 hours of substantive credits, for which there is a $50 fee. Checks may be made payable to the University of Pittsburgh School of Law.
Other Stories From This Issue
There are no stories for the issue at this time.
On the Freedom Road

Follow a group of Pitt students on the Returning to the Roots of Civil Rights bus tour, a nine-day, 2,300-mile journey crisscrossing five states.
Day 1: The Awakening
Day 2: Deep Impressions
Day 3: Music, Montgomery, and More
Day 4: Looking Back, Looking Forward
Day 5: Learning to Remember
Day 6: The Mountaintop
Day 7: Slavery and Beyond
Day 8: Lessons to Bring Home
Day 9: Final Lessons