Pitt Law School to Sponsor Sept. 12 Lecture by David A. Harris, Author of Failed Evidence: Why Law Enforcement Resists Science
By Diane Hernon Chavis
Issue Date:
September 10, 2012
University of Pittsburgh School of Law Professor and Associate Dean for Research David A. Harris will discuss his latest book, Failed Evidence: Why Law Enforcement Resists Science (NYU Press, 2012), at 5 p.m. Sept. 12 in the Barco Law Building, Room 109, 3900 Forbes Ave., Oakland. Joining Harris will be Allegheny County District Attorney Stephen A. Zappala, Jr. and Allegheny County Medical Examiner Karl Williams, who will offer critique and commentary. The event is free and open to the pubic.
According to Harris, "DNA exonerations, now numbering more than 250 nationwide, prove that traditional techniques of eyewitness identification, suspect interrogation, and forensic testing contain fundamental flaws that have resulted in miscarriages of justice, including punishment of the innocent and escape of the guilty." Yet, says Harris, many police and prosecutorial agencies have actively opposed replacing questionable investigative methods with better, empirically proven techniques. It is this resistance to sound, science-based police investigative methods that forms the heart of Harris' book.
Harris studies, writes, and teaches about police behavior and regulation, law enforcement, and national security issues and the law. He is a leading national authority on racial profiling. His 2002 book, Profiles in Injustice: Why Racial Profiling Cannot Work (The New Press), and his scholarly articles about traffic stops of motorists from underrepresented populations and about stops and frisks influenced the national debate on profiling and related topics. His work led to federal efforts to address racial profiling and to legislation and voluntary efforts in various states and in hundreds of police departments.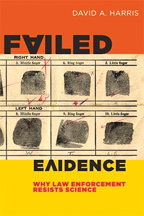 Harris' 2005 book, Good Cops: The Case for Preventive Policing (The New Press), showcased police work that relies on prevention to control crime and protect citizens' civil rights.
Harris has testified in the U.S. Senate and before many state legislative bodies on profiling, immigration enforcement, and related issues. He also writes and comments frequently in the media and has appeared on Dateline NBC, The Today Show, and National Public Radio, among other media outlets.
During the lecture, Harris will provide examples from states where scientific advances are aiding criminal investigations. He also will offer recommendations for bringing the best that science has to offer to law enforcement. Says Harris, "We should strive to do the best that imperfect human beings can do—using all of the knowledge, energy, and creativity at our disposal—to minimize errors and exclude the innocent from accusation, trial, and punishment."
The program has been approved by the Pennsylvania Continuing Legal Education (CLE) Board for one hour of substantive credit. There is a $25 fee to obtain CLE credit.
Information on Williams and Zappala follows.
Karl Williams (MED '74, GSPH '03) was appointed Medical Examiner of Allegheny County in 2007. Originally trained in forensic pathology, he has more than 20 years of expertise consulting on forensic cases and managing forensic laboratory staff.
Stephen A. Zappala, Jr. (A&S '79) is Allegheny County's chief law enforcement officer. As district attorney, he oversees more than 200 employees, including more than 100 attorneys whose primary responsibility is to present charges, to prosecute criminal cases in the Court of Common Pleas, and to offer sentencing guidelines once a defendant has pleaded guilty or has been found guilty at trial.
Other Stories From This Issue
There are no stories for the issue at this time.
On the Freedom Road

Follow a group of Pitt students on the Returning to the Roots of Civil Rights bus tour, a nine-day, 2,300-mile journey crisscrossing five states.
Day 1: The Awakening
Day 2: Deep Impressions
Day 3: Music, Montgomery, and More
Day 4: Looking Back, Looking Forward
Day 5: Learning to Remember
Day 6: The Mountaintop
Day 7: Slavery and Beyond
Day 8: Lessons to Bring Home
Day 9: Final Lessons