Pitt, a Leader in Education and Driver of Economic Growth, Stays True to Founder's Vision
Issue Date:
July 5, 2011
This is the print version of Chancellor Mark A. Nordenberg's Summer 2011 Report to Pitt's Board of Trustees, delivered June 24, 2011.

A Founder's Vision
This University's founder, Hugh Henry Brackenridge, led a remarkable life. Moved to this country from Scotland at the age of five, he was educated at what then was known as the "College of New Jersey at Princeton." James Madison was a classmate, and Aaron Burr was one year his junior. He and yet another classmate are credited with writing the first American novel.
As a young man, Mr. Brackenridge taught, earned a graduate degree, studied divinity, served as a chaplain in George Washington's army, and founded and edited a monthly magazine. He also "read the law" under Samuel Chase, who had signed the Declaration of Independence and later became a Justice of the United States Supreme Court.
According to Robert Alberts, Pitt's bicentennial biographer: "[Brackenridge] was one of the dozen remarkable men in Pennsylvania who, it has been said, could have served with distinction . . . if the original framers of the Constitution had been dead, dying, abroad or otherwise occupied. Nevertheless, he left Philadelphia . . . 'I saw no chance,' he said, 'for being anything in that city, there were such great men before me.'"
Whether that self-assessment was accurate or not, when Mr. Brackenridge moved west, Pennsylvania and Pittsburgh became principal beneficiaries. In time, he served both in the legislature and as a justice of the state supreme court. Among other achievements, he helped establish the region's first newspaper, incorporated a non-sectarian church, served on the legislative committee that drafted the bill creating Allegheny County and making Pittsburgh its county seat and was an advocate for improved roadways to the western parts of the state.
In all that he did, Mr. Brackenridge was driven by an extraordinary vision for this region. Remember, that, when he spoke, America was not yet even a nation and that Pittsburgh was a frontier outpost with less than 400 inhabitants, surrounded by wilderness.
Still, when he viewed the modest settlement that had become his home, Mr. Brackenridge said, "This town must in future time become a place of great manufactory. Indeed, the greatest on the continent, or perhaps in the world." He further asserted that "[t]he situation of the town of Pittsburgh is greatly to be chosen for a seat of learning…"
Mr. Brackenridge also saw the link between education and regional prosperity that would emerge even more clearly over time. In fact, he saw the academy that would become our university as the centerpiece for the development of Western Pennsylvania's economy. This is what he said:
"I do not know that the legislature could do a more acceptable service to the commonwealth than by endowing a school at this place. It will introduce money to Pennsylvania . . . from the whole western country. It will institute knowledge and ability . . . [and] we well know the strength of a state greatly consists in the superior mental powers of the inhabitants."
The prescience of those predictions is astonishing. It also is striking that a community, and a Commonwealth, faced with the daunting challenges of life in those early times had the wisdom and the will to commit to investments in education as a collective priority in their quest to build a better future.
And 225 years of intervening history have taught us this about Hugh Henry Brackenridge. He was right about Pittsburgh becoming a world center of manufacturing might. He was right about Pittsburgh becoming a center of higher learning. And he was right about educational excellence as a driver of economic prosperity.
A Public Partnership
The community and the Commonwealth came together to advance education as a collective priority in a special and highly productive way in the mid-1960's, when Pitt became a state-related university. The most direct beneficiaries of this new public status were the families of the first wave of "baby boomers," whose tuition obligations were steeply reduced. But the business community, taking a longer view, also expressed a strong interest.
Its position was captured in a resolution unanimously adopted by the Board of the Chamber of Commerce of Greater Pittsburgh in February of 1966.
"The Chamber of Commerce of Greater Pittsburgh strongly recommends a closer relationship between the Commonwealth of Pennsylvania and the University of Pittsburgh.
"The continued presence in Pittsburgh of a university which can provide education to large numbers of the region's students is a need which yearly grows more acute.
"As industry becomes more complex, our region will require a continuous supply of educated manpower. In the past decade, Pitt has taken giant strides toward becoming a great university. It has built up its faculty and expanded its curriculum. The Chamber supports efforts to solidify and continue these programs.
"We are all familiar with the impetus that outstanding educational complexes have given cultural and economic growth in other sections of the country. We have similar educational resources in Pittsburgh and wish to maintain and expand them."
It is important to note that this Chamber resolution extends beyond support for Pitt as a large-scale provider of high quality higher education, as important as that obviously has been. It also prioritizes support for what might be called a key "anchor institution"—one that, through the breadth of its programs, contributes to community vitality and regional economic growth.
Forty-five years later, the Allegheny Conference on Community Development, now the parent of the Greater Pittsburgh Chamber, has expressed similar views.
"Pittsburgh has attracted global attention in recent years for its economic transformation . . . . [W]e diversified our economy by creating entire new industries in health care & life sciences and information & communications technology, while retaining our strengths in advanced manufacturing, finance and energy.
"Our region would not have progressed as far without the strong foundation institutions of higher education created during the generation before, much of it the direct result of public and private sector investment. Much of our success in building the life sciences sector over the past two decades would have been impossible without university leadership and success in recruiting globally leading faculty who in turn attract hundreds of millions of research dollars to our region every year. The Commonwealth cannot afford to lose these individuals and the intellectual capital and innovative spin-offs they are creating."
In Brackenridge-like fashion, the Conference also emphasized the importance of a competitive workforce to the state's future success.
As I acknowledged on March 8, the day that deep and disproportionate cuts to state funding for Pitt first were proposed, and as I have said consistently since then, our Governor and other elected leaders face an enormous budgetary challenge and Pitt must be prepared to do its fair share, as it always has done. But both short-term cuts and long-term policy should be driven by reasoned judgments about what is good for Pennsylvania, its people, and its future. And as some have suggested, the most appropriate first step in looking ahead might actually be to look back by assessing the return on past Commonwealth investments.
To deal comprehensively with all of the many forms of good that have flowed from the state's support of Pitt would take far more time than we have today. But I can quickly convey some sense of those contributions simply by citing two numbers and one four-letter word. The numbers are 287,000 and 10.5 billion, and the word is "jobs." Let me explain.
The Public Research University Mission
Return on investment is measured by assessing performance against objectives, so let me begin with that. The most thoughtful description of the distinctive missions traditionally assigned to the various sectors within Pennsylvania's higher education community is found in the master plan issued in 1986, when Trustee Dick Thornburgh was Governor. This was the first such report to be issued after the creation of the State System of Higher Education, so there was a real focus on sector mission.
That plan labeled Pitt, Penn State and Temple as the "Commonwealth universities" and described their expected contributions in the following way.
"The Commonwealth Universities . . .  serve as the state's major public research universities. Together, these institutions offer a broad range of educational programs and services and carry special responsibilities for research, advance graduate instruction, and for education in the professions, including, law, medicine, engineering, business, and agriculture. . . . The scope and quality of their programs and their geographic distribution permit them to serve the needs of the state and nation in the fields of undergraduate, graduate and first professional education, research and public service. Along with the major independent universities in the state, the Commonwealth universities are the principal centers for research and development in Pennsylvania."
The three critical components of the mission that Pitt has been effectively pursuing for the past forty-five years, then, are education, research, and public service. Our commitment to that mission is captured in our public statement of aspiration—pledging that Pitt will be a leader in education, a pioneer in research, and a partner in regional development.

A Leader in Education
In the mid-1960's, the state, facing the heightened educational demands of the first wave of "baby boomers," had a desperate need to provide larger numbers of reasonably priced university opportunities. To meet those demands, the state turned to Pitt and Temple—two universities with established programs and developed physical plants, enabling the state to add already-respected institutions to its public system of higher education and to do so without making the capital investments that otherwise would have been required.
In the year before Pitt became a state-related university, its student body included 13,962 in-state residents. Just bringing that sizeable number of existing slots into the more reasonably priced public higher education sector was a substantial short-term victory. But demand for public higher education within Pennsylvania has continued to grow, and Pitt's capacity to help serve that expanding need has grown with it. This past academic year, 25,457 Pennsylvania students were enrolled in our programs. That dramatic increase—a rise of over 80 percent in our in-state enrollment—is one clear measure of the robust return on the Commonwealth's investment in Pitt.
That return is further enhanced by the strength of the students now choosing Pitt. Demand for admission to Pitt's programs continues its dramatic climb, as do the records of academic strength presented by enrolled students. This means that we are keeping some of Pennsylvania's very best students at home, increasing the likelihood that they ultimately will live and work and contribute here. It also means that we are attracting outstanding out-of-state students, who ultimately may choose to become Pennsylvanians.
Larger enrollments, better students, and attentiveness to retention and graduation rates—which already stand among the country's strongest and have bucked national trends by continuing to rise —also have produced very positive trend lines in the number of degrees awarded. The year before it became a state-related university, Pitt awarded 2,495 degrees. That number grew to 8,248 in 2010 and will be even higher this year. And that takes us to the first of my big numbers—the 287,000 Pitt degrees awarded since we became a state-related university, a measurable and very meaningful return on investment.
It also is important to note that, even in the face of lagging state support, Pitt has delivered its highly respected, high-quality programs at tuition rates that are markedly lower than those charged by its private university peers. Our tuition for in-state, undergraduate students enrolled on the Oakland campus is just over $14,000, compared to an out-of-state tuition rate of close to $24,000 per year. Even more telling, tuition at peer private universities typically is well over $40,000 per year.
A Pioneer in Research
As earlier noted, in addition to delivering high quality educational programs, Pitt has been designated one of "the state's major public research universities" and one of the "principal centers for research and development in Pennsylvania." In that role, its mission is to "enlarge the reservoir of knowledge essential for economic, social, cultural, and intellectual progress . . . and, in cooperation with government and industry, to promote the economic and social development of the Commonwealth and the nation." It would be difficult to find any institution that has done more to meet those high expectations than this University.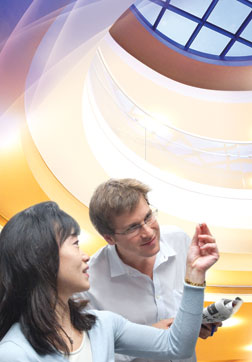 In the year before Pitt became state-related, its annual research expenditures stood at just under $23 million. By 1995, those expenditures had increased ten-fold, to more than $230 million; by last year, they had climbed to $737 million; and this year we expect them to be at or near $800 million.
Looking just at last year's research expenditures, then, Pitt attracted roughly $4.30 in research support for every $1 of its appropriation—a return that probably cannot be matched by any other state investment. And since Pitt became a state-related university, its cumulative research expenditures exceed $10.5 billion, the second very large number that I earlier mentioned.
Consistent with both our assigned mission and our stated aspirations, these competitively awarded funds are applied to pioneering research efforts. Among the most celebrated Pitt-driven successes are the development of the Salk polio vaccine and most of the surgical techniques and drug therapies that made human organ transplantation possible.
As one of the country's top five recipients of funding from the National Institutes of Health, Pitt has continued to build on its rich legacy of biomedical research, but our contributions are far broader than that. Just in the past decade, Pitt faculty members have earned the very highest national honors in such diverse fields as research into Alzheimer's, cancer and cardiac disease; history; language, culture and literacy; mathematics; philosophy; poetry; and rehabilitation science, as well as transplantation medicine. Through the work of these award-winning scholars and their high-performing colleagues, Pitt is advancing the cause of human health and otherwise enriching and improving the human condition.
A Partner in Regional Development
What could not have been fully anticipated when Pitt became state-related is the extent to which the collective force of its research programs would become so central to regional economic progress. However, it now is recognized, nationally and internationally, that university research sits at the heart of most commercial innovation and economic progress.
In his inaugural address, the Governor correctly noted that even much of this state's historic industrial strength was built on innovation. His more forward-looking statements also were telling: that the Pennsylvania tradition would carry on in the example of "the researchers who have taken a nugget of an idea and turned it into viable nanotechnology" and that our future must embrace "innovation in the emerging frontiers of energy, life sciences and biotechnology." Stated simply, few institutions are more actively engaged in innovative research in nanotechnology, energy, life sciences and biotechnology, as well as other key areas, than Pitt.
As has been noted by others, here and around the world, university research has helped fuel the transformation of Pittsburgh's more diversified 21st century economy. Pitt has helped create virtually all of the region's technology-based economic development initiatives. And just since the beginning of the new century, Pitt research has resulted in the issuance of 372 new patents, the execution of 628 new license or option agreements, and the creation of 67 new companies. As the Governor has noted, this type of innovation is central to economic growth.
But there are even more immediate impacts. Particularly as we continue to struggle through the "jobless recovery" from the "Great Recession," the links between the positive economic forces unleashed by research universities and higher employment levels are critical —taking me to that four-letter word, "jobs."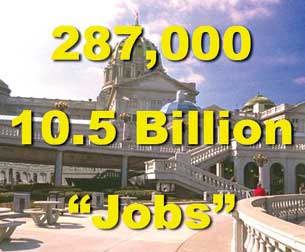 Applying standard national conventions, through its research spending alone, Pitt now supports, directly and indirectly, some 28,000 local jobs. In terms of direct employment, the region's two largest employers are UPMC (the University of Pittsburgh Medical Center), which is the runaway leader, and the University of Pittsburgh. And the collective impact of the "eds and meds"—the sector led by Pitt and UPMC—is even more pronounced.
Two years ago, the U.S. Bureau of Labor Statistics reported that, from March of 2008 to March of 2009, the Pittsburgh metropolitan area lost 7,400 manufacturing jobs; lost 5,300 leisure and hospitality jobs; lost 5,200 trade, transportation and utilities jobs; lost 2,600 professional and business services jobs; lost 1,700 construction jobs; lost 1,100 information and 1,100 financial services jobs; and lost 1,000 government jobs. The only sector to gain at least 1,000 jobs was education and health services, which added 5,400 jobs.
In the most recent twelve-month assessment period, signs of an improving economy began to emerge. However, the prominence of the "eds and meds" was unchanged. According to the Bureau of Labor Statistics, "In the Pittsburgh metropolitan area, the education and health services supersector gained 5,300 jobs from March 2010 to March 2011, more than any other industry. . . . In Pittsburgh, over-the-year increases in the education and health services industry have continued uninterrupted since October 1995 . . . As of March 2011, this supersector was the largest industry in the Pittsburgh area, employing over one-fifth of the local workforce."
In commenting on his successful campaign for the state's highest office, the Governor has said that it "was run on a three part theme: jobs, jobs and jobs." Clearly, in this part of the state, the "eds and meds" supersector continues to be the most powerful generator of jobs, as it has been for many years.
Building the Future
Near the end of his inaugural address, the Governor sounded an upbeat note.
"I believe in Pennsylvania and I believe in Pennsylvanians. And in those beliefs is a certainty that the best way to embrace innovation—the best way to make us competitive—is to make us competitive in education. Today, our students compete not only with those from the other 49 states, but with students from around the world."
In a world that has grown increasingly competitive, many in our country have grown increasingly concerned about the general failings of its educational system. But whatever slippage has occurred elsewhere, one sector of this country's educational system continues to set the global standard.
American research universities remain the envy of the world. Some twenty years ago, a legendary Harvard dean described the international landscape in a thought-provoking way.
"[S]ome parts of American higher education are one of the country's greatest glories. In fact, I make bold to say . . . that fully two-thirds to three-quarters of the best universities in the world are located in the United States. . . . What sector of our economy and society can make a similar statement? One can think of baseball, football, and basketball teams, but that pretty much exhausts the list . . . It has been suggested to me that we are home to a similar proportion of the world's leading hospitals. Since most of these are part of university medical schools, my point is only reinforced."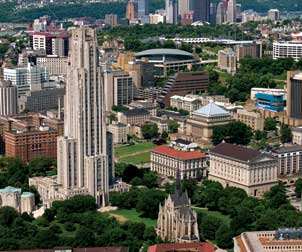 To underscore his point, the author added, "In higher education, 'made in America' still is a fine label—in fact the finest label if our focus remains at the top end of the quality distribution."
By virtually any standard of measure, the University of Pittsburgh clearly has earned a place "at the top end of the quality distribution" in American higher education. And for those who have seen the positive and growing impact of Pitt—in education, research, and public service—it was troubling to see the University targeted for deep and disproportionate cuts at the very outset of this year's state budget-building process. Since we do understand the deficit dilemma, we can only hope that, in looking back on this year, we will be able to say that the arithmetic of the budget balancing process drove any retreat from support of high-quality higher education and that the deep cuts proposed stand out as an historic aberration.
We can take heart from the ways in which the threats posed by the proposed cuts united those who believe in, and depend upon, the work of the University and energized our allies, including many elected officials. We always will be grateful for their help and look forward to future opportunities for partnering.
We also take comfort from some of the central themes advanced by the Governor in articulating his vision for the path to future prosperity for Pennsylvania. An administration that places a high priority on job generation, that embraces the central role of innovation, and that supports high-performing providers of higher education will value the contributions of the University of Pittsburgh, which delivers in such a big way on all three of those fronts.
At the end of his budget address, the Governor referred, with admiration, to three Pennsylvanians whose portraits hang in his office—William Penn, John Dickinson, and Benjamin Franklin. In reflecting on how they dealt with the struggles of their eras, he cited Franklin for his efforts "to unlock the mysteries of the world around him"— something that people in this institution work to do on a daily basis.
Of course, Mr. Franklin also is known to many of us for his declaration, always worth repeating, that "an investment in knowledge always pays the best interest." And by its record of excellence and impact, the University of Pittsburgh has clearly and consistently demonstrated that investors in the generation, transmission, and application of knowledge can expect to receive outsized returns from their investments in the people and programs of Pitt.
Other Stories From This Issue
There are no stories for the issue at this time.
On the Freedom Road

Follow a group of Pitt students on the Returning to the Roots of Civil Rights bus tour, a nine-day, 2,300-mile journey crisscrossing five states.
Day 1: The Awakening
Day 2: Deep Impressions
Day 3: Music, Montgomery, and More
Day 4: Looking Back, Looking Forward
Day 5: Learning to Remember
Day 6: The Mountaintop
Day 7: Slavery and Beyond
Day 8: Lessons to Bring Home
Day 9: Final Lessons