Pitt Magazine Celebrates 12 Phenomenal Pitt Women
Issue Date:
March 16, 2009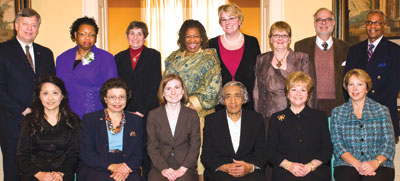 Pitt Magazine honored its 12 "Phenomenal Women" during a March 5 reception in the Twentieth Century Club. Seated from left are Yuan Chang, a professor of pathology in the School of Medicine; Jeannette South-Paul, UPMC Andrew W. Mathieson Professor and Chair, School of Medicine's Department of Family Medicine; Honors College student Eleanor Ott, 2008 Truman Scholar and a senior in the School of Arts and Sciences; Helen S. Faison (EDUC  '46, '55G, '75G), Pitt trustee and director of Chatham University's Pittsburgh Teachers Institute; Eva Tansky Blum (A&S '70, LAW '73), trustee and cochair of the University's Building Our Future Together campaign, senior vice president and director of Community Affairs at PNC Bank, and PNC Foundation chair; and Amy Krueger Marsh, Pitt treasurer and chief investment officer. Standing from left are Pitt Chancellor Mark A. Nordenberg; Gwen Watkins, vice president of Staff Association Council's Steering Committee and community activities coordinator for Pitt's Office of Community and Governmental Relations; Alberta Sbragia, the Chancellor Mark A. Nordenberg University Chair and director of Pitt's European Union Center of Excellence/European Studies Center; Kathy W. Humphrey, vice provost and dean of students; Agnus Berenato, head coach of Pitt women's basketball team; Cindy Gill, Pitt Magazine editor in chief; John Harvith, senior associate vice chancellor for University news and magazines; and Robert Hill, vice chancellor for public affairs. Not present: Susan G. Amara, the Thomas Detre Professor and Chair, School of Medicine's Department of Neuroscience, and Angela M. Gronenborn, UPMC Rosalind Franklin Professor and Chair, School of Medicine's Department of Structural Biology.
Pitt Magazine's Winter 2009 issue highlights the successes and contributions of 12 University of Pittsburgh women. To mark March's nationally celebrated Women's History Month, the magazine's publisher and editors assembled a contemporary cross-section of women from the Pittsburgh campus, representing students, faculty, staff, alumni, and trustees. The editors then profiled each of them, along with the Pitt women who began it all, Stella and Margaret Stein. The Pitt Chronicle is reprinting those profiles, beginning with this issue and continuing in the March 23 and 30 issues.
Stella and Margaret Stein
Sisters Stella and Margaret Stein were true pioneers, daring to tread first where others eventually would follow. Their exceptional spirit of achievement continues to be a beacon of aspiration and attainment for all Pitt women.
In 1895, after completing advanced courses at Pittsburgh's Central High School, the Stein sisters enrolled as sophomores at the University of Pittsburgh, which then was known as the Western University of Pennsylvania.
The Steins were the first women in the University's history to be admitted as full-time undergraduates.
By the end of their senior year, the Stein sisters were indisputable standouts in the Class of 1898. They had aced their courses and were tied—with one another, with identical grades—for first place in their graduating class. Ultimately, Stella Stein was named class valedictorian; some surmise that a coin flip determined the outcome. Several years after completing their bachelor's degrees, the Steins enrolled as Pitt graduate students and were among the first women to earn master's degrees at the University.

(Reprinted from Pitt Magazine's Winter 2009 issue.)
It is not uncommon for Kathy W. Humphrey to rearrange her action-packed schedule at a moment's notice to assist a student. As Pitt's vice provost and dean of students, she works to create learning opportunities for undergraduates inside and outside the classroom. As a faculty member, she focuses her School of Education efforts on helping traditional-age college students find their purpose. Her staff members describe her as dynamic, passionate, energizing, inspiring, and committed. "I am someone who believes that everything can be made better," she says.
Since her arrival at Pitt in 2005, Humphrey has initiated many innovations for students, including the establishment of the Office of Cross-Cultural and Leadership Development and Nordy's Place recreation center in the William Pitt Union. She created the Office of Student Employment and Placement Assistance to give students a boost in securing internships and jobs, and she also played a leadership role in developing the Outside the Classroom Curriculum, a Universitywide initiative that was piloted in the fall of 2008.
Also in 2008, Humphrey received a YWCA Greater Pittsburgh Tribute to Women Leadership Award in the education category. She was one of eight women honored for their professional and volunteer work and for helping to advance the goals of YWCA—the empowerment of women and girls and the elimination of racism. Humphrey's accomplishments have been lauded before, but her greatest personal honor so far, she says, is recognition as the 2007 Best University Administrator in her category as voted by the readers of the student newspaper, The Pitt News. She particularly cherishes this accolade from the students.
A leader, author, educator, and compassionate human being, Humphrey encourages all of us to reach our full potential. In a convocation speech, she gave this advice to freshmen: "You are in charge of your soul, which is your intellect, your will, your emotions, and your imagination. Develop your intellect. Use your will to make good choices. Develop a game plan that can help you boldly face the difficulties that may come. Take charge and develop the strongest you."
Alberta Sbragia has been studying the changes in Europe for more than three decades—most of her academic career. She remembers the day when the Berlin Wall came down. She was in Brussels, Belgium, watching a television screen that glowed with images of people streaming across a once-forbidden border between West and East Germany. As a longtime political expert, she was astonished by what she saw. "It was one of those moments when you think, 'This is truly historic,'" she says. "But no one could foresee how Europe would change."
Now, nearly 20 years later, the direction is clearer. Sbragia, the inaugural Mark A. Nordenberg University Chair and professor of political science, is an internationally renowned expert on Europe and the European Union's rise as a unique type of superpower. "The whole of Europe is being reshaped by the European Union," she says.
With expertise in public policy, urban affairs, transAtlantic relations, and comparative European-American politics, Sbragia has won the respect of colleagues as well as European Union leaders. She directs the University's European Studies Center, as well as Pitt's European Union Center of Excellence, one of only 11 such centers nationwide designated and financially supported by the European Commission. She also is a Jean Monnet Chair ad personam, an honor bestowed by the commission upon leading American scholars whose careers exemplify excellence in teaching and research related to the European Union.
When she's not busy teaching, writing articles and books, mentoring students, and leading two active academic centers, she's often lecturing in cities across Europe. The continent is being transformed, she says. Sbragia wants to observe those changes up close, to see history in the making.
The week before Helen S. Faison graduated from Westinghouse High School, her father died, leaving her an orphan. With the help of church and community, she was given a scholarship, after-school work, a home with a generous family, and enough support for trolley tokens. The quiet, serious student was able to begin her classes at Pitt in the autumn of 1942. The support gave her something else, too—great expectations.
Faison didn't disappoint. With a sense of duty and a graceful determination, she repaid the debt, blazing a trail of firsts as she became one of the state's most accomplished educators.
In 1950, joining a small cadre of Black teachers, Faison was hired to teach social studies and English at Fifth Avenue High School in Pittsburgh's Hill District.  A strong believer in public education, she encouraged her students and built a highly respected career. In 1960, she became the school district's first African American high school guidance counselor; in 1968 she became the district's first African American and first female academic high school principal. Later, she became a deputy superintendent and the district's highest-ranking woman. She retired from the public schools in 1993, returning in 1999 for one year as interim school superintendent, making her the first African American to lead the entire school district.
Those long-ago lessons of community continue to resonate. Faison is now director of the Pittsburgh Teachers Institute, a center for enhanced teacher training at Chatham University. The Helen S. Faison Arts Academy, in the community where she grew up, is a tribute to her ongoing legacy.
In 2006, Pitt Chancellor Mark A. Nordenberg announced the creation of the Dr. Helen S. Faison Chair in Urban Education, the first fully endowed chair in the School of Education's history. Faison, a Pitt trustee, has also been recognized by the University with an honorary doctorate, a Distinguished Alumna award, and other accolades.  With respect and dignity, Faison continues to inspire others. Her father, most surely, is proud.
Other Stories From This Issue
There are no stories for the issue at this time.
On the Freedom Road

Follow a group of Pitt students on the Returning to the Roots of Civil Rights bus tour, a nine-day, 2,300-mile journey crisscrossing five states.
Day 1: The Awakening
Day 2: Deep Impressions
Day 3: Music, Montgomery, and More
Day 4: Looking Back, Looking Forward
Day 5: Learning to Remember
Day 6: The Mountaintop
Day 7: Slavery and Beyond
Day 8: Lessons to Bring Home
Day 9: Final Lessons