Pitt Opens Center for Vaccine Research
By Clare Collins
Issue Date:
October 1, 2007
Center is second nationally to open NIH funded Regional Biocontainment Laboratory dedicated to development of vaccines against deadly pathogens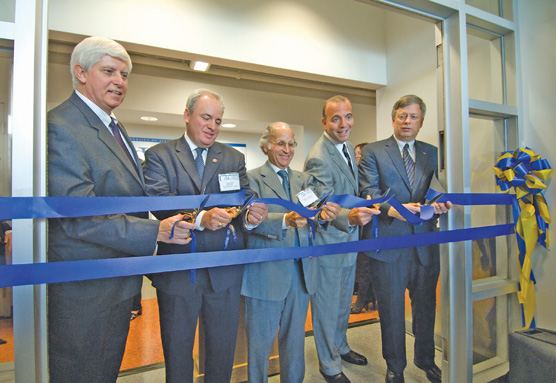 The Sept. 24 ribbon cutting for Pitt's new center. From left: Donald S. Burke, dean of Pitt's Graduate School of Public Health and the UPMC–Jonas Salk Professor of Global Health; U. S. Congressman Mike Doyle (Pa.-14); Arthur S. Levine, Pitt senior vice chancellor for the health sciences and dean of the School of Medicine; Allegheny County Chief Executive Dan Onorato; and Pitt Chancellor Mark A. Nordenberg.
Pitt leaders on Sept. 24 celebrated the opening of the Center for Vaccine Research (CVR) in the University's 330,000-square-foot Biomedical Science Tower 3 (BST3).
The CVR houses both the Regional Biocontainment Laboratory and the Vaccine Research Laboratory and will allow Pitt to greatly expand research on naturally occurring diseases like SARS, West Nile virus, dengue fever, and tuberculosis. These diseases are of special interest because the lethal microbes that cause them could be exploited by terrorists.
The National Institute of Allergy and Infectious Diseases (NIAID), part of the National Institutes of Health, initially awarded Pitt $17.5 million in 2003 for construction of the Regional Biocontainment Laboratory, one of only 13 centers of its kind to receive NIAID funding and the second of this elite group to open nationally. Supplemental NIAID funding of $4.1 million and University support of $7.2 million increased the total construction budget to $28.8 million. In funding the lab, NIAID cited the nation's lack of biosafety laboratories as a significant barrier to progress in biodefense research.
Pitt Chancellor Mark A. Nordenberg said, "Just as Jonas Salk and his Pitt team of researchers provided the polio vaccine to the world, the new Center for Vaccine Research will further our University's commitment to developing new interventions to prevent infectious diseases—interventions that have the potential to significantly improve
global health."
"We are gratified by the confidence and support NIAID has shown in us to develop this essential facility," said Arthur S. Levine, Pitt senior vice chancellor for the health sciences and dean of the School of Medicine. "The Regional Biocontainment Laboratory, in concert with existing resources at the University of Pittsburgh, will enable us to greatly accelerate the development of vaccines, drugs, and diagnostics for viruses and other infectious agents."
The CVR is directed by Donald S. Burke, dean of Pitt's Graduate School of Public Health and the University of Pittsburgh Medical Center-Jonas Salk Professor of Global Health. The center will employ approximately 150 faculty, staff, and laboratory personnel and will complement other ongoing research at the BST3 in structural biology, computational biology, genomics and proteomics, neurobiology, and drug discovery.
"With most epidemics, history has shown us that we are not helpless," Burke said. "With the opening of the CVR, we will be better able to create new methods and strategies to keep potential epidemics under control and minimize their impact."
Located within the CVR, the Regional Biocontainment Laboratory is a biosafety level-3 facility dedicated to research on agents that cause naturally occurring and emerging infections, as well as potential agents of bioterrorism. The labs within the Regional Biocontainment Laboratory are specially designed and constructed using the strictest federal standards, incorporating special engineering and design features to prevent microorganisms from being released into the environment. The 27,300-square-foot facility is available to assist national, state, and local public health efforts in the event of an infectious disease emergency, including an act of bioterrorism.
The CVR also houses the Vaccine Research Laboratory (VRL), which occupies 16,000 square feet and includes dedicated biosafety laboratories, specialized instrumentation rooms, offices, and conference rooms. The VRL offers an interactive research environment by providing access to microarray, robotic and mass spectrometry instrumentation. Much of the lab's work will focus on understanding the variability of viruses and their ability to change over time, and learning how to recognize different viral strains.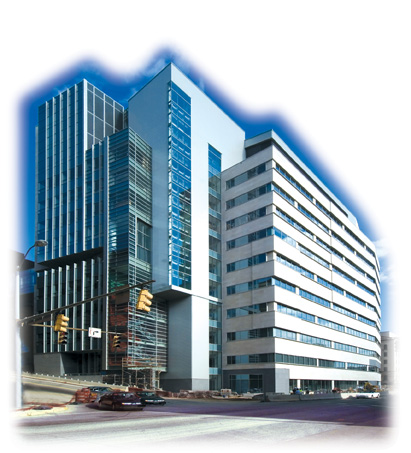 Biomedical Science Tower 3
Other Stories From This Issue
There are no stories for the issue at this time.
On the Freedom Road

Follow a group of Pitt students on the Returning to the Roots of Civil Rights bus tour, a nine-day, 2,300-mile journey crisscrossing five states.
Day 1: The Awakening
Day 2: Deep Impressions
Day 3: Music, Montgomery, and More
Day 4: Looking Back, Looking Forward
Day 5: Learning to Remember
Day 6: The Mountaintop
Day 7: Slavery and Beyond
Day 8: Lessons to Bring Home
Day 9: Final Lessons