Pitt Plays Role in March 20 Inclusive Voices Luncheon
By Jill King Greenwood
Issue Date:
March 16, 2015
Several University of Pittsburgh faculty members and alumni will serve as facilitators during this year's 7th Annual Inclusive Voices luncheon Downtown on March 20.
Inclusive Voices is a signature event of the Program to Aid Citizen Enterprise (PACE), and it brings together individuals from different backgrounds, fields, and disciplines to explore ideas with community leaders in various fields.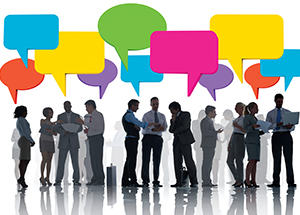 "It's like a really great dinner party," says Luci Dabney, PACE executive director. "We are trying [through the luncheon] to create our own melting pot of a diverse group of ethnicities, jobs, ages, and backgrounds."
A Pitt trustee, two professors, a staff member, and six alumni will be among 39 table facilitators who will pose questions; share their work, interests and experiences; and encourage other participants to do the same. Inclusive Voices provides a forum for those who want to help effect change and encourages conversations among people with different life experiences and perspectives.
"One of the great things about Pittsburgh is its people, but often we are in our own silos and don't interact with those in other areas," Dabney says. "This is a great chance to do that."
The Pitt community members will serve as 10 of 39 conversationalists and table facilitators, said Victoria Garner, PACE's public relations and fundraising coordinator. More than 300 people are expected to attend the 11 a.m. event at the Westin Hotel.
The Pitt faculty conversation facilitators are Morgan O'Brien, a Pitt trustee and president and CEO of Peoples Natural Gas; Geri A. Allen, an associate professor of music and director of Pitt's Jazz Studies Program; Sara C. Berg, center coordinator for the School of Social Work's Center on Race and Social Problems; and Patricia Documet, assistant professor of behavioral and community health sciences in the Graduate School of Public Health and scientific director of the Center for Health Equity.
Pitt alumni are Margaret B. Angel (A&S '72, LAW '77), attorney at Buchanan Ingersoll & Rooney; Betty Cruz, (GSPIA '11), nonprofit and faith-based manager for Mayor Peduto's office; Donald R. Fischer, (KGSB '98) senior vice president and chief medical officer, Highmark Health, Inc.; Allegheny County District Judge Hugh McGough (LAW '92); Cecile Springer (GSPIA '71), president of Springer Associates; and Tara Sherry-Torres, (SOC WK '10), founder of Café Con Leche.
Several companies whose employees participate in Inclusive Voices have internal follow-up sessions to discuss what was learned—and a few have established corporate committees on topics discussed at the luncheons, including diversity, Garner said. Other participants have shared their company's or initative's resources with smaller community-based groups to network jointly with funders for support.
PACE's primary mission is to work with local neighborhood-based nonprofits that support African American and other economically disadvantaged communities.
Other Stories From This Issue
There are no stories for the issue at this time.
On the Freedom Road

Follow a group of Pitt students on the Returning to the Roots of Civil Rights bus tour, a nine-day, 2,300-mile journey crisscrossing five states.
Day 1: The Awakening
Day 2: Deep Impressions
Day 3: Music, Montgomery, and More
Day 4: Looking Back, Looking Forward
Day 5: Learning to Remember
Day 6: The Mountaintop
Day 7: Slavery and Beyond
Day 8: Lessons to Bring Home
Day 9: Final Lessons