Pitt Promotes Two Senior Officials
By John Fedele
Issue Date:
September 18, 2006
G. Reynolds Clark named vice chancellor for community initiatives, chancellor's chief of staff; Paul Supowitz appointed vice chancellor for governmental relations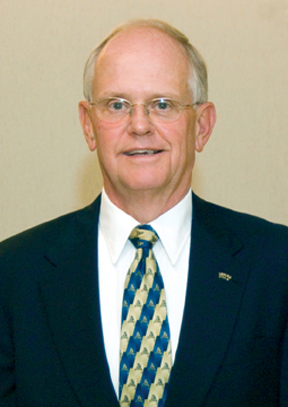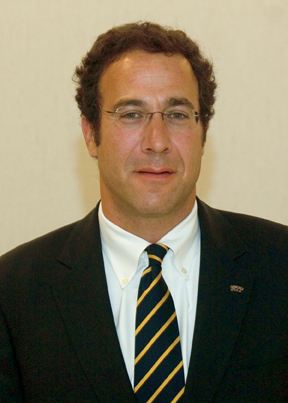 Clark (top) and Supowitz (bottom)
The University has announced the promotion of two senior officials.
G. Reynolds Clark, previously vice chancellor for community and governmental relations, has been promoted to a new position: vice chancellor for community initiatives and chief of staff in the Office of the Chancellor.
Paul A. Supowitz, who has served as associate vice chancellor for commonwealth and local governmental relations, has been promoted to vice chancellor for governmental relations.
These changes were structured both to enhance the effective outreach work being done by Mr. Clark and Pitt Chancellor Mark A. Nordenberg as they have worked together to advance high-priority community initiatives and to add a senior-level staff presence within the chancellor's office itself. In his role as chief of staff, Mr. Clark will have primary responsibility for coordinating the many activities of that office. The promotions also were designed to take full advantage of Mr. Supowitz's demonstrated abilities in governmental relations, Pitt officials added.
"Renny Clark enjoys enormous respect, both on campus and in the broader community. That respect reflects the high levels of commitment, leadership, and effectiveness that consistently have characterized his work on behalf of our University," Mr. Nordenberg said.
As vice chancellor for community and governmental relations, the chancellor said, "Renny has played a key role in strengthening and expanding the linkages between Pitt and neighboring communities, while also fostering mutually beneficial relationships between public officials and the University community. In his new role, Renny will continue with this increasingly important work and also will take the lead in coordinating the many other activities in which the chancellor's office is directly involved. I look forward to the broad-ranging contributions that I know he will make to the continued progress of our University."
Mr. Clark will have oversight responsibility for Pitt's Institute of Politics in his new position. The University's community relations staff, under the leadership of Assistant Vice Chancellor John M. Wilds, also will continue to report to Mr. Clark.
"I'm delighted to be able to continue to help the University advance its outreach initiatives and work for the betterment of the institution and the community," said Mr. Clark. "I have been at Pitt for six years now and have had the pleasure of working with an extremely dedicated staff of talented people who have earned the utmost respect in their areas of responsibility. I see continuing opportunities that will be of real benefit to the University and the community."
As vice chancellor for governmental relations, Mr. Supowitz will oversee the University's interaction with all levels of government—federal, state, and local. He will report to the chancellor.
"Working closely with Renny Clark, Paul Supowitz has played a major role in elevating Pitt's state and local governmental relations efforts," the chancellor said. "He is widely recognized as one of the University's most effective advocates, and I know that Pitt will benefit from his service as a member of our senior leadership team." Assistant Vice Chancellor Jeanne C. Stoner, who leads the University's federal governmental relations efforts, will report to Mr. Supowitz in his new position.
"I am excited about my new role and responsibilities and look forward to serving as a voice for the University," Mr. Supowitz said. "Through its programs of education, research, and public service, Pitt is a major asset for this region, for the state, and for the country. Though the current economic environment is not encouraging, my highest priority will be working to maximize the governmental investments that are essential if the University is going to achieve its full potential."
Mr. Clark—who is mayor, fire chief, and emergency management coordinator of Franklin Park Borough—joined Pitt in 2000 after a 33-year career with Westinghouse Electric Corporation, where he chaired the Westinghouse Foundation and was executive director of the staff services functions, among other roles. A 1965 graduate of Geneva College, Mr. Clark serves on the board of trustees for his alma mater. In 1990, he received the Distinguished Service Award from the college's Alumni Association and cochaired the school's recent $25 million capital campaign. Mr. Clark also serves on the boards of a number of civic and cultural organizations, including the Advisory Board of the Salvation Army of Southwestern Pennsylvania, Family House, Greater Pittsburgh Council-Boy Scouts of America, Pittsburgh Civic Light Opera, Pittsburgh Parks Conservancy, Regional Industrial Development Corporation, Pittsburgh Gateways, United Way of Allegheny County, and the Advisory Board of the Allegheny Regional Asset District. He also chairs the Oakland Task Force and is vice-chair of the Pittsburgh Public Service Fund, the local consortium of not-for-profit organizations and institutions that is currently providing special funding to the City of Pittsburgh.
Mr. Supowitz joined the University in 1997 in the Office of General Counsel after eight-years of private law practice at the firm of Klett, Lieber, Rooney and Schorling, where he specialized in international programs, copyright, software and database licensing, student affairs, environmental matters, and computer issues.
He joined Pitt's Office of Community and Governmental Relations in February 2002. He earned the J.D. degree at the Pitt School of Law in 1989 and the Bachelor of Science degree in public affairs at Indiana University in Bloomington. Supowitz is active in the Allegheny County Bar Association, the Oakland Business Improvement District, and the Hebrew Free Loan Association. Mr. Supowitz also will continue to serve as Associate General Counsel for the University on matters relating to environmental health and safety and government relations.
Other Stories From This Issue
There are no stories for the issue at this time.
On the Freedom Road

Follow a group of Pitt students on the Returning to the Roots of Civil Rights bus tour, a nine-day, 2,300-mile journey crisscrossing five states.
Day 1: The Awakening
Day 2: Deep Impressions
Day 3: Music, Montgomery, and More
Day 4: Looking Back, Looking Forward
Day 5: Learning to Remember
Day 6: The Mountaintop
Day 7: Slavery and Beyond
Day 8: Lessons to Bring Home
Day 9: Final Lessons