Pitt Receives $3 Million for Dean's Chair in School of Education
By Adam Reger
Issue Date:
July 14, 2014
The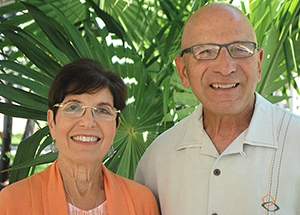 University of Pittsburgh has received a $3 million gift from alumni Renée K. Goldman and Richard M. Goldman to establish the Renée and Richard Goldman Dean's Chair in the School of Education. The gift has established an endowment that will be used by the University to support the salary, professional development, recruitment, expenses, and other scholarly activities of the dean of the School of Education. Alan Lesgold, dean of the School of Education since 2000, will be the inaugural holder of the Renée and Richard Goldman Dean's Chair.
"We are immensely grateful to Renée and Richard Goldman for making this historic gift, which will ensure that future deans of the School of Education are equipped with everything needed to continue to support the success of the school and its many worthy programs," Pitt Chancellor Mark A. Nordenberg said. "The generous gift of this named deanship is especially meaningful because it creates a lasting connection between the School of Education and the Goldmans, two of the most esteemed and accomplished graduates of that school."
Pitt's School of Education, founded in 1910, is devoted to improving education by preparing teachers and educational leaders, conducting research that can lead to more effective education, and preparing the next generation of educational scholars. The school's work focuses on advancing teaching, improving schools' and universities' effectiveness, understanding the factors outside school that enable success in learning, and developing educational policy.
"Naming the dean's chair in honor of the Goldmans is a powerful affirmation of their connection to the University of Pittsburgh's School of Education and its educational goals," said Lesgold. "I am honored to serve as the inaugural holder of this prestigious dean's chair."
Renée and Richard Goldman have a distinguished legacy of educational experience and innovation, working together and individually. In 1996, they founded The Sagemont School, a college-preparatory school in Florida that was among the first schools in the nation to establish a laptop program for all of its students. The Goldmans have established a number of other educational ventures, including Another Generation Preschools, the 20th-largest preschool operation in the United States and among the first to receive national accreditation from the National Association for the Education of Young Children; the University of Miami Online High School, an online college-preparatory high school; Virtual Sage, an online curriculum publishing company; and Smart Horizons Career Online Education, the world's first accredited online school district. These projects provide online schooling opportunities to a broad range of students, including youth who are incarcerated and adults needing a second chance to complete a full high school program.
The

Goldmans, who met in 1958 while both were students at Taylor Allderdice High School in Pittsburgh's Squirrel Hill neighborhood, have a strong history of providing financial support to the School of Education. The couple, who are life members of the Pitt Alumni Association, have been giving to the school since 1976. In 2013, they established the Richard M. and Renée K. Goldman Educational Entrepreneurial Fund with a $50,000 gift to support the development of online programming in the area of educational entrepreneurship.
"The Goldmans' lifelong commitments to educational access and innovation echo the fundamental commitments of the University of Pittsburgh's School of Education, making their gift all the more meaningful to us. Their generosity will ensure that our School of Education continues to be a national leader in improving schools and the lives of students for years to come," said Patricia E. Beeson, Pitt provost and senior vice chancellor.
Richard M. Goldman earned a Bachelor of Arts degree from Pitt's Kenneth P. Dietrich School of Arts and Sciences in 1964, followed by a Master of Education degree in 1966 and a PhD in 1970, both from the School of Education. He has served on the faculty at the University of Pittsburgh, the University of Haifa, and Kent State University. He also has served as dean of the Graduate School of Education at Nova Southeastern University in Florida.
Renée K. Goldman earned a Bachelor of Arts degree from Pitt's Kenneth P. Dietrich School of Arts and Sciences in 1963 and a Master of Education degree from the School of Education in 1965, along with a doctor of education degree from Nova Southeastern University in 1985. Renée's work in establishing the Goldmans' educational ventures has been recognized by a number of organizations. She has received the Trendsetter Award from Florida Trend Magazine; was chosen as Broward County's Businesswoman of the Year; and has been recognized by the South Florida Women's Business Journal as a leading woman entrepreneur and as a respected leader in the field of education.
"We are making this gift in recognition of Dean Alan Lesgold's accomplishments and his exceptional service to the School of Education," said the Goldmans. "Through his leadership, the school has flourished as a world-class research institution with top faculty and a focus on producing quality leaders who will help advance the field of education for generations to come."
Lesgold is a professor and dean of the School of Education and also professor of psychology and intelligent systems in the Kenneth P. Dietrich School of Arts and Sciences. He is a lifetime national associate of the National Research Council and also served as chair of the National Research Council Committee on Learning Sciences: Foundations and Applications to Adolescent and Adult Literacy.
During his time as dean of the School of Education, Lesgold was instrumental in the founding of the Center for Urban Education; hired 32 of the school's 55 tenured and tenure-stream faculty members, with several new faculty members set to arrive in the fall; has seen the school move from 47th to 22nd in U.S. News and World Report's rankings of graduate programs in education; helped raise more than $57 million for the school while also increasing its overall grant funding to an average of $500,000 per faculty member; led a push to improve the school's physical space; and oversaw the redesign of key professional programs, including the school's teacher preparation programming and the Doctor of Education program, which is now a cohort program aimed specifically at professionals wishing to upgrade their careers.
Lesgold is on the board of Teaching Matters, a New York nonprofit that focuses on helping teachers work together in their schools to more effectively serve all students, and has served on the YouthWorks, Inc. board. He is a fellow of the American Psychological Association in experimental, applied, and educational psychology and also a fellow of the Association for Psychological Science and the American Educational Research Association. He was president of the Division of Applied Cognitive Psychology of the International Association of Applied Psychology from 2002 to 2006. Former Pennsylvania Governor Edward G. Rendell appointed Lesgold as a member of the Governor's Commission on Preparing America's Teachers in 2005, and Lesgold served on the state's commission on cyber high schools as well.
Lesgold received his PhD in psychology from Stanford University in 1971 and also holds an honorary doctorate from the Open Universiteit in the Netherlands.
Other Stories From This Issue
There are no stories for the issue at this time.
On the Freedom Road

Follow a group of Pitt students on the Returning to the Roots of Civil Rights bus tour, a nine-day, 2,300-mile journey crisscrossing five states.
Day 1: The Awakening
Day 2: Deep Impressions
Day 3: Music, Montgomery, and More
Day 4: Looking Back, Looking Forward
Day 5: Learning to Remember
Day 6: The Mountaintop
Day 7: Slavery and Beyond
Day 8: Lessons to Bring Home
Day 9: Final Lessons