Pitt Records Its Best Fundraising Year Ever
By Jasmine Hoffman
Issue Date:
September 15, 2008
University raises $183 million in fiscal year 2008, bringing the total of gifts and pledges raised toward its $2 billion capital campaign goal to $1.273 billion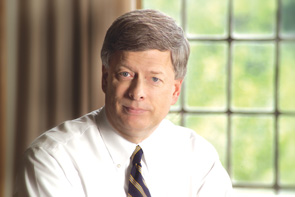 Mark A. Nordenberg
The University of Pittsburgh has recorded its best fundraising year ever, raising $183 million in gifts and pledges in fiscal year 2008, $64 million more than in FY 2007. Included in that overall total were record-setting gifts and pledges of $84.9 million from individuals and $72.1 million from foundations. This has brought total commitments to Pitt's $2 billion Building Our Future Together capital campaign goal to $1.273 billion.
"We are deeply grateful to the extraordinarily generous donors whose gifts have taken our ongoing campaign to record-setting levels," said Pitt Chancellor Mark A. Nordenberg. "Quite clearly, their well-targeted investments reflect both a strong belief in our mission and confidence that Pitt will continue to be an institution respected for the quality and impact of our work in education, research, and public service. We are committed to honoring the trust of our donors by building an even stronger university—for the countless individuals who do or will depend upon our programs and for the communities that we call home."
The University also recorded its best year in terms of actual cash received, with a total of $126.8 million. Those gifts came from a total of 50,213 donors, the largest number of contributors to ever support the university in a single year. Since the beginning of the campaign, 136,742 donors have made one or more contributions to the University. Of these donors, 74,548 are Pitt alumni and 6,270 are Pitt faculty and staff.
"Both the members of our professional staff and our many campaign volunteers are very proud of the fundraising records set during this past year," commented Albert J. Novak, Pitt's vice chancellor for institutional advancement. "Our greatest source of pride, however, is the impact that this campaign is having in creating student opportunities, supporting important faculty, and elevating the quality of our campuses."
Among the most significant gifts to Pitt during FY 2008 were the following:
• A $41.3 million commitment—the largest by an individual donor in Pitt's 221-year history—from acclaimed inventor, business founder, and University of Pittsburgh engineering alumnus and trustee John A. Swanson. This historic donation was designated for use by Pitt's School of Engineering to help fund renovations and for an endowment to support faculty, undergraduate scholarships, graduate student fellowships, and the Swanson Institute for Technical Excellence, among other initiatives. In recognition of this extraordinary generosity, the University renamed the school the John A. Swanson School of Engineering;
• A $13 million grant from the Richard King Mellon Foundation to establish the Richard King Mellon Foundation Institute for Pediatric Research and to support pediatric research, faculty recruitment, and an innovation awards program;
• A $12 million gift to the University of Pittsburgh at Johnstown, the largest gift in the school's 81-year history. Established through the generosity of a deceased alumnus who wished to remain anonymous, the estate gift endows in perpetuity a commuter scholarship that was established at Pitt-Johnstown in 2000. It is estimated that the gift will provide support for approximately 40 students annually; and
• Two grants from the Bill & Melinda Gates Foundation totaling $21.4 million: the first, $11.4 million to the University of Pittsburgh Center for Vaccine Research to develop new strategies to control tuberculosis (TB), which now infects one-third of the world's population and kills almost two million people every year; the second, a $10 million grant to the University of Pittsburgh Graduate School of Public Health to fund a vaccine modeling initiative that will create computer simulations of worldwide epidemics to find ways to stop the spread of infectious diseases.
"As we become an institution with a global reach and reputation, it is not only donors with a natural loyalty to Pitt who provide generous philanthropic support, but also those who conclude that Pitt has the greatest capacity to advance important work in their areas of interest," said Clyde B. Jones III, Pitt's vice chancellor for health sciences development.
The Building Our Future Together campaign has funded 398 new endowed scholarship funds, 32 new endowed fellowship funds, and 98 new endowed faculty positions, in addition to supporting educational and research programs, student-life initiatives, and numerous construction, renovation, and restoration projects on all five Pitt campuses.
The University's fundraising success is tied to the broad-based support of University alumni and friends. The Building Our Future Together campaign is already the most successful fundraising campaign in the history of both the University and Southwestern Pennsylvania.
Other Stories From This Issue
There are no stories for the issue at this time.
On the Freedom Road

Follow a group of Pitt students on the Returning to the Roots of Civil Rights bus tour, a nine-day, 2,300-mile journey crisscrossing five states.
Day 1: The Awakening
Day 2: Deep Impressions
Day 3: Music, Montgomery, and More
Day 4: Looking Back, Looking Forward
Day 5: Learning to Remember
Day 6: The Mountaintop
Day 7: Slavery and Beyond
Day 8: Lessons to Bring Home
Day 9: Final Lessons