Pitt Repertory Theatre Sets New Season, American Revelations
By Sharon S. Blake
Issue Date:
September 22, 2008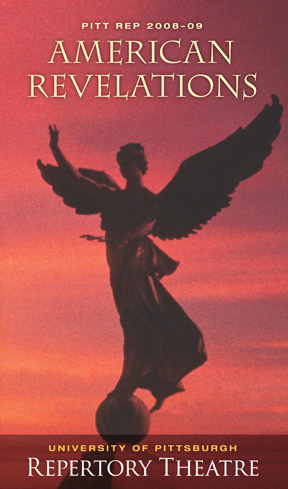 The University of Pittsburgh Repertory Theatre launches its 2008-09 season, American Revelations, on Oct. 15. The season includes three contemporary masterpieces and one classic that will explore America's legacy and national identity. The season kicks off with The Clean House by Sarah Ruhl, followed by Aristophanes' comedy Lysistrata; it wraps up with both parts of Tony Kushner's Pulitzer Prize-winning Angels in America.
American Revelations is Pitt Rep's most technically challenging season in recent memory, according to Bruce McConachie, chair of Pitt's Department of Theatre Arts. He says the effects-heavy Angels in America, in particular, will give Pitt's designers and theater technicians the chance to share the spotlight.
With the exception of Lysistrata, tickets for all performances are $22 general admission; $19 for Pitt faculty, staff, and alumni; and $12 for students.
Performance dates and information about the plays follow.

The Clean House
Oct. 15-26
Henry Heymann Theatre, Stephen Foster Memorial
A Pulitzer Prize finalist and Pittsburgh premiere, The Clean House takes place in a "metaphysical" Connecticut, where no affluent household is complete without a Latin housekeeper. Matilde, a Brazilian cleaning lady, has no interest in cleaning. She prefers to devote her time to composing the world's funniest—and lethal—jokes. Thomas Costello, a Pitt PhD candidate in theater arts, directs.
Lysistrata
Oct. 29-Nov. 9
Studio Theatre, B72 Cathedral of Learning
"Make love, not war" is the message of Aristophanes' raunchy political comedy from 411 B.C., in which Athenian women bring about an end to the Peloponnesian War by withholding sex from their husbands. More than two millennia later, the Father of Comedy's classic romp rings true, naughty, and hilarious. Pitt undergraduate student and theater arts major Kaitlyn Wittig directs. Tickets are $10; students, $7.
Angels in America Part 1: Millennium Approaches
Feb. 19-March 1
Charity Randall Theatre, Stephen Foster Memorial
Kushner's epic masterpiece has been hailed as one of the greatest American dramas. Set in the era of AIDS and the Reagan Administration, Millenium reveals how the afflicted and their loved ones brace themselves as physical realities unravel to make way for disturbing supernatural forces. The intersecting dramas of humans, angels, and phantoms converge on the arrival of a heavenly messenger. What will the millennium bring—a new age or an apocalypse? Pitt teaching artist Holly Thuma directs.
Angels in America Part 2: Perestroika
April 2-11
Charity Randall Theatre, Stephen Foster Memorial
Picking up where Millennium leaves off, Perestroika plunges the audience into a feverish dream of political unrest, personal revelation, and celestial instability. At turns shocking, heartbreaking, and funny, the conclusion reproaches humanity's hypocrisy and greed and illuminates our capacity for forgiveness, love, and survival—attributes that reveal the true angels among us. Pitt teaching artist Robert C. T. Steele directs.
For more information, visit www.play.pitt.edu or call 412-624-7529.
Other Stories From This Issue
There are no stories for the issue at this time.
On the Freedom Road

Follow a group of Pitt students on the Returning to the Roots of Civil Rights bus tour, a nine-day, 2,300-mile journey crisscrossing five states.
Day 1: The Awakening
Day 2: Deep Impressions
Day 3: Music, Montgomery, and More
Day 4: Looking Back, Looking Forward
Day 5: Learning to Remember
Day 6: The Mountaintop
Day 7: Slavery and Beyond
Day 8: Lessons to Bring Home
Day 9: Final Lessons