Pitt Researchers Get Nearly $4 Million From NIH for Kidney Center
By Maureen McGaffin
Issue Date:
September 15, 2008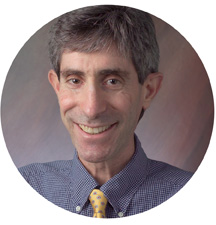 Thomas R. Kleyman
The Renal-Electrolyte Division in Pitt's School of Medicine has been awarded a nearly $4 million, five-year Kidney Research Center grant from the National Institute of Diabetes and Digestive and Kidney Diseases (NIDDK), one of only eight such centers in the United States.
"The main objectives of our Pittsburgh-based Kidney Research Center are to develop and facilitate multidisciplinary research, training, and information transfer related to kidney physiology, cell biology, and pathophysiology." said Thomas R. Kleyman, the center's director.
"The center will facilitate the translation of findings of basic kidney biology into studies that are truly translational or clinical in nature."
Kleyman is chief of the renal-electrolyte division and professor of medicine, cell biology and physiology, and pharmacology and chemical biology at Pitt.
Ora Weisz, Pitt professor of medicine, cell biology, and physiology, will serve as the associate director. The center will support four main core facilities: cellular physiology, single nephron and whole organ physiology, imaging at a cellular and organ level, and the use of model organisms to clarify novel aspects of kidney function. All research cores are structured to serve as nationwide resources for investigators.
The Kidney Research Center also will support two-year pilot research projects that are currently led by Linton Traub, a professor of cell biology and physiology; Agnes Swiatecka-Urban, a professor of pediatrics; and Kenneth Hallows, a professor of medicine, cell biology, and physiology.
According to the American Society of Nephrology, approximately 20 million Americans have some evidence of chronic kidney disease and are at risk to develop kidney failure. Another 20 million are at increased risk for developing kidney disease. Pittsburgh has one of the highest rates of end-stage kidney disease in the United States, with an estimated 3,200 local patients on dialysis. Nationally, more than 485,000 Americans have kidney failure requiring dialysis or transplantation.
The NIDDK established the George M. O'Brien Kidney Research program in 1987 to improve efficiency and collaborative research efforts among groups of investigators at institutions with an established comprehensive kidney research base.
Other Stories From This Issue
There are no stories for the issue at this time.
On the Freedom Road

Follow a group of Pitt students on the Returning to the Roots of Civil Rights bus tour, a nine-day, 2,300-mile journey crisscrossing five states.
Day 1: The Awakening
Day 2: Deep Impressions
Day 3: Music, Montgomery, and More
Day 4: Looking Back, Looking Forward
Day 5: Learning to Remember
Day 6: The Mountaintop
Day 7: Slavery and Beyond
Day 8: Lessons to Bring Home
Day 9: Final Lessons