Pitt School of Law Unveils the Derrick A. Bell Constitutional Law Commons
By Diane Hernon Chavis
Issue Date:
March 25, 2013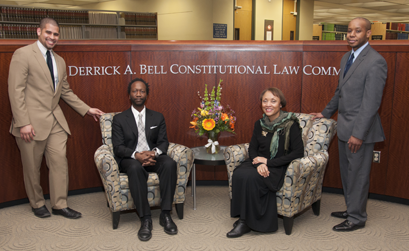 University of Pittsburgh School of Law Dean William M. Carter Jr. unveiled the Derrick A. Bell Constitutional Law Commons in the law school's Barco Law Library. From left, Pitt student Christopher D. Carter; Dean William M. Carter; Janet Dewart Bell, who is Derrick Bell's widow; and Pitt student Arthur J. Hawkins III. Hawkins and Christopher Carter are president and vice president, respectively, of Pitt's Black Law Students Association.
University of Pittsburgh School of Law Dean William M. Carter Jr. unveiled the Derrick A. Bell Constitutional Law Commons in the school's Barco Law Library on March 20. The space—which is located on the fifth floor of Pitt's Barco Law Building—is named in memory of Derrick A. Bell, the late legal scholar, Pitt Law honors alumnus, activist, and native Pittsburgher.
"This space honors Derrick Bell, who with quiet courage devoted his life to the endless pursuit of justice," said Carter, whose scholarship includes constitutional law and political and civil rights. "Professor Bell's work has been tremendously influential among lawyers, scholars, and generations of students. His legacy encourages us all to continue to work for justice."
Among those attending the unveiling were Bell's widow, Janet Dewart Bell; his sister, Janet A. Bell; and two of Bell's three sons—Douglass Dubois Bell and Derrick Bell III.
During his remarks, Carter also acknowledged the Bell family's financial support of Pitt Law. "Janet and the Bell family's generous gift to Pitt's School of Law will enable us to continue Professor Bell's work for social justice by launching new diversity initiatives, encouraging the matriculation of talented and diverse students, supporting pro bono opportunities for our law students, and offering postgraduate support for students working in the areas that Professor Bell's career embodied. In order to bring these initiatives to full fruition, we will seek additional financial support from our friends, supporters, and alumni."
The unveiling of the Derrick A. Bell Constitutional Law Commons, which has a plaque honoring Bell at its entrance, followed a ceremony organized by Pitt's chapter of the Black Law Students Association, whose vice president—second-year Pitt Law student Christopher D. Carter (no relation to Dean Carter)—announced the official renaming of the organization's annual community legal clinic as the Derrick Bell Community Legal Clinic. Clinic members, who provide legal assistance to the city's low-income residents and other individuals who otherwise may not have access to legal advice and advocacy, will be available from 10 a.m. through 2 p.m. on Saturday, April 13, at the Homewood-Brushton YMCA, 7140 Bennett St., Pittsburgh. For more information, contact Arthur J. Hawkins III, president of Pitt's Black Law Students Association, at ajh104@pitt.edu.
About Derrick A. Bell
A 1957 honors graduate of Pitt's School of Law, where he served as associate editor in chief of the University of Pittsburgh Law Review, Derrick A. Bell was the first tenured Black professor at Harvard Law School and later one of the first Black deans of a law school that was not historically Black. As the The New York Times reported following his death in 2011 at the age of 80, Bell "was perhaps better known for resigning from prestigious jobs than for accepting them." He also was known as a champion of race and gender diversity in the legal community.
For example, Bell left the Civil Rights Division of the U.S. Department of Justice in 1959, after his superiors told him to relinquish his membership in the National Association for the Advancement of Colored People because they believed it posed a conflict of interest. He left his deanship at the University of Oregon School of Law in 1986 when the school did not offer a position to an Asian American woman. That woman was Pat K. Chew, who is the Salmon Chaired Professor and Distinguished Faculty Scholar in Pitt's School of Law. And he took an unpaid leave of absence in protest from Harvard Law School in 1990, vowing not to return until the school hired its first Black woman to join its tenured faculty.
In 1992, Bell joined the faculty of New York University School of Law as a visiting professor. His "participatory learning" pedagogy—that learning is a shared experience between student and professor—empowered his students to learn the law and to teach the law to themselves and to one another.
Bell served as a Distinguished Lecturer and Scholar in Pitt's School of Law during the 2005-06 academic year, while Janet Dewart Bell simultaneously held the position of Visiting Research Professor in the school.
Bell was a pioneer of critical race theory—a body of legal scholarship that explores how racism is embedded in laws and legal institutions. Among his many scholarly publications is the casebook Race, Racism and American Law (Aspen Publishers, 6th ed., 2008), which originally was published in 1973 and heralded an emerging era in American legal studies—the academic study of race and the law. He also is known as the author of the best-selling Faces At the Bottom of the Well: The Permanence of Racism (Basic Books, 1992) and Gospel Choirs: Psalms of Survival in an Alien Land Called Home (Basic Books, 1996), among other books.
About Pitt's Black Law Students Association
The University of Pittsburgh's Black Law Students Association is an organization of Black law students who are committed to advancing the academic, professional, and cultural needs and goals of Pitt Law's Black law student body. An affiliate of the National Black Law Students Association, the Pitt chapter fosters academic achievement, community engagement, and the development of strong Black leadership in the legal profession.
Other Stories From This Issue
There are no stories for the issue at this time.
On the Freedom Road

Follow a group of Pitt students on the Returning to the Roots of Civil Rights bus tour, a nine-day, 2,300-mile journey crisscrossing five states.
Day 1: The Awakening
Day 2: Deep Impressions
Day 3: Music, Montgomery, and More
Day 4: Looking Back, Looking Forward
Day 5: Learning to Remember
Day 6: The Mountaintop
Day 7: Slavery and Beyond
Day 8: Lessons to Bring Home
Day 9: Final Lessons