Pitt School of Social Work Dean Emeritus David E. Epperson Dies
By Sharon S. Blake
Issue Date:
July 5, 2011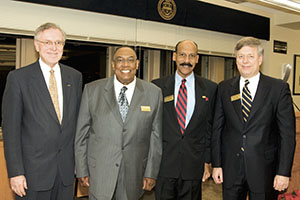 David E. Epperson, dean emeritus and professor emeritus in the University of Pittsburgh School of Social Work, who led the school to national prominence during his 29-year tenure, died of an apparent sudden cardiac arrest June 20. He was 76.
Epperson was stricken in the early evening of June 20 while attending a meeting of the YMCA of Greater Pittsburgh—an organization that had been an important part of his life since 1958, when he attended a Y-sponsored "freshman camp" as a Pitt freshman.
"Dave Epperson and I began working together as deans more than a quarter of a century ago," said Pitt Chancellor Mark A. Nordenberg. "He already was an accomplished academic leader at that time, so I naturally turned to him for guidance. He remained a special source of advice, encouragement, and support through all the years that followed.
"While he also found time for many other worthy causes, here in Pittsburgh and in more distant locations," Nordenberg continued, "Dave devoted most of his professional life to Pitt, where he was respectfully known as 'the dean of deans.' He was a wonderful person who will be sorely missed by all who knew him, but he has left an inspiring legacy of good works and a legion of devoted friends who will continue to honor his memory through their own commitments to the causes in which he believed."
Epperson served as dean of, and a professor in, Pitt's School of Social Work from 1972 until his retirement in 2001. He was the longest-serving dean at Pitt and the longest-serving dean of any American school of social work when he retired, and he left a legacy of academic and administrative success, as well as participation in education and social welfare missions all over the globe.
Under his leadership, the School of Social Work gained national attention—its enrollment more than tripled and its ranking soared to the top 10 percent of accredited graduate social work programs in the nation. The school became noted for its research, teaching, and practice in the areas of children, youth, and families; mental health; and community organization and social administration. Epperson provided key leadership to Pitt's Center for Mental Health Services Research, one of only seven National Institute of Mental Health centers of its type in the United States. And he developed the Child Welfare Education for Leadership Program, which provides educational opportunities for public child welfare personnel. In 2008, Pitt established the David E. Epperson Endowed Chair in the School of Social Work.
"In his 29 years as dean of Pitt's School of Social Work, David Epperson was absolutely dedicated to advancing all the good that a school of social work can do to alleviate human suffering," said James V. Maher, professor of physics and astronomy, senior science advisor, and provost emeritus at the University, under whom Epperson served as dean. "He was a marvelous and good man who loved people and brought true and healing warmth into each room he entered."
Larry E. Davis, who succeeded Epperson as dean of the School of Social Work and who is also Donald M. Henderson Professor and director of Pitt's Center on Race and Social Problems, said, "Because of Dave's efforts, our school has the best reputation in the country as a school that is responsive to the needs of its community."
Davis recalled Epperson taking him on a tour of Pittsburgh when the new dean first arrived. "Everywhere we went, people came out of their businesses, churches, and homes to say hello to him—he was a real hero and truly a man who worked for the greater good of all of us. After 10 years as dean, I continued to rely on him regularly for counsel, which he was always happy to provide."
Epperson was firmly rooted in his community for decades, serving in leadership capacities in local, national, and international nonprofit organizations. Most recently, he served as vice chair of the Urban Redevelopment Authority of Pittsburgh; on the board of trustees for the YMCA of the USA; on the board of directors of the YMCA of Pittsburgh; and as a member of PNC Bank's Urban Advisory Board. In addition, Epperson served as a member of the Pittsburgh Foundation's Copeland Fund Advisory Committee and its Lemington Home Advisory Board.
Epperson also was a Life Member of the NAACP, an emeritus director of the Pittsburgh Theological Seminary, and an elder at the East Liberty Presbyterian Church.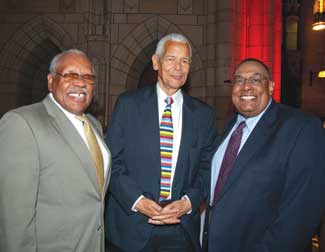 Previously, Epperson had served as chair of the boards of NEED (Negro Educational Emergency Drive), and the YMCA of Greater Pittsburgh and was the longest-serving board chair of the Urban League of Greater Pittsburgh. He was a member of the board of directors for both the Council on Social Work Education and the National Association of Deans and Directors. He also served as a trustee of the National Urban League and the National Center for Social Policy and Practice. In addition, he had been a member of the Pennsylvania State Planning Board and the Commonwealth's Judicial Reform Commission.
A native of Donora, Pa., and the son of a steelworker and a homemaker, Epperson began his deanship when Pitt's School of Social Work was a good but small program of 200 students with few faculty members. Amid the social and political turmoil of the Vietnam War, the civil rights movement, and the women's movement, Epperson faced a number of challenges, including building a baccalaureate program, enlarging the school's master's program, and developing a diversity program for students and faculty. When he retired, 22 percent of the School of Social Work's students and 25 percent of its faculty were from underrepresented populations.
While Epperson worked tirelessly to further develop Pitt's social work program, he also maintained a global view that was unusual for the times. When he was a student at Pitt, he volunteered for the YMCA and became president of the Pitt Student YMCA and the National Student YMCA. He eventually developed a particular passion for the YMCA's international work, serving as the first Black World Service worker with the Chinese YMCA in Hong Kong and participating in a Buildings for Brotherhood Work Camp in Turkey, sponsored by Y-USA.
Epperson went on to become a member and eventually the first Black chair of both the Y-USA's international committee and the Y-USA board. His board chairmanship was marked by an emphasis on advancing national YMCA diversity and expanding the Y's public policy role in Washington, D.C. In addition, Epperson served as chair of the YMCA's International Office on Africa for 12 years, traveling often to several African nations and overseeing development projects.
From 1954 to 1958, Epperson served in the Strategic Air Command of the United States Air Force.
Epperson earned four degrees from the University of Pittsburgh—a 1961 bachelor's degree in political science; master's degrees in social work (1964) and in political science and international affairs (1970); and a 1975 PhD in political science and public policy.
Epperson was awarded numerous honors over the course of his career, including the YMCA of Pittsburgh's Lifelong Achievement Award, the Renaissance Publications Trailblazers Torch Lighter Award for Higher Education, and the Urban League of Pittsburgh's Outstanding Members' Award, all in 1998; the Urban Redevelopment Authority of Pittsburgh's Volunteer Award in 1996; and Vectors Pittsburgh Man of the Year in Education award in 1982. He was a member of the Pittsburgh Chapter of Sigma Pi Phi fraternity, popularly known Rho Boulé.
Epperson is survived by his wife, Cecelia Trower Epperson, a former public school teacher who earned bachelor's and master's degrees from Pitt's School of Education in 1957 and 1962, respectively, and was named Miss Pitt in 1957; two daughters—Sharon Emily Epperson (Farley), an energy and personal finance correspondent for CNBC in New York who is married to journalist, columnist, and author Christopher John Farley, and Lia Beth Epperson, a professor in American University's Washington College of Law who is married to Benjamin Todd Jealous, president and CEO of the NAACP; and three grandchildren.
Funeral services took place June 25 at the East Liberty Presbyterian Church.
Following the services, family and friends gathered at the Homewood YMCA for a repast.
Memorial contributions may be made to The David E. and Cecelia T. Epperson Scholarship Fund, which benefits students in the University of Pittsburgh School of Social Work; contributions should be sent to University of Pittsburgh, Office of Institutional Advancement, 128 N. Craig St., Pittsburgh, PA 15260.
Other Stories From This Issue
There are no stories for the issue at this time.
On the Freedom Road

Follow a group of Pitt students on the Returning to the Roots of Civil Rights bus tour, a nine-day, 2,300-mile journey crisscrossing five states.
Day 1: The Awakening
Day 2: Deep Impressions
Day 3: Music, Montgomery, and More
Day 4: Looking Back, Looking Forward
Day 5: Learning to Remember
Day 6: The Mountaintop
Day 7: Slavery and Beyond
Day 8: Lessons to Bring Home
Day 9: Final Lessons