Pitt School of Social Work Dean Larry Davis Coeditor of 20th Edition of Encyclopedia of Social Work
Issue Date:
June 9, 2008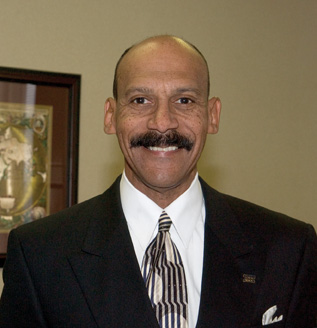 As societal conditions and policies have changed dramatically throughout the world in recent years, so has the standard reference publication of social work practitioners.
The completely updated, revised, and expanded 20th edition of the Encyclopedia of Social Work (NASW Press and Oxford University Press) is now available—coedited by Larry Davis (above), Donald M. Henderson Professor, dean of the School of Social Work (SSW), and director of the Center on Race and Social Problems (CRSP) at the University of Pittsburgh; and Terry Mizrahi, professor and director of the Education Center for Community Organization at the Hunter College School of Social Work.
The 2,000-page encyclopedia—in four volumes and accessible online—is designed to be an indispensable resource for social workers, students, and policymakers, as well as for anyone interested in social issues. Its 400 articles, written by experts that include six members of the SSW faculty, reflect the changes in the social work profession since the publication of the last edition in 1995. Most notably, the articles present ideas in a more international and multicultural context.
The volumes provide greater detail on mental health, drug, and alcohol problems; new entries on such critical areas as globalization, immigration and immigration policy, trauma and disaster, and displaced persons; and explanations of new areas of practice, including forensic social work and urban social work.
The new edition has 30 new entries, including human needs, lifespan, children, disability, and criminal justice. The new edition also contains 23 expanded entries on various racial and ethnic groups, including Arab Americans. The latter, for example, highlights concerns relating to stereotypes following the Sept. 11, 2001, attack on the United States and explores assumptions about gender relations and the struggles concerning family relations.
The 20th edition also includes more entries from the international community—regional overviews written by authors from other parts of the world that divide the coverage into eight global sections.
The volumes also feature the addition of 40 social work luminaries to the Biography section, which contains background on 300 key figures in social work history. They include National Association of Social Workers (NASW) executive director Elizabeth J. Clark, who received three degrees from Pitt—a Bachelor of Social Work in 1972, a Master of Social Work in 1974, and a Master of Public Health in 1975; the late Helen Northen, noted textbook author and 2004 Pitt Legacy Laureate who received a Master of Social Work Degree from Pitt in 1944; and the late Margaret Berry, executive director of the Soho Community Development House in Pittsburgh in the 1940s, and a field instructor in Pitt's School of Social Work during that time.
The six SSW faculty members who contributed articles include: professor Valire Carr Copeland (Maternal and Child Health); professor Catherine Greeno (Mental Health: Overview); professor Christina Newhill (Client Violence); Continuing Education director Tracy Soska (Housing); professor John Wallace; and Davis (African Americans: Overview).
The 20th edition reflects the breadth and scope of the profession, whose members shape public policy, influence research, and respond to the needs of people all over the world.
The encyclopedia's first edition, The Social Work Year Book, was published in 1929 by the Russell Sage Foundation.
Larry Davis
Shortly after arriving at Pitt as dean of SSW in 2001, Davis created CRSP, the first research center on race at any school of social work in the nation. The center and its programs look at how race affects economic and education gaps, relations between groups of people, mental health, criminal justice, youth and families, and the elderly. Davis, the recipient of the 2007 Chancellor's Affirmative Action Award, has recruited to the University faculty who conduct research on race, and he has encouraged other Pitt schools and departments to do the same. Davis is the coauthor of Race, Gender and Class: Guidelines for Practice With Individuals, Families and Groups (Prentice Hall, 1989), coeditor of Ethnic Issues in Adolescent Mental Health (Sage Publications, 1990), and author of Working With African American Males: A Guide to Practice (Sage Publications, 1999) and Black and Single: Finding and Choosing a Partner Who Is Right for You (Agate, 3rd edition, 2004). He earned the Bachelor of Science degree in psychology at Michigan State University and a master's degree in social work, a master's degree in psychology, and a joint PhD degree in social work and psychology at the University of Michigan (U-M) in 1977. He was the first Black to graduate from this U-M joint-degree program.
The NASW
The National Association of Social Workers (NASW) is the largest membership organization of professional social workers in the world, with 150,000 members. The organization works to enhance the professional growth and development of its members, to create and maintain professional standards, and to advance sound social policies. Its publishing arm, the NASW Press, has been publishing materials in social work since 1956. It serves faculty, practitioners, agencies, libraries, clinicians, and researchers throughout the United States and abroad. Known for attracting expert authors, the NASW Press delivers professional information to more than 250,000 readers through its scholarly journals, books, and reference works.
Other Stories From This Issue
There are no stories for the issue at this time.
On the Freedom Road

Follow a group of Pitt students on the Returning to the Roots of Civil Rights bus tour, a nine-day, 2,300-mile journey crisscrossing five states.
Day 1: The Awakening
Day 2: Deep Impressions
Day 3: Music, Montgomery, and More
Day 4: Looking Back, Looking Forward
Day 5: Learning to Remember
Day 6: The Mountaintop
Day 7: Slavery and Beyond
Day 8: Lessons to Bring Home
Day 9: Final Lessons