Pitt Senior LaVonda Baldwin Named a Foreign Affairs Fellow
By Anthony M. Moore
Issue Date:
August 20, 2013
University of Pittsburgh senior LaVonda Baldwin has been awarded a 2013 Thomas R. Pickering Undergraduate Foreign Affairs Fellowship, which provides financial and professional support for undergraduate students preparing to enter the U.S. Department of State's Foreign Service.
Baldwin, who has gained international experience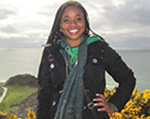 by studying and volunteering abroad in Ghana and Ireland, is one of only 20 students nationwide to have been named a 2013 Pickering Fellow. She is the fourth Pitt student to be bestowed the honor; previous Pitt-affiliated undergraduate fellows were selected in 1993, 2002, and 2011.
As a Pickering Fellow, Baldwin will receive as much as $40,000 in financial aid for her senior year of undergraduate study, as well as an additional $40,000 for a year of graduate study. She also will participate in two internships—one domestic and one overseas—and commit to three years of diplomatic service as a Foreign Service officer for the U.S. Department of State upon completion of her graduate degree. The mission of a U.S. diplomat in the Foreign Service is to promote peace, support prosperity, and protect American citizens while advancing the interests of the United States abroad.
Baldwin, a communication science and disorders major in the School of Health and Rehabilitation Sciences, expects to graduate from Pitt in the spring of 2014. She then plans to pursue a master's degree in international affairs. Her long-term career ambitions include a career within the U.S. Department of State's Bureau of Population, Refugees, and Migration.
For Baldwin, the Pickering Fellowship provides an opportunity to further her ambition to make a lasting and meaningful impact on the lives of others. "As I have grown as a person and become more aware of the social climate of the world, I have become a passionate advocate of equality and justice," Baldwin wrote in her fellowship application. "I have learned, in my 21 years on this earth, that it is of no value to take the privileges of life, education, freedom, and joy for granted, and this fuels my daily desire to learn how I can help others enjoy these same privileges."
Since arriving at Pitt in the fall of 2010, Baldwin, a native of Bensalem, Pa., has been preparing for a life of public service and leadership, both in the United States and abroad. She has served as an undergraduate teaching assistant in the Office of Freshman Programs, a resident assistant in the Office of Residence Life, and a member of the University's Student Alumni Association.
Baldwin spent a semester abroad, studying at the University of Ghana, in 2012. While in Africa, she volunteered as a caregiver, teacher, and speech language pathology aid with nonprofit organizations that specialize in assisting children with autism and other neurodevelopmental disorders. She also played an integral role in coordinating events to better inform community members about developmental disorders like autism.
Most recently, Baldwin participated in the School of Health and Rehabilitation Sciences' Study Abroad in Ireland Program in May 2013. She visited clinical, educational, and research centers in Belfast and Dublin to learn about international approaches to the disciplines of audiology, dietetics, occupational therapy, physical therapy, speech-language pathology, and sports medicine.
Baldwin's honors and distinctions include induction into Pitt's Outside the Classroom Curriculum Honorary Society as well as the Phi Eta Sigma Collegiate National Honors Society. She also holds memberships in the National Student Speech Language Hearing Association and the American Sign Language Club.
During the nomination process for the Pickering Fellowship, Baldwin was guided by Pitt's University Honors College, which assists students with preparing application materials and developing interviewing skills for national scholarship competitions. Since 1995, Pitt students have won four Rhodes Scholarships, six Marshall Scholarships, five Truman Scholarships, and 41 Goldwater scholarships, among other awards like the Pickering Fellowship.
The Thomas R. Pickering Undergraduate Foreign Affairs Fellowship is funded by the U.S. Department of State and administered by the Woodrow Wilson National Fellowship Foundation. It is named in honor of Thomas R. Pickering, who held the rank of Career Ambassador, the highest rank in the U.S. Foreign Service, and was U.S. Ambassador to the United Nations from 1989 to 1992. He also served as U.S. Ambassador to Jordan, Nigeria, El Salvador, Israel, India, and the Russian Federation, finishing his diplomatic career in 2000 as U.S. Under Secretary of State for Political Affairs.
Other Stories From This Issue
There are no stories for the issue at this time.
On the Freedom Road

Follow a group of Pitt students on the Returning to the Roots of Civil Rights bus tour, a nine-day, 2,300-mile journey crisscrossing five states.
Day 1: The Awakening
Day 2: Deep Impressions
Day 3: Music, Montgomery, and More
Day 4: Looking Back, Looking Forward
Day 5: Learning to Remember
Day 6: The Mountaintop
Day 7: Slavery and Beyond
Day 8: Lessons to Bring Home
Day 9: Final Lessons