Pitt, Sichuan University Look to Expand Their Academic Cooperation
Issue Date:
June 17, 2013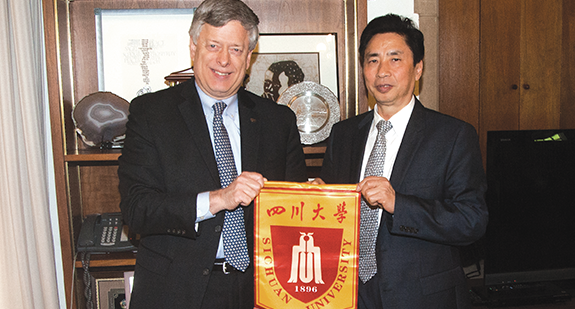 Read about more international visitors to Pitt in "A Global View."
University of Pittsburgh Chancellor Mark A. Nordenberg welcomed a delegation of officials from Sichuan University to Pitt on May 24 for a signing ceremony and campus tour. Chancellor Nordenberg and Sichuan University President Heping Xie signed a "framework agreement" that will provide the basis for extending cooperation between the universities. The universities had previously announced a joint engineering institute named the Sichuan University Pittsburgh Institute on April 1.
The Sichuan delegation that visited Pitt was led by Sichuan University President Xie and also included Shijing Yan, vice president; Hong Deng, executive deputy director of the International Office; Ping Guan, vice dean of the International Office; and Jin Ji, an English teacher who served as President Xie's translator.
Chancellor Nordenberg emphasized the high institutional priority that Pitt is placing on the partnership with Sichuan University. The University of Pittsburgh "is very fortunate to partner with such an esteemed institution as Sichuan University—the premier university in Western China. The extraordinary partnership that forms the basis for the new Sichuan University Pittsburgh Institute marks a milestone in the life of our University. We are grateful for what President Xie and his colleagues have contributed to the progress of both of our institutions and to the education of our students," Chancellor Nordenberg said during a luncheon in the Babcock Room of the Cathedral of Learning.
That academic priority is one shared by President Xie and his colleagues at Sichuan University, which has made a substantial investment of resources to acquire land and to design, build, and equip a 100,000 square-foot building on its campus that will be at the cutting edge of engineering education. In addition, at the signing ceremony, President Xie announced that he has appointed a high-level delegation that will return to Pitt during the summer.
The foundation for the Sichuan University Pittsburgh Institute was laid in October 2011, when a Pitt delegation traveled to Sichuan University in Chengdu, China. Gerald D. Holder, U.S. Steel Dean of Engineering and professor in Pitt's Swanson School of Engineering, led the delegation. He was accompanied by Larry Shuman, Distinguished Service Professor and associate dean for academic affairs in the Swanson School; Minking Chyu, chair and Leighton and Mary Orr Chair Professor in the Department of Mechanical Engineering and Materials Science; Qing-Ming Wang, a professor in the Swanson School's Department of Mechanical Engineering and Materials Science, a William Kepler Whiteford Faculty Fellow, and director of the mechanical engineering graduate program; and Lawrence Feick, director of Pitt's University Center for International Studies. Feick is also Pitt's senior director of international programs, acting codirector of the Asian Studies Center, and a professor of business administration in the Joseph M. Katz Graduate School of Business.
Over the next year-and-a-half, representatives of both universities worked closely together to develop a more detailed plan for the joint institute. That work culminated in a March 2013 meeting in Chengdu where Pitt Provost and Senior Vice Chancellor Patricia E. Beeson and Guangxian Li, executive vice president of Sichuan University, signed an agreement to form the Sichuan University Pittsburgh Institute.
Among the guests who joined the chancellor at the May 24 luncheon were the Pitt leaders who have been tasked with further development of the Sichuan University Pittsburgh Institute: Beeson, Holder, Shuman, Chyu, and Feick.
The Sichuan University Pittsburgh Institute expects to enroll its first class in the fall of 2014. Students will spend the first two years of the program immersed in the Pitt curriculum in China with the option of transferring to Pitt's main campus during their third year in the program. Students who transfer to Pitt directly after their sophomore year will earn a bachelor's degree from both Sichuan University and Pitt, and all students will receive an institute certificate upon completion of their studies. Qualified students will also be able to continue their graduate studies at Pitt.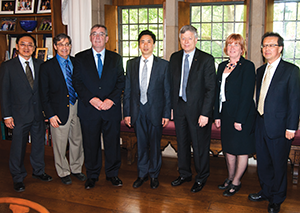 Pitt is one of only five U.S. universities to have entered into a large-scale education and research partnership agreement with a Chinese university; the others are Carnegie Mellon University, Duke University, New York University, and the University of Michigan. Provost Beeson and Feick will work toward establishing further academic and research connections between Pitt and Sichuan University through the framework agreement.
The collaboration with Sichuan University will expand Pitt's influence in China, which includes a number of important university relationships. For example, Pitt has a long-established partnership with Wuhan University. Located in Pittsburgh's sister city in China, Wuhan University partners with Pitt's Confucius Institute to advance language and cultural studies, as well as with programs in the Graduate School of Public Health, Swanson School of Engineering, and School of Information Sciences. More recently, in 2011, the Pitt School of Medicine and Tsinghua University School of Medicine in Beijing entered into a collaborative education and research agreement to provide Chinese medical and graduate students with the opportunity to attend Pitt for training in biomedical research. In addition, since 1998, the University Library System has administered the East Asian Gateway Service to provide free delivery of full-text Chinese academic publications to scholars and researchers in both the United States and China, including partnerships with several academic and research libraries in China.
Other Stories From This Issue
There are no stories for the issue at this time.
On the Freedom Road

Follow a group of Pitt students on the Returning to the Roots of Civil Rights bus tour, a nine-day, 2,300-mile journey crisscrossing five states.
Day 1: The Awakening
Day 2: Deep Impressions
Day 3: Music, Montgomery, and More
Day 4: Looking Back, Looking Forward
Day 5: Learning to Remember
Day 6: The Mountaintop
Day 7: Slavery and Beyond
Day 8: Lessons to Bring Home
Day 9: Final Lessons