Pitt-sponsored Fly Boys Has World Premiere Screening Feb. 1
Issue Date:
January 28, 2008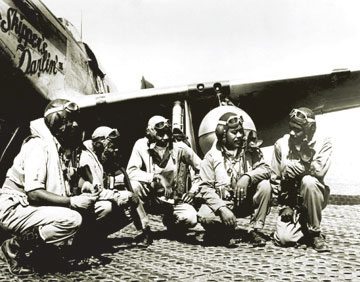 The world premiere screening of the WQED-produced video documentary Fly Boys: Western Pennsylvania's Tuskegee Airmen—which was made possible through major funding from the University of Pittsburgh with additional support from the Alcoa Foundation and the Pittsburgh Foundation—will be Pitt's inaugural event in the K. Leroy Irvis Black History Month Program. The by-invitation event, cohosted by Pitt Chancellor Mark A. Nordenberg and WQED Multimedia President and CEO and Pitt Trustee George L. Miles Jr., will be held on Feb. 1 in the Soldiers and Sailors Military Museum and Memorial in Oakland.
Fly Boys will have its broadcast premiere on WQED-TV at 8 p.m. Feb. 7 and also will be streamed live at that time on WQED Interact at www.wqed.org.
The documentary takes viewers back to early 1941, during the Jim Crow "separate but equal" days prior to America's entry in World War II, when the Roosevelt Administration established an all-Black flight training program at Tuskegee Institute (now Tuskegee University) in Alabama. Tuskegee was a logical location for the pioneering venture, because it had previously started its own civilian pilot training program under the direction of Charles Alfred "Chief" Anderson (1907-1996), a native of Bryn Mawr, Pa., who was known as the father of Black aviation. He was the first African American to earn a commercial pilot's license; he and Albert E. Forsythe made the first round-trip transcontinental flight by Black pilots, flying from Atlantic City to Los Angeles and back without the aid of landing lights, parachutes, radios, or blind-flying instruments; and he would train the Tuskegee Airmen.
Because studies commissioned earlier by the Army War College concluded that Blacks were unfit for military leadership roles and incapable of piloting aircraft, the Tuskegee Airmen training program went forward on the assumption by the military establishment that the experiment would prove African Americans incapable of operating complex combat planes.
But Eleanor Roosevelt knew better. On April 19, 1941, the First Lady visited Tuskegee Army Air Field and, against the advice of the Secret Service, asked Charles Anderson to take her up in a plane. That flight over Alabama lasted more than an hour and proved to Mrs. Roosevelt that Blacks could indeed fly aircraft. She had a photograph of herself taken with Anderson, showed it to FDR, and became a staunch champion of the Tuskegee Airmen, who distinguished themselves as the best escort plane service in the U.S. military during World War II, ensuring that bombing missions in North Africa and Europe succeeded. It was not for nothing that the Germans, who called the Airmen "Black Birdmen," avoided the Tuskegee pilots with their distinctive red-tailed aircraft whenever possible.
Between 1941 and 1946, more than 2,000 African Americans completed training at Tuskegee, nearly 1,000 of them qualifying as pilots and the rest trained to fill positions of navigators, mechanics, radio repairmen, armament specialists, parachute riggers, control tower operators, and all other specializations required to comprise a fully functional Air Corps unit.
Although White pilots were not allowed to fly more than 52 missions, the Tuskegee Airmen often flew up to 100 missions because of lack of replacements. By the end of World War II, the 332nd Fighter Group of Tuskegee Airmen—which would become the largest fighter unit in the 15th Air Force—was made up of the original 99th Pursuit Squadron as well as the 101st and 103rd Pursuit Squadrons. The 332nd had flown 15,553 combat sorties on 1,578 missions and racked up 150 Distinguished Flying Crosses, 744 Air Medals, eight Purple Hearts, 14 Bronze Stars, and three Distinguished Unit Citations. And the airmen would go on to pursue stellar careers in an array of fields, from law and medicine to engineering, dentistry, pharmacy, education, the military, and politics.
The total number of Tuskegee Airmen known to have ties to Western Pennsylvania is 71; of those 71—who came from such communities as the Hill District, Sewickley, Belzhoover, and Homewood—26 are Pitt alumni, and six of the alumni are still living. They are:
Lee Archer, who completed a Pitt finance certificate program, flew 169 missions and is the only confirmed ace of the Tuskegee Airmen, with five confirmed aerial victories against German Messerschmitt Bf 109 fighters. Also credited with destroying six enemy aircraft on the ground, Archer was awarded the Distinguished Flying Cross, the Air Medal with 18 Clusters, the Distinguished Unit Citation, and many other service medals. He retired from the military in 1970 as a lieutenant colonel;
William Bailey, College of Arts and Sciences '52, who first taught, then became a high school principal, and went on to serve as assistant superintendent for the Los Angeles School District;
Ed Harris, College of Arts and Sciences '55, who carried his training as a bomber pilot with him during a military career that included 127 missions in the Korean War, receipt of the Distinguished Flying Cross, and retirement from the Air Force as a lieutenant colonel;
Robert Higginbotham, School of Medicine '57, who was called back by the military during the Korean War and ended his service as a first lieutenant, went on to become the first African American intern and resident at Sewickley Valley Hospital and then was a leading orthopedic surgeon in Los Angeles. Now retired and living in Rancho Mirage, Calif., he is part of a distinguished family. His brother, Mitchell, also a Tuskegee Airman, was commissioned as a second lieutenant, and now serves as an Ambassador of Goodwill for the Tuskegee Airmen. Robert Higginbotham's niece is Monique Higginbotham, an assistant professor of pediatrics in Pitt's School of Medicine and part of the Child Advocacy Center within Children's Hospital of Pittsburgh of UPMC. Another relative is NASA astronaut Joan Higginbotham. And the brothers' cousin was prominent author, civil rights advocate, and federal judge A. Leon Higginbotham (1928-1998), the first Black judge and youngest person ever appointed to the U.S. District Court for the Eastern District of Pennsylvania; the first Black trustee of Yale University; the first African American appointed to any federal regulatory commission when President Kennedy appointed him to be a commissioner on the Federal Trade Commission; a judge on the U.S. Court of Appeals for the Third Circuit through appointment by President Carter in 1977 and chief judge of that court from 1990 to 1991; and recipient of the Presidential Medal of Freedom from President Clinton in 1995.
Lynn V. Hooe, College of Arts and Sciences '51, who went on to graduate from Wayne State University law school, became a member of the Michigan bar, pursued a career as a successful lawyer in Detroit, and served as a district magistrate in Detroit; and
Henry McCullough, College of Business Administration '36, of Pittsburgh.
In addition to the six alumni, former Pitt Trustee Wendell Freeland, a leading Pittsburgh attorney and civil rights activist who has been a member of the Pitt School of Social Work Board of Visitors since 1994, was a Tuskegee Airman.
Fly Boys includes the commentary of Archer, Harris, Robert and Mitchell Higginbotham, and Freeland.
"Let's get this clear," Robert Higginbotham says toward the beginning of the documentary. "It was an experiment. They didn't believe you could fly. They didn't believe you were smart enough to handle complicated machinery. Now who am I supposed to believe? Those people? Or am I supposed to believe me? Don't listen to what they think you can do. Do what you know you can do."
And that can-do attitude fostered by Tuskegee Institute founder Booker T. Washington is what the Tuskegee Airmen venture was all about, according to Fly Boys producer and host Chris Moore.
"The documentary starts with Tuskegee and the spirit of Booker T. Washington, proponent of making a person as self-reliant as possible," says Moore. "There are buildings still in use on [the Tuskegee] campus today that were made from lumber students cut down, bricks they made, nails they made. Part of his self-reliant spirit was instilled in the Tuskegee Airmen: 'Yes, we can!'
"They [the airmen] were disciplined, trained, and trained, and over-trained, because no general really wanted them in the combat theater. But that's probably what made them so good when they finally got into combat. With all the discrimination that kept them back, they were trained so much better than the other [White] pilots that were rushed into combat. They [the airmen] weren't allowed in combat until April 1943, serving in North Africa. At first, they were used to fly close air cover support for ground combat groups, then to support bomber pilots in the reinvasion of Italy. By the end of 1943 and 1944, they were escorting bombers from Italy to Berlin.
"The Tuskegee Airmen made an original contribution to the Civil Rights Movement long before Dr. King," Moore adds.
The first portion of Fly Boys details the background of the Tuskegee program, the discrimination the airmen had to endure, and their sterling combat record—including testimonials from White pilots whose lives they saved. The rest of the documentary concerns itself with the discrimination that persisted after the war, how the airmen dealt with it, and their contribution to the Civil Rights Movement.
In the documentary, the Western Pennsylvania Tuskegee Airmen explain "why they fought for the United States and are still very proud of what they did," Moore says. "These are very proud Americans who did what they had to do at a time when Fascism threatened to take over the world and, at the same time, they found discrimination at home. As a [Vietnam] veteran, I'm very proud of them and all that they did for this country."
Fly Boys concludes with the March 29, 2007, ceremony during which President Bush awarded the airmen gold medals on behalf of Congress, acknowledging the nation's debt to them and saying that "your story will be told and honored for generations to come."
The airmen also will be honored at "A Gathering of Eagles," a by-invitation luncheon to be held Saturday, Feb. 2, at the Senator John Heinz History Center. The event is being organized by Regis Bobonis Sr., vice president of the Daniel B. Matthews Historical Society in Sewickley, Pa. Bobonis has done extensive research on the Tuskegee Airmen, including those who graduated from the University of Pittsburgh, and he served as historical consultant and an expert on-camera commentator for the Fly Boys documentary.
The program of Black History Month observances that the University of Pittsburgh inaugurated in 2004 was recently established as the K. Leroy Irvis Black History Month Program to honor the memory of the legendary Pennsylvania legislative leader and Pitt alumnus and former trustee. Irvis, who in 1977 became the first African American speaker of the House in Pennsylvania and the first Black speaker of any state house since Reconstruction, sponsored in 1966 the bill that made Pitt a state-related institution of higher education, thus saving the University from economic ruin.
Other Stories From This Issue
There are no stories for the issue at this time.
On the Freedom Road

Follow a group of Pitt students on the Returning to the Roots of Civil Rights bus tour, a nine-day, 2,300-mile journey crisscrossing five states.
Day 1: The Awakening
Day 2: Deep Impressions
Day 3: Music, Montgomery, and More
Day 4: Looking Back, Looking Forward
Day 5: Learning to Remember
Day 6: The Mountaintop
Day 7: Slavery and Beyond
Day 8: Lessons to Bring Home
Day 9: Final Lessons