Pitt United Way Day of Caring to Focus on 15 Community Projects
By Patricia Lomando White
Issue Date:
September 24, 2007
University teaming with TIAA-CREF at Lemington Community Services and South Oakland Greenway project Sept. 28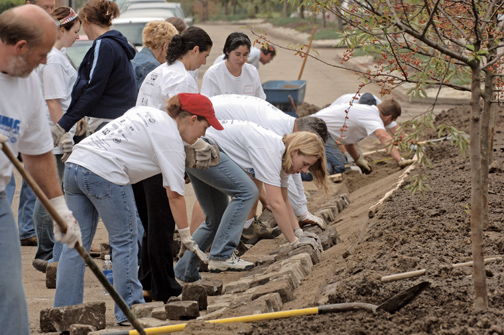 University of Pittsburgh staff and faculty in one of the 2006 Day of Caring projects
Borrowing the phrase "for the greater good" from its partner TIAA-CREF, Pitt will be promoting "the greater good" in 15 community projects during its United Way Day of Caring Sept. 28, including the TIAA-CREF-sponsored work at Lemington Community Services Senior Center and the South Oakland Greenway project.
Steve Zupcic of Pitt's Office of Community Relations coordinates the Day of Caring event. Community Relations, in cooperation with Pitt's Equipoise, the association of African American staff and faculty, will assist Lemington in transferring previously donated office dividers and furniture.
TIAA-CREF, a retirement planning and investment manager for University faculty and staff, is funding the upgrade of Lemington's computer system as well as the transformation of a piece of South Oakland property into a green space and park.
"The need to care for the frail elderly identified by our founder, Mary Peck Bond, more than 100 years ago continues today—particularly as our aging population grows and seeks services that enable them to remain independent and in their own homes," said Joy Starzl, executive director of Lemington Community Services Senior Center.
Other Pitt Day of Caring volunteer services at Lemington will include:
• Telephoning homebound seniors to check on them and offer the services of Lemington;
• Assisting with the Silver Sneakers sessions for both active and frail seniors;
• Assisting with serving meals to both frail and active seniors;
• Conducting interviews with seniors over age 90 for oral history documentation; and
• Conducting art classes with seniors.
Among Pitt's Day of Caring projects will be reading aloud at the Urban League Charter School in East Liberty, working on the Schenley Park restoration, participating in Family House Fix-it Day, doing interior improvements at Gwen's Girls, freshening up the Roselia Center, and packaging medical supplies at Global Links. For a complete list of projects, visit www.pitt.edu/~united/projects.html.
The Lemington Community Services heritage dates back to 1882, when founder Mary Peck Bond began caring for "the poorest of poor." Lemington Community Services continues this long tradition of providing high-quality home care services to frail elderly clients who rely on Lemington to manage in their own homes and communities. Pittsburgh's East End residents look to Lemington for a variety of services, including meals, service coordination, socialization and recreation, outreach, information and referral, educational classes, and health enhancement programs.
"We are honored to sponsor this Day of Caring at the University of Pittsburgh, as our employees have a long tradition of contributing to those efforts that help support the greater good," said Scott Evans, executive vice president of Asset Management for TIAA-CREF. "Managing our clients' financial security to and through retirement has been our only mission for nearly 90 years," Evans added.
Other Stories From This Issue
There are no stories for the issue at this time.
On the Freedom Road

Follow a group of Pitt students on the Returning to the Roots of Civil Rights bus tour, a nine-day, 2,300-mile journey crisscrossing five states.
Day 1: The Awakening
Day 2: Deep Impressions
Day 3: Music, Montgomery, and More
Day 4: Looking Back, Looking Forward
Day 5: Learning to Remember
Day 6: The Mountaintop
Day 7: Slavery and Beyond
Day 8: Lessons to Bring Home
Day 9: Final Lessons