Pitt Vice Chancellor Robert Hill Named 2006 Business Communicator of the Year by IABC's Pittsburgh Chapter
Issue Date:
October 9, 2006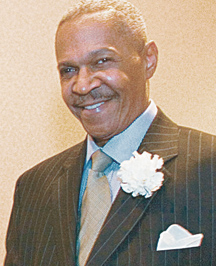 Hill to be honored during Oct. 26 Golden Triangle Awards program in Oakland
Robert Hill, Pitt vice chancellor for public affairs, will receive the 2006 Business Communicator of the Year Award from the Pittsburgh chapter of the International Association of Business Communicators (IABC).
"With so many outstanding communicators in Pittsburgh, I feel truly honored to be named IABC/Pittsburgh's Business Communicator of the Year," Hill said. "This selection is ironic in that my superb staff, whom I drive to near-collapse on every project, would reinforce that maniacal behavior by nominating me for this award."
IABC/Pittsburgh created its Business Communicator of the Year Award in 2004 to recognize individuals for outstanding contributions in practicing, promoting, and enhancing professional business communications in Western Pennsylvania.
"In this age of information overload, strategic communication leadership is more important than ever," said Tina Jerzyk, copresident of IABC/Pittsburgh. "The Business Communicator of the Year award celebrates one individual's ability to create and implement strategies that shape actions, opinions, and attitudes."
Hill will be presented with the 3rd annual Business Communicator of the Year Award Oct. 26 during IABC/Pittsburgh's 27th annual Golden Triangle Awards program at the Twentieth Century Club in Oakland. Also during the program, members of Hill's Office of Public Affairs staff will receive 27 awards for writing, publications and Web design, media relations, and other communications work. Reservations are available at www.iabcpittsburgh.com.
A spokesperson for the independent panel of senior IABC/Pittsburgh communicators who reviewed 2006 Business Communicator of the Year Award nominees stated, "Throughout Robert's communications career, he has consistently been driven to excellence. This drive has been accompanied by a strong desire to mentor young professionals. In fact, several previous students were among the many who nominated him for this year's honor.
"As vice chancellor and the University's chief spokesperson, Robert has fostered greater understanding of Pitt's ever-broadening range of accomplishments and its growing reputation," the selection panel's spokesperson continued. "Robert has done this by building a multitalented staff whose expertise is evidenced by the more than 450 awards and recognitions garnered for publications and other initiatives. One contribution of particular note is the multi-institutional taskforce that Robert assembled [in 2001] to provide and promote measles vaccinations for young children. Few communications professionals have been able to realize the success that Robert has enjoyed. Robert's dedication to his community, his university, and his profession make him a most deserving recipient of this honor from IABC."
Hill has led Pitt's Office of Public Affairs since 1999, and has served as vice chancellor for public affairs since 2001. He is responsible for the University's overall communications strategy, news and information, national media relations, publications, marketing communications, Web site development and administration, institutional advertising, video communications, chancellor's communications, printing services, and University spokesperson duties.
Hill is credited with expanding and reorganizing the University's public affairs office, establishing Pitt's first official weekly newspaper, supervising the redesign of the University's Web presence, and leading an unprecedented rise in the standards of news, writing, design, publications, and video productions.
In addition to his official duties, Hill has shared his communications expertise with community organizations including the Urban League of Pittsburgh, Three Rivers Youth, the Greater Pittsburgh YWCA, and the Pennsylvania Black Conference on Higher Education.
An alumnus of New York University's Stern School of Business, Hill holds a Master of Science in Management with Honors from Manhattan College, and a Certificate in Management from Harvard University.
Prior to joining Pitt, he served as Syracuse University's vice president for public relations for 10 years, during which his department won the prestigious Gold Medal for Overall Institutional Relations Programs from the Council for Advancement and Support of Education, the highest public relations award in American higher education.
Other Stories From This Issue
There are no stories for the issue at this time.
On the Freedom Road

Follow a group of Pitt students on the Returning to the Roots of Civil Rights bus tour, a nine-day, 2,300-mile journey crisscrossing five states.
Day 1: The Awakening
Day 2: Deep Impressions
Day 3: Music, Montgomery, and More
Day 4: Looking Back, Looking Forward
Day 5: Learning to Remember
Day 6: The Mountaintop
Day 7: Slavery and Beyond
Day 8: Lessons to Bring Home
Day 9: Final Lessons