Pitt to Welcome Alumni and Friends Oct. 13-16 to Homecoming 2011
By Patricia Lomando White
Issue Date:
October 10, 2011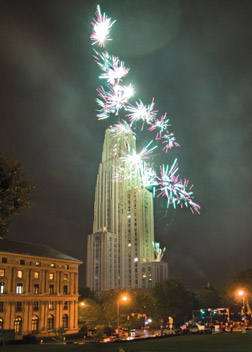 A Welcome Back Reception, young alumni mixer, Pitt Band centennial celebration, art exhibition, fireworks and laser show, Homecoming Extravaganza, and school and departmental reunions are some of the festivities planned as the University of Pittsburgh welcomes alumni, students, and friends to Homecoming 2011 from Oct. 13 to 16, including the noon Oct. 15 football game between the Pitt Panthers and the University of Utah Utes.
As an opener to the weekend events, Pitt's Young Alumni Council of the Pitt Alumni Association will host a Young Alumni Mixer from 8 to 11 p.m. Oct. 13 at Mario's East End, 5442 Walnut St., Shadyside.
The following day, Oct. 14, activities begin at 9 a.m. and continue throughout the evening. A feature of the afternoon will be the 2 p.m. unveiling of a new permanent display in Hillman Library of the 1936 Summer Olympics Gold Medal won by alumnus John Woodruff, who earned his Pitt Bachelor of Arts degree in sociology in 1939.
A festive autumn setting, complete with hors d'oeuvres and drinks, will be the backdrop for the Pitt Alumni Association's Welcome Back Reception that helps connect Pitt alumni from past decades. It will be held from 6 to 8:30 p.m. Oct. 14 in the Cathedral of Learning's Commons Room. The Nationality Rooms also will be open for visitors. A number of schools and departments will host their own alumni receptions during the evening.
The Pitt Program Council's fireworks and laser show at 9 p.m. Oct. 14 on Bigelow Boulevard between the Cathedral of Learning and the William Pitt Union is always a hit with onlookers. The evening's festivities will continue with the Homecoming Extravaganza at 9:30 p.m. in the William Pitt Union Assembly Room with Monte Carlo Night.
Pitt's African American Alumni Council (AAAC) will hold its annual Apple Seed Project from 9 a.m. to 1 p.m. Oct. 14, where participants share their time and talents with students in the Pittsburgh Public Schools. Later that day, at 9 p.m., and at 10 p.m. Oct. 15, the AAAC Sankofa Reconnect will be held at the Savoy Restaurant, 2623 Penn Ave., Strip District.
Many of Pitt's schools and departments will host additional Homecoming events, including continuing education courses, panel discussions, alumni recognition luncheons and receptions, and networking events.
Throughout the weekend, On a Lucky Day a Surprising Balance of Forms and Spaces Will Appear, an exhibition of work by faculty of Pitt's Department of Studio Arts, will be on display in the University Art Gallery in the Frick Fine Arts Building. Tours of Pitt's 27 Nationality Rooms representing nations and cultures from around the world also will be available.
Founded Oct. 14, 1911, the Pitt Band is celebrating its centennial this year with the 2011 Pitt Alumni Band Day at 8 a.m. Oct. 15 during the Pitt Band Alumni Council Tailgate prior to Pitt's football game at Heinz Field.
Pitt Alumni Association's Alumni Central also will kick off Homecoming football pregame festivities at 9 a.m. Oct. 15 at the Alumni Association tent located at Stage AE on North Shore Drive. Other events include the World's Largest Family Block Party on Art Rooney Avenue between Gates A and B with inflatable games for the kids, game day food, and other family-oriented activities and the AT&T Great Lawn Student Tailgate with grills, food, live music, games, and entertainment.
Pitt's Panther Prowl at 10 a.m. Oct. 15 will give fans the opportunity to meet and greet the football players as they arrive at Heinz Field outside Gate A. Immediately following will be the Pitt Marching Band's Pregame Concert. The band will lead the March to Victory parade at 11 a.m. from Tony Dorsett Drive down General Robinson Street, ending at the stage on Art Rooney Avenue. The Homecoming Court will ride in the parade, and the king and queen will be crowned during halftime festivities. The century-old Pitt Band will attempt to make the largest PITT formation in Heinz Field history.
For general information about Homecoming, call the Pitt Alumni Association at 412-624-8229 or 1-800-258-7488, or visit www.alumni.pitt.edu/homecoming. For ticket information for the Homecoming football game, call 1-800-643-7488 or visit www.pittsburghpanthers.com.
Other Stories From This Issue
There are no stories for the issue at this time.
On the Freedom Road

Follow a group of Pitt students on the Returning to the Roots of Civil Rights bus tour, a nine-day, 2,300-mile journey crisscrossing five states.
Day 1: The Awakening
Day 2: Deep Impressions
Day 3: Music, Montgomery, and More
Day 4: Looking Back, Looking Forward
Day 5: Learning to Remember
Day 6: The Mountaintop
Day 7: Slavery and Beyond
Day 8: Lessons to Bring Home
Day 9: Final Lessons