Pitt Welcomes New Chancellor, Patrick D. Gallagher
Issue Date:
August 4, 2014
Patrick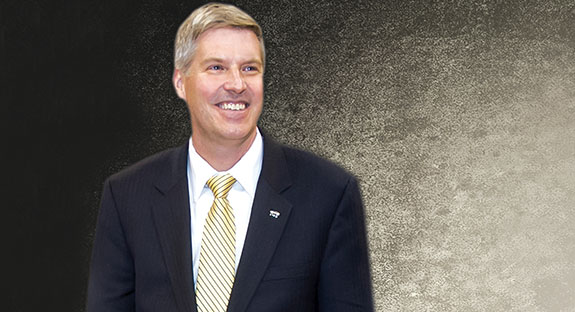 D. Gallagher became the University of Pittsburgh's 18th chancellor and chief executive officer on Aug. 1. He comes aboard during a robust period of positive momentum at Pitt—in enrollment, student and faculty achievement, research innovation, fundraising support, community partnerships, and more.
An alumnus who earned graduate degrees in physics at Pitt, Gallagher until recently served as acting deputy secretary of the U.S. Department of Commerce and director of the National Institute of Standards and Technology (NIST) in Washington, D.C. As such, he provided high-level direction for the agency, which promotes U.S. innovation and industrial competitiveness by advancing measurement science, standards, and technology.
Gallagher delivered Pitt's commencement speech in 2013, and was awarded an honorary Doctor of Public Service degree in recognition of his contributions to advancing the United States through science and technology.
While his own history as Pitt's chancellor remains to be written, his speech to 2013 graduates offers a glimpse into his views on the importance of innovation, the role of human capabilities, and the spark in each of us to make a positive difference.
An excerpt from the speech follows.
"...We live in a time of remarkable and unprecedented technological change. But innovation is not just the realm of the technologist; it actually affects all of us.
One of the great benefits of my [NIST position] is that I get to interact with some remarkable people—top business leaders, CEOs, world-famous scientists, entrepreneurs who have started brand-new companies, key government officials. And I've learned some things from them that I wanted to share with you. Here are a few observations.
The first is that while technology enhances and extends our human capabilities, it never replaces them. As we talk about, for example, advanced manufacturing innovation in the United States, one of the most common reactions is that automation and this technology are replacing human workers. Robots are replacing people. Is that right? In fact, the data don't support that premise. This technology is actually creating new opportunities and new growth. The trend has always been that productivity growth with automation always increases employment.
Another interesting fact is that Deloitte recently did a study where CEOs around the world were interviewed. And they were asked, "What do you consider to be most important when you decide where to put your next manufacturing plant?" And I think we were all expecting to hear, "Where's the cheapest labor?" or "Where do you get the most access to capital?" or "Where are the exports the cheapest?"
The absolute number one priority, by a landslide, was access to talent. It was access to people—to engineers, to the scientists, to the innovators. And the reason is that technology places a premium on what is most human: our capacity to learn and have insight, to collaborate, to create, adapt, and even to feel.
Yet another insight I've gotten, is that innovation is a team sport. We tend to idealize, in this country, the rugged individualist, the cowboy ethos of being on your own and solving everything. But the notion of a lone-wolf inventor working long nights in a garage, coming up with the latest product, is actually largely a myth. The way it works today, the language of innovators is exactly the opposite. It's one of collaboration and partnerships and working together. And if any of you ever has the opportunity to visit, for example, Google, you'll see that the entire complex has been designed around getting people to work together. You can't go more than 20 feet without running into a coffee nook or a place to meet and work with your colleagues.
And finally, innovation is about tremendous uncertainty. You're fundamentally dealing with creating the known from the unknown. It's about an enormous amount of risk taking. And as human beings, we need an anchor. We can't live with complete uncertainty. If I look at all of the successful people I've met, there are a couple of common things. They all have a powerful internal compass, and I think you need that to have a driving and centering force to keep you moving forward.
But quite interestingly, that inner compass that I've seen is almost never "I wanted to be this—be in this career or have that position." And it's almost never about personal ambition—"I want to be famous or rich or powerful."
The most common compass I hear all the time is a desire to serve. "I want to make the planet a better place to live." "I want to serve and protect my country." "I want to make my community better." "I want to nurture my family."
And it turns out, those kinds of service goals are the most common and most powerful centering goals you could have.
So as you conclude the Pitt portion of your travels and commence the next leg of your journey, as uncertain as it may be, I have some reflections to offer about your education …
First of all, what you learned is probably not nearly as important as learning how to learn. Some of the specifics you got in class will matter. In fact, if you end up being my doctor, I hope you were paying close attention. A lot of what you learned, though, is volatile: It will change, it's growing, and you will never stop learning. But you now know how to tackle a new challenge, how to roll up your sleeves and learn very efficiently, and that's an advantage you have over many others—in fact, too many others.
The second observation is that the stuff that was happening outside the classrooms mattered at least as much as everything that was happening inside your classrooms. What you were learning was about communication, about teamwork, about making friends, about trust, about integrity and character, and about making decisions and living with the consequences, good and bad. You can talk to any employer in the country and that person will tell you those matter at least as much as all the other skills.
And finally, if you're worried about having an internal compass—I was—don't worry about it. Because my view is, you wouldn't be here today if you didn't believe in something. Going to the University, getting this degree, is simply too big a challenge, it requires too much perseverance, for you to not have believed in yourself for whatever reason—it could even be a very vague reason.
I think you're here because you do want to make a difference. I think it's already part of the goal you have. If you didn't have it, you wouldn't be here.
I've now spent almost 20 years working for the federal government. When a public servant retires, the highest compliment we can pay is, "You made a difference." And from me to you, I think you made a difference, too, and that's why you're here.
So from one Pitt alumnus to another, I want to be the first to wish you the very best on your journey. I look forward to meeting you along the way, and I want to again thank you for letting me share this special moment with you."
Other Stories From This Issue
There are no stories for the issue at this time.
On the Freedom Road

Follow a group of Pitt students on the Returning to the Roots of Civil Rights bus tour, a nine-day, 2,300-mile journey crisscrossing five states.
Day 1: The Awakening
Day 2: Deep Impressions
Day 3: Music, Montgomery, and More
Day 4: Looking Back, Looking Forward
Day 5: Learning to Remember
Day 6: The Mountaintop
Day 7: Slavery and Beyond
Day 8: Lessons to Bring Home
Day 9: Final Lessons