Police Chief Tim Delaney to Retire After 41 Years
Issue Date:
November 18, 2013
After 41 years at the University of Pittsburgh, Police Chief Tim Delaney is turning in his badge.
During his tenure, Chief Delaney, who will retire on Dec. 31, has seen the University from the vantage point of a student, an employee, and a parent. The son of a Pitt police officer (Chief Delaney's father, Richard Delaney, served on the Pitt police force for 20 years) and a proud graduate of the University of Pittsburgh Upward Bound program, Chief Delaney began his police career at Pitt in 1972 as a student security guard. In 1974, he was hired as a police officer and quickly rose through the ranks to detective in 1977, then sergeant in 1981, captain in 1988, and commander in 1997. On March 1, 2001, he was promoted to chief of police.
As chief, he heads the third-largest law enforcement agency in Allegheny County, providing 24-hour protection for more than 40,000 students, faculty, and staff. The University of Pittsburgh police jurisdiction includes the 132-acre Pittsburgh campus, along with University facilities and locations in other Pittsburgh neighborhoods, such as the South Side Sports Complex, Heinz Field, and more recently, UPMC hospital facilities. The department includes 77 commissioned officers, a communications unit of 11, 45 guards, and an administrative staff of five.
Throughout his years on the force, Chief Delaney has been known for his sensitivity to the needs of students, which may have been heightened by watching his own children pursue their college educations: his daughter, Katy, at Mercyhurst University, and son, Brendan, a Pitt University Honors College graduate who also received his J.D from Pitt's Law School. Intuitively and from their own observations, students recognize that Chief Delaney has their best interests at heart and is totally committed to their safety while under his protection.
"Tim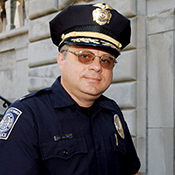 Delaney's service to Pitt has been characterized by his ever-present concern for those he was sworn to protect and by his strong sense of connection to them," Chancellor Mark A. Nordenberg said. "For him, campus policing always was very personal, and he has long been known for his warm human touch. His regular interactions with students made him a visible and reassuring presence on campus. People with concerns, particularly parents far removed from Pittsburgh, deeply appreciated his willingness to reach out and respond to their questions. His many positive relationships, within the University and throughout the broader community, were not only the product of his long career in law enforcement but also of his unusually approachable style. He helped the University meet a broad range of challenges—some that might be viewed as a predictable part of being in an urban setting and others, like the bomb-threat siege, that were regrettably unique to Pitt. He was a friend to many, and he will be missed."
Looking back over his 41 years at Pitt, Chief Delaney noted with pride that "as a second-generation police officer at the University of Pittsburgh, I am honored to have served as your chief of police. I started my affiliation with the University of Pittsburgh in 1972 and have seen the school grow and develop, not only as a student and employee, but also as a parent and I am happy to have been able to make whatever contribution I could to making the Pitt community such a wonderful place to be."
Other Stories From This Issue
There are no stories for the issue at this time.
On the Freedom Road

Follow a group of Pitt students on the Returning to the Roots of Civil Rights bus tour, a nine-day, 2,300-mile journey crisscrossing five states.
Day 1: The Awakening
Day 2: Deep Impressions
Day 3: Music, Montgomery, and More
Day 4: Looking Back, Looking Forward
Day 5: Learning to Remember
Day 6: The Mountaintop
Day 7: Slavery and Beyond
Day 8: Lessons to Bring Home
Day 9: Final Lessons