By Adam Reger
Issue Date:
January 27, 2014
The price of a fair trial was the focus of a presentation by best-selling author and journalist Laurence Leamer, who on Jan. 15 delivered the American Experience Distinguished Lecture, cosponsored by the Dick Thornburgh Forum for Law and Public Policy and University Honors College.
Recounting the story of his recently published book, The Price of Justice: A True Story of Greed and Corruption (Times Books, 2013), Leamer described the legal fight waged by Pittsburgh lawyers Bruce Stanley and Dave Fawcett, a Pitt alumnus, against West Virginia coal extractor Massey Energy Company and its CEO, Don Blankenship. The two lawyers worked on behalf of the Harman Mining company and its owner, Hugh Caperton.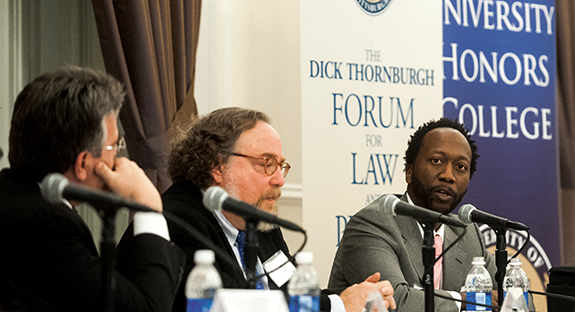 In a 2002 trial, Stanley and Fawcett argued that Massey Energy had committed fraud by willfully destroying the financial health of Caperton's mining company. The jury sided with Caperton, awarding his by-then-bankrupt company $50 million in damages.
Incensed by the verdict, Blankenship spent about $3 million on Judge Brent Benjamin's successful 2004 campaign for a seat on the five-member West Virginia Supreme Court. When an appeal of the Caperton case came before that court in 2007, Benjamin joined two of his fellow justices in voting, 3-2, to overturn the earlier decision, in what many considered a flagrant example of Blankenship buying influence.
"The title of my book has several different meanings," Leamer explained. "It means the price of justice in the sense that Blankenship spent $3 million buying justice. But the other sense is the price that Dave and Bruce paid to fight this for all these years."
Fawcett and Stanley's continued fight led them, in 2009, to the U.S. Supreme Court, which ruled that Justice Benjamin should have recused himself from Massey Energy's appeal of the Caperton verdict due to the appearance of impropriety. Benjamin's failure to do so, the Supreme Court maintained, violated the Due Process Clause of the U.S. Constitution's Fourteenth Amendment.
Leamer's talk at Pitt's University Club was preceded by a warm introduction from Chancellor Mark A. Nordenberg, who as a Pitt law professor taught Fawcett, a 1985 Pitt law-school graduate. While Fawcett's taste for designer suits (described in Leamer's book) was not yet apparent when Fawcett was a law student, Nordenberg joked, other aspects of the lawyer's character were already in evidence.
"Intellectual strength, a meticulous approach to preparation, and a commitment to causes, all are qualities that reappear in the book's description of Dave," Nordenberg said.
Fawcett and Stanley attended the lecture, and they received an ovation from the University Club audience.
The lecture, which was cosponsored by the Thornburgh Forum and the University Honors College, was followed by a panel discussion featuring Pitt Professor of Law John Burkoff and Pitt law-school alumnus Ken Gormley, dean of Duquesne University's School of Law. The discussion was moderated by Pitt School of Law Dean William M. Carter Jr. The panel weighed the merits of an elected judiciary versus one filled by appointment.
Established in 2007, the Dick Thornburgh Forum for Law and Public Policy fosters public education and civic action on important public policy issues, building on the legacy of Pitt alumnus and emeritus trustee Dick Thornburgh, a two-term governor of Pennsylvania and U.S. Attorney General under Presidents Ronald Reagan and George H. W. Bush. Among the forum's goals are to promote able and principled governance at all levels, to advance the rule of law at home and abroad, and to assist the government's response to the special needs of persons with disabilities, many of them wounded in service to their country.
Other Stories From This Issue
There are no stories for the issue at this time.
On the Freedom Road

Follow a group of Pitt students on the Returning to the Roots of Civil Rights bus tour, a nine-day, 2,300-mile journey crisscrossing five states.
Day 1: The Awakening
Day 2: Deep Impressions
Day 3: Music, Montgomery, and More
Day 4: Looking Back, Looking Forward
Day 5: Learning to Remember
Day 6: The Mountaintop
Day 7: Slavery and Beyond
Day 8: Lessons to Bring Home
Day 9: Final Lessons