Prints From Audubon's "The Birds of America" to be Displayed at Hillman Library
By Sharon S. Blake
Issue Date:
November 18, 2013
One of the University of Pittsburgh's most intricate and beautiful library treasures is preparing for flight.
More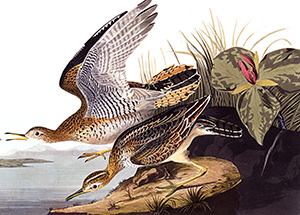 than 24 original prints from John James Audubon's The Birds of America will be on display from 9 a.m. to 4:45 p.m. Nov. 22 as part of the University Library System's annual Audubon Day. The free exhibition will be in Room 363, Hillman Library's Special Collections Reading Room.
The celebration will also feature a free public presentation by Joel Oppenheimer—one of the world's foremost Audubon experts and president of his namesake galleries in Chicago and Charleston, S.C. —from 10 a.m. to noon in the Amy Knapp Room on Hillman's ground floor.
Pitt's University Library System owns one of only 120 complete sets of the book's prints in the world. Audubon (1785-1851) meticulously painted more than 1,000 different American birds on 435 "double-elephant size" sheets of water-color paper—the birds sometimes fighting other birds—in their natural environment, which was revolutionary at the time.
A complete set of the The Birds of America contained 435 prints on 27-by-40-inch paper, often bound in four enormous leather-bound volumes. Over time, many of these volumes were disbound so the prints could be sold individually to collectors.
Only 175 complete sets were ever made, and the process was amazingly intricate, involving the hand coloring of literally every print that appeared in each of the 175 sets.
Audubon painted the original 435 water-color paintings and then hired a London engraver, Robert Havell Jr., to create engraved plates from each of the water colors in mirror-reverse. A plate was then pressed to paper, creating a black-and-white line drawing, which would be hand-colored by Havell's "colorists," creating a copy of Audubon's original print.
It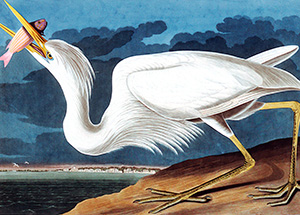 is these hand-colored prints, made from the engraving plates, that will be on display at the Hillman. The Birds of America set is one of the most valuable collections owned by the University Library System.
The famous, vivid, water-color hand-painted prints hold a special fascination for many visitors, said Jeanann Croft Haas, head of the library system's Department of Special Collections and Preservation.
"Audubon undertook a nearly impossible task of hunting, painting, hiring an engraver, marketing, and selling the prints back in the early 19th century," said Haas. "This provided people with the chance to learn about new and different bird species at a time when communication, travel, and technology were quite limited. These prints continue to be studied, appreciated, collected, sold and displayed even today."
Haas said she enjoys watching people's reaction the first time they see the brightly colored birds.
"They're just in awe," she said, adding that Audubon Day is the most well-attended exhibition that Special Collections hosts.
Other Stories From This Issue
There are no stories for the issue at this time.
On the Freedom Road

Follow a group of Pitt students on the Returning to the Roots of Civil Rights bus tour, a nine-day, 2,300-mile journey crisscrossing five states.
Day 1: The Awakening
Day 2: Deep Impressions
Day 3: Music, Montgomery, and More
Day 4: Looking Back, Looking Forward
Day 5: Learning to Remember
Day 6: The Mountaintop
Day 7: Slavery and Beyond
Day 8: Lessons to Bring Home
Day 9: Final Lessons