ProsInMotion: Business Undergrads Create United Way Marketing Campaign
By Laura Clark
Issue Date:
November 17, 2014
Standing at the lectern, wearing a suit and smiling at the expectant faces surrounding him, Pitt senior marketing major Mark Dai didn't feel nervous. Maybe he should have; after all, he hadn't come to the H.J. Heinz Company Classroom in the Katz Graduate School of Business to deliver just another class project. This was the real deal. He stood in front of an actual client—representatives from United Way of Allegheny County—who had come to review the marketing campaign that Dai and his peers had spent the semester cultivating. Dai, like his classmates, was very well prepared.
"It isn't like we had done something like that before," said Dai, "but after two dress rehearsals and our education as marketing students, it felt very natural."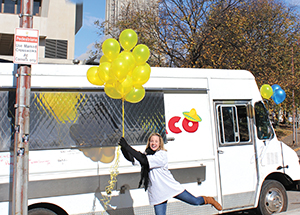 As students enrolled in Projects in Marketing, a course in the College of Business Administration, Dai and his peers are getting hands-on marketing experience this semester. Led by Robert Gilbert, clinical associate professor of business administration, the class's students form a full-service marketing agency called ProsInMotion. Their assignment: to design, implement, and evaluate a high-quality marketing campaign.
"There's a real focus in the business school on experience-based learning," explained Gilbert. "This is a capstone course, where students get to pull together everything they've learned in a classroom and use it in a real-world setting."
In past years, Gilbert's ProsInMotion students have worked with such commercial clients as Honda, American Eagle, and Citibank. But this semester's nonprofit client provides a special opportunity for students. Not only will their work benefit Pitt's own United Way campaign, but also United Way of Allegheny County, the larger Pittsburgh community, and likely beyond.
While ProsInMotion's work dovetails with the University-wide annual United Way campaign, its goals are targeted specifically to performance by the School of Health and Rehabilitation Sciences, the Katz Graduate School of Business, and the undergraduate College of Business Administration. Their campaign seeks to boost awareness of the United Way's mission and to increase faculty and staff participation in the campaign by 5 percent within each of the three schools.
On that October day at Katz, in front of a crowd including Tracy Gross, the chief marketing officer of United Way of Allegheny County, and multiple senior Pitt faculty members, the ProsInMotion students presented their campaign.
The research team delivered qualitative and quantitative analyses derived from focus groups and surveys that indicated a need to provide more information to their target audience about how and where donations are distributed. The campaign strategy team presented plans for events meant to engage the community with United Way's message. They even incorporated an "a cappella surprise," with members of Sounds Like Treble, Pitt's all-female a cappella group performing "With a Little Help from My Friends," rewritten to encourage giving to United Way. The ProsInMotion advertising department presented plans for a guerilla marketing campaign, a redesigned website, posters, and student-made video advertisements, while the public relations team shared ideas for spreading the word about the campaign to the target audience.
The applause they received was long and heartfelt. "It was awesome," Gross said during the feedback session. "I've been in the marketing business, both on the agency's side and the client's side, and your presentation is as good as anything I've done or seen in my 20-year career."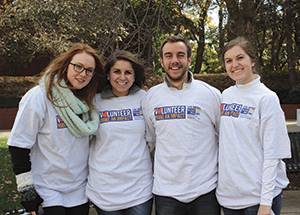 With that approval, the students are now in the middle of enacting their campaign. A Nov. 3 Food Truck Mixer was successful, with information distributed to those waiting for food outside Katz and one vendor selling out of goods.
"We're a lean-and-mean organization, so we don't always have the resources to do these pilot studies," said Megan Marucco, senior corporate relations manager at United Way of Allegheny County. "What they are doing is really going to help shape our messages and how we get them out into the world for years to come."
"I'm so impressed by the outstanding quality and professionalism that ProsInMotion brings to this project," said Anne Franks, Pitt's United Way campaign director and executive director of administration for the Office of Institutional Advancement. "Watching them in action was a real Hail-to-Pitt moment."
She added that much credit belongs to Gilbert, whose instruction and mentorship drive his students toward success beyond the classroom, a point not missed by his students.
"The true benefit of taking this class is in the hands-on experience that we receive," said senior marketing major Will Kottcamp. "In other schools, you just learn marketing from a textbook. At Pitt, we take what we learn and apply it to situations that matter."
Other Stories From This Issue
There are no stories for the issue at this time.
On the Freedom Road

Follow a group of Pitt students on the Returning to the Roots of Civil Rights bus tour, a nine-day, 2,300-mile journey crisscrossing five states.
Day 1: The Awakening
Day 2: Deep Impressions
Day 3: Music, Montgomery, and More
Day 4: Looking Back, Looking Forward
Day 5: Learning to Remember
Day 6: The Mountaintop
Day 7: Slavery and Beyond
Day 8: Lessons to Bring Home
Day 9: Final Lessons