Public Art: Giving a Creative Flair to Campus
By Matt Cichowicz
Issue Date:
August 24, 2015
Have you ever strolled through the plaza between Posvar Hall and Hillman Library and wondered about that 20-foot, 11-ton, amorphous, bright yellow sculpture?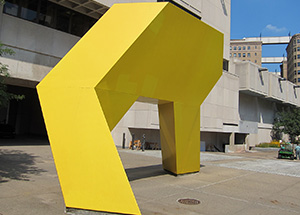 Inspired by a yellow newspaper truck moving through the city, "Light Up" (1971) is generally considered one of the most significant works of American Minimalist sculptor Tony Smith. In fact, when Pitt loaned the sculpture to the Museum of Modern Art in New York City for a 1998 retrospective on Smith, the piece was heralded as the showstopper.
"Light Up" is one of many pieces of public art that dot Pitt's campus and color the surrounding area. Some are noticed and observed; others, not so much. But all serve a special purpose.
"Oakland has some pretty heavy-hitting artists and a mix of both historic memorials and contemporary art," said Kate Hansen, project manager of the Office of Public Art at the Greater Pittsburgh Arts Council. "You can't really quantify culture or enjoyment, but public art lends each place an identity."
The geometric shape of "Light Up" offers various interpretations. "It's a completely different work of art depending on the angle you view it," said Kirk Savage, a professor of art in Pitt's Department of History of Art and Architecture. "The typical way to experience it is by walking through the plaza or walking under the arch. It is an example of a piece that is really admired and well-known on our campus."
The work of painter Felix De La Concha shows different vantage points, too—of the Cathedral of Learning—365 of them, to be exact. "One A Day: 365 Views of the Cathedral of Learning" captures a year's worth of Cathedral images, detailing daily changes in viewing angle, lighting, weather, and season. Painted over a two-year span, from 1997 to 1999, the Spanish painter's inspiration was the view of the Cathedral and city that he saw as he walked his fiancée—now wife—to her classes at Pitt from their Bloomfield home. The paintings are permanently displayed on the seventh floor of Alumni Hall.
The Frick Fine Arts Building houses another permanent display in its scenic and peaceful cloister area. Czar Nicholas II commissioned Russian artist Nicholas Lochoff to create copies of Florentine Renaissance artwork in 1911. When Lochoff became stranded in Italy after the 1917 Russian revolution, he was forced to sell many of his replicas. Eventually, Helen Clay Frick acquired the entire 23-painting collection for Pitt, aided by renowned art historian Bernard Berenson.
Visitors to the Frick Fine Arts Building will find it hard to miss the sculpture and fountain near the building's front entrance. Victor David Brenner won a design competition held by the City of Pittsburgh's Art Commission for the Mary E. Schenley Memorial Fountain. His "A Song to Nature" depicts the Greek god Pan contently listening to the song of a woman playing the lyre.
Spread across the Oakland campus, the University's public art displays beckon passersby to reflect or to stop and ponder. This article highlights just a few examples of public art, but there are many on the University's campus. Their availability to everyone mirrors the preferences of the late Virgil Cantini, who reportedly believed that art should not be confined to a traditional gallery. An artist and professor in Pitt's Department of Studio Arts for 38 years, Cantini became one of the many dynamic artists to shape Oakland's artistic identity.
His bronze-and-steel sculpture "Man," which adorns the façade of Parran Hall on Fifth Avenue, symbolizes humanity's quest for knowledge, a perfect symbol for a university campus and one that works well with the bountiful collection of public art that has found a home at Pitt.
Other Stories From This Issue
There are no stories for the issue at this time.
On the Freedom Road

Follow a group of Pitt students on the Returning to the Roots of Civil Rights bus tour, a nine-day, 2,300-mile journey crisscrossing five states.
Day 1: The Awakening
Day 2: Deep Impressions
Day 3: Music, Montgomery, and More
Day 4: Looking Back, Looking Forward
Day 5: Learning to Remember
Day 6: The Mountaintop
Day 7: Slavery and Beyond
Day 8: Lessons to Bring Home
Day 9: Final Lessons