Q&A with Author Edwidge Danticat
By Ervin Dyer
Issue Date:
May 4, 2017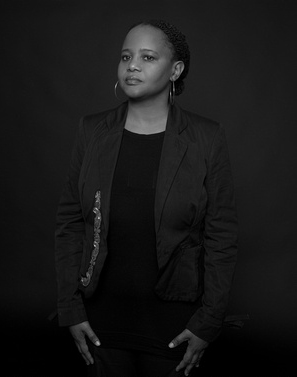 In 1981, a little girl in pigtails came to Brooklyn, New York, from Haiti. She was 12 and just settling into the space that her immigrant parents had called home since the 1970s. In the years since, Edwidge Danticat has become an accomplished author, even earning the prized MacArthur Fellowship for her writing, which depicts vivid images of Haiti and is enlivened with characters who embody the complicated history of her homeland.
Danticat is the author of "Breath, Eyes, Memory," an Oprah's Book Club Selection; "The Farming of the Bones," an American Book Award winner; "Brother I'm Dying," a National Book Critics Circle Award winner; and "Krik? Krak!" which was nominated for a National Book Award.
On April 13, the University's Pittsburgh Contemporary Writers Series brought her to campus to talk with students, faculty and the community about writing. Before an evening reading, she met privately with about 30 writing students in the Department of English. She talked about being influenced by "kitchen poets," the women writers and female relatives from whom she learned. She talked about the "relentless revising" that is part of her process, and she shared the challenges and rewards of writing about Haiti. Here, she talks about wrestling with being Haitian and American and finding her identity as a writer. "When I write about Haiti, I think it's important for people to know that it's a very complicated place, that it's a beautiful place that has seen a lot of difficulty, a lot of suffering, but that's not the only thing that is there," she says.
You've spoken about the many books you were given to read as a child by authors who were male, French and dead. How did you transcend that kind of experience to begin to identify yourself as a writer when so many writers who were put before you didn't look like you, or didn't come from where you came from?
I was introduced to the French writers when I went to school, so that's what literature was: It was Voltaire, it was Zola. But I was lucky, because before that the counterpart of what I experienced was that I was told a lot of stories. You know, when asked, "Who are your best writing teachers?" I always say the storytellers of my fathers. For me, oral storytelling, having had that before the other kind of storytelling, validated the life that people were living around me.
On the other hand, when I was young, I was too shy to do oral storytelling. But when I was 4, one of the first books my uncle gave me was "Madeline." I thought, "Oh, if I could do what the storytellers were doing, but quietly, like in this book, that would be great." I didn't know how that was done, I didn't know how you went from the words to the page, but once I had that book, I thought, "Oh, I want to do what they do with their voices, but on paper." I think that insulated me to the impossibility of it. I felt that I didn't have to be French or white or dead to tell stories.
Then when I came to the U.S., I started reading Haitian literature. At the Brooklyn Library, there was a small bookshelf in this massive library that said, Haitian books, and it had all the classics of Haitian literature, and I just read through that hungrily. Then when I started reading in English, the first book I read with a dictionary was Maya Angelou's "I Know Why the Caged Bird Sings." Then I just went from there, with James Baldwin, Alice Walker, Toni Morrison, Zora Neale Hurston, just again in that sense of powerful recognition, and also trying to understand what it was like to look like me in this new place.
You write a lot about Haiti. Is that ever a burden?
I think if someone spends so much time dedicated to a place or writing about a place, there's some deep love in it, and so, in that way, it cannot be a burden. I write about Haiti and Haitian-American life because it's something that I'm passionate about, it's something that I'm trying to better understand. And I think that's also a part of the writing process that folks don't often talk about — and that is when we write about something, it's also a way of gaining deeper knowledge about that place. I live outside of Haiti now, and Haiti is always changing. So for me, writing is a way of revisiting, or staying in touch. So there's a passion that I link to this process. There's a love story between your writing and the subject.
In what ways has America changed you? What of Haiti remains with you?
I think in many ways, I'm kind of like an old school immigrant. Now, I guess I might also be called transnational, you know the kind of immigrant who goes back and forth. I look at America through the eyes of the Haitian. I look at Haiti through the lens of some of the years I've spent here in America. I carry both in me. My parents are buried in this country, my children have been born in this country. I have very strong ties here. One of the things that I often try to understand through my work is how people make a life with this duality, sort of who's looking back as they look forward.
What answers do you have for that? Sociologist W.E.B Dubois talked about this double consciousness. Do you feel that, and how do you reconcile it?
I feel it, but the writer part of me doesn't want to reconcile it. I kind of want to always wrestle with it, because I think a lot of art comes out of that tension. I don't necessarily see it as a problem that I alone have to solve. Personally, it might be uncomfortable, but I think art comes from uncomfortable places. And, it's one of those things where I think the answer is not really possible for me to form but the wrestling with the problem is more interesting to note than the possible answer.
Other Stories From This Issue
There are no stories for the issue at this time.
On the Freedom Road

Follow a group of Pitt students on the Returning to the Roots of Civil Rights bus tour, a nine-day, 2,300-mile journey crisscrossing five states.
Day 1: The Awakening
Day 2: Deep Impressions
Day 3: Music, Montgomery, and More
Day 4: Looking Back, Looking Forward
Day 5: Learning to Remember
Day 6: The Mountaintop
Day 7: Slavery and Beyond
Day 8: Lessons to Bring Home
Day 9: Final Lessons