Q&A with Dana Och in Film Studies
Issue Date:
March 8, 2017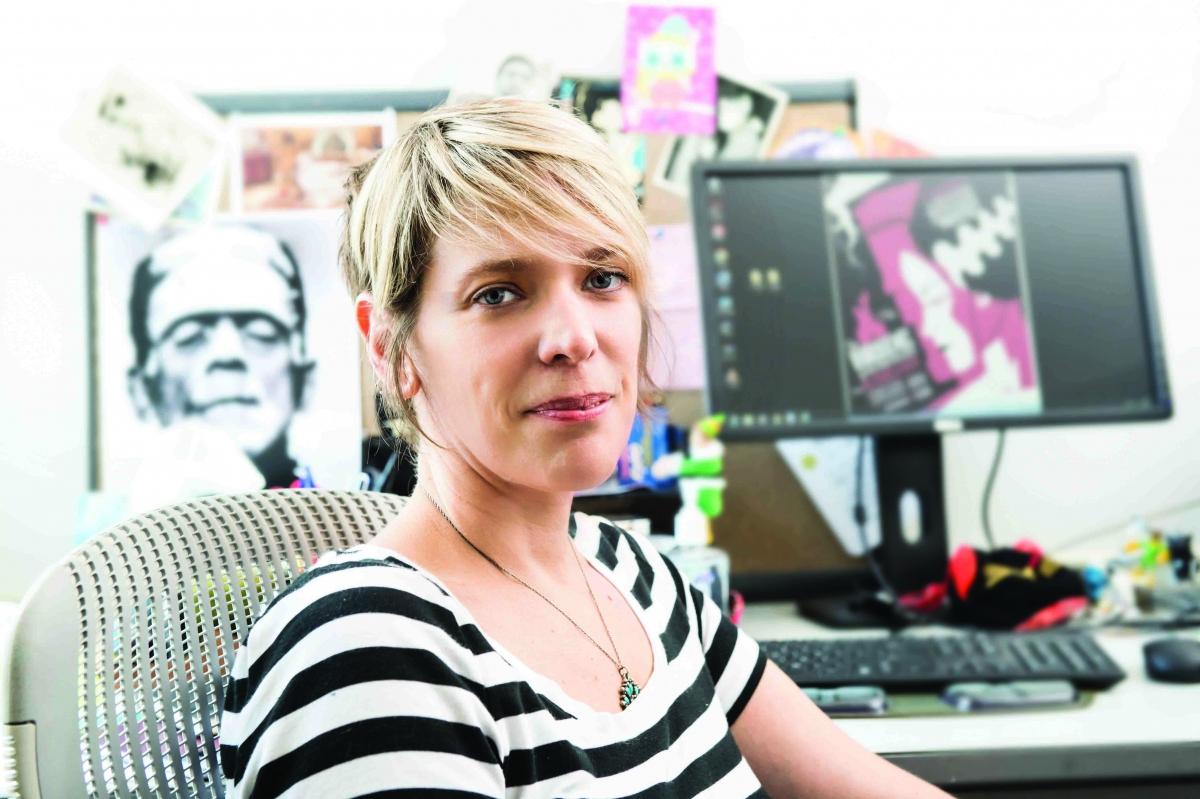 Dana Och is a lecturer in the Department of English and Film Studies Program in the Kenneth P. Dietrich School of Arts and Sciences. She serves as the film studies undergraduate program assistant and the supervisor of the course Seminar in Composition: Film and Introduction to Film. She writes frequently on the topics of genre, Irish cinema, and horror, including publications on director and screenwriter Neil Jordan, the postcolonial zombie comedy, Twin Peaks, and the neopostmodern horror film. She coedited the anthology Transnational Horror Across Visual Media: Fragmented Bodies.
What motivates you to teach?
I love to make connections with students and exchange ideas with them. I think that most people have more knowledge about media than they realize, so I aim to help them discover, embrace, and refine their knowledge, their insight, and their critiques.
What do you want your students to remember most about the classes they have taken with you?
My students learn a lot in class. I don't drill them about details or dates, but rather we work to understand a concept holistically. I teach them to critically think about everything around them. Former students frequently tell me that they miss being able to engage so deeply with a text after they graduate. They also most remember how much I invest in them as students and their success and how much I care about the topics that I teach.
What is it that excites you about film studies, and when did your interest in this area begin?
I came to film studies from literature; I started my graduate work thinking about modern revisions of Shakespeare's plays. I love film studies for the ways in which so many disciplines come together through media, whether literature, art, psychology, biology, history, neurology, or anthropology. This makes it especially fulfilling to teach undergraduates, as we see such a wide variety of student interests in any given class.
My interest in film was always there; I remember my uncle acting out Douglas Sirk's Imitation of Life after holiday dinners or my aunts jesting with a line from Mommie Dearest when I complained that life was unfair. My whole family processed events through references to the cinema. We bonded and formed a community by watching films on television together.
In addition to teaching, you work with students on research projects. Can you elaborate on that experience?
I began to work with undergraduates in research a few years ago when the Film Studies Program decided to focus more on production opportunities for our students. We started to sponsor specific projects aimed at developing not only the skills of the students but a sense of collaboration between the students themselves with background support from faculty. Additionally, I work frequently with individual students on their independent research projects. The University is very interested in a range of independent research projects, so I encourage and mentor interested students from initial concept through application and final papers. I would encourage other faculty members to mentor their students in research as well through the various opportunities provided by the Office of Undergraduate Research, Scholarship, and Creative Activity. Students learn how to pursue their own opportunities and interests through these experiences; given that the students often work independently, it is a major learning experience for their responsibility and time management skills, which are both so important to larger success.
What advice would you give to parents whose undergraduate student may be interested in film studies?
With their hard and soft skills, our students learn how to work independently and collaboratively; how to write clearly and effectively with evidence-based arguments; how to communicate in speech, writing, and sound; and how to be driven and responsible. They can do internships in a large variety of companies, and they can work on college productions on campus. This stress on experiential learning and real-world experience builds a film student's résumé with an eye to the future. Humanities majors — with their critical thinking and innovative problem-solving skills — are in high demand. The current job market requires candidates who are adaptable and receptive to changing landscapes. Our major not only encourages this type of varied skill acquisition, but the relatively low number of required credits allows for a film major to be paired with another of the student's interests (if he or she so chooses) while still taking only four years to complete his or her degree.
This interview first appeared in Pitt Pride, the Kenneth P. Dietrich School of Arts and Sciences newsletter.
Other Stories From This Issue
There are no stories for the issue at this time.
On the Freedom Road

Follow a group of Pitt students on the Returning to the Roots of Civil Rights bus tour, a nine-day, 2,300-mile journey crisscrossing five states.
Day 1: The Awakening
Day 2: Deep Impressions
Day 3: Music, Montgomery, and More
Day 4: Looking Back, Looking Forward
Day 5: Learning to Remember
Day 6: The Mountaintop
Day 7: Slavery and Beyond
Day 8: Lessons to Bring Home
Day 9: Final Lessons