Q&A With Director of Osher: Jennifer Engel
Issue Date:
October 26, 2015
Pitt's Osher Lifelong Learning Institute (OLLI) celebrated its 10th anniversary earlier this month. Part of Pitt's College of General Studies, OLLI offers more than 80 stress-free courses as well as day trips, international travel, and special events to people "50 and better." The organization also recently received a $1 million grant from its namesake, The Bernard Osher Foundation, in April. Membership currently stands at more than 1,280 people.
Jennifer Engel has served as director of Pitt's Osher Lifelong Learning Institute since March 2014. She recently sat down with the Pitt Chronicle's Anthony M. Moore to discuss the Osher Institute's future and its impact.
Where do you see Osher 10 years from now?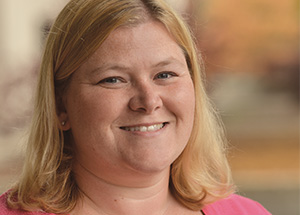 The Osher Lifelong Learning Institute (OLLI) at the University of Pittsburgh has some big plans for its next 10 years. By 2025, we will expand our program offerings, serve at least 1,800 members a year, and more than likely, we will serve those members in at least one location other than the Pittsburgh campus. I also see the program becoming more representative of the greater Pittsburgh region with respect to gender, race, geographic region, and age. Finally, I believe OLLI at Pitt will be more widely recognized throughout Southwestern Pennsylvania as a place where area older adults can continue to learn and grow in the years leading up to and after retirement.
What makes Pitt's Osher program different than other universities' programs across the nation?
The thing that sets us apart is the support and commitment we receive for our program and our members from the University of Pittsburgh. All OLLI programs are connected to a higher education institution, but few are partners with their university like our program. Pitt, the Kenneth P. Dietrich School of Arts and Sciences, and the College of General Studies provide so much in the way of in-kind support, such as classrooms, technology, business services, and access to the incredible opportunities that a world-class university provides.
Additionally, our members are allowed to audit undergraduate courses as part of their OLLI membership. Few programs have the auditing component, and those that do are not able to include it as part of their membership fee. Also, we pay our instructors for teaching their courses. Most OLLI programs have only volunteer instructors. While the compensation is not exorbitant, it does show our commitment to the quality and professionalism of our instructors.
What has been Osher's impact on the lives of older Southwestern Pennsylvanians?
Our members are intellectually stimulated, physically active, and engaged at Pitt and in their communities. We have thousands of people who are 50 years of age and older who participate in our classes and programs, with more than 2,600 people participating over the last three years.
We have a motto: Learn, Grow, and Thrive. I think that is more than just a tag line. I truly believe that our members learn, grow, and thrive with us. Based on my conversations with them, many of our members believe OLLI has saved their retirements, if not their lives. As one of our members stated in a recent Pittsburgh Post-Gazette article, OLLI is a way to transform retirement into renewal.
What are Osher's plans for the $1 million grant from The Bernard Osher Foundation?
This was actually our second million-dollar endowment from The Bernard Osher Foundation.
First and foremost, the annual proceeds we will receive from the endowment will help us to offer more courses, including those that require specialty spaces. In addition, we plan to upgrade our registration software to provide more functionality to members and instructors and streamline numerous processes for the staff. We also plan over the next one to three years to increase our marketing efforts, to add an additional staff member, and to explore the possibility of offering satellite sites throughout the region.
Other Stories From This Issue
There are no stories for the issue at this time.
On the Freedom Road

Follow a group of Pitt students on the Returning to the Roots of Civil Rights bus tour, a nine-day, 2,300-mile journey crisscrossing five states.
Day 1: The Awakening
Day 2: Deep Impressions
Day 3: Music, Montgomery, and More
Day 4: Looking Back, Looking Forward
Day 5: Learning to Remember
Day 6: The Mountaintop
Day 7: Slavery and Beyond
Day 8: Lessons to Bring Home
Day 9: Final Lessons