Q&A: Professor and Author, Michael Meyer
By Anthony M. Moore
Issue Date:
June 15, 2015
Once a humble string of settlements spread across miles of lush rice fields in Northeastern China, the village of Wasteland—"huangdi" in Chinese—has witnessed life-altering shifts in culture due to the entrance of Eastern Fortune Rice. Over the past decade, the private, government-backed corporation took over the majority of the village's farms, which had served as communal land for generations. Formerly independent farmers became company employees and most were moved into company-owned apartment complexes.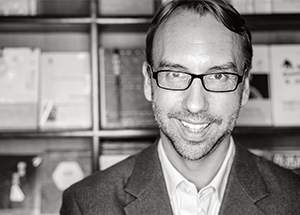 While the corporation did bring innovations to the village, such as organic farming methods and new feed technology, it effectively unraveled a way of life that had existed in Wasteland for centuries, eroding age-old traditions, according to Pitt English professor Michael Meyer. Other rural areas across China are experiencing a similar phenomenon as large government-backed corporations turn them into company towns.
Meyer witnessed the dramatic changes to Wasteland—his wife's native village—when he and his family lived there for three years. Meyer chronicled his observations and research in his latest book, In Manchuria: A Village Called Wasteland and the Transformation of Rural China (Bloomsbury Press, 2015).
Part memoir and part historical nonfiction, In Manchuria gives readers an in-depth glimpse into contemporary China. Going beyond the borders of Wasteland, Meyer also offers readers a rare glimpse into seldom-explored aspects of the country's history, dating back to the fall of the Qing dynasty in 1912.
Since arriving in China in 1995 as a Peace Corps volunteer, Meyer has spent much of the last 20 years reporting on the country for such publications as Time, The New York Times, and the Chicago Tribune. Meyer also is the author of The Last Days of Old Beijing: Life in the Vanishing Backstreets of a City Transformed (Bloomsbury Publishing USA, 2010), which has been recognized with numerous awards and is a bestseller in China.
Meyer recently sat down with the Pitt Chronicle's Anthony M. Moore to discuss In Manchuria, his love for Chinese culture, and his future writing plans.
What inspired you to write In Manchuria?
I think it's time to write a book when the book you want to read doesn't exist. I had documented changes in urban China in my first book, The Last Days of Old Beijing. Next, I wanted to read about changes in the Chinese countryside. Pearl Buck did this very well 70 years ago, with her Pulitzer Prize winning novel The Good Earth, but I felt it was time for an update. At the same time, I wanted to write about China's Northeastern territory, historically called Manchuria, which is where my wife was born and is the birthplace of many of the movements that formed modern China.
My goal with In Manchuria was to show readers how present-day developments in the countryside are part of a pattern that began 400 years ago in the far north.
What do you love most about China?
When I first arrived there in 1995, I didn't know a word of Chinese. I didn't even know how to use chopsticks. So, what I love most about China is the patience and empathy of its people—many of whom had never seen a foreigner. They took me in, answered my questions, and showed me how things worked in their country. That pattern of kindness has repeated itself over and over again in the last 20 years, even though I'm now fluent in Chinese and can use chopsticks.
What can an American audience learn from In Manchuria and the community of Wasteland?
I think readers on both sides of the Pacific Ocean will be captivated by a village and a region that they otherwise would never have had an opportunity to visit. For American rural audiences, I think it's interesting to note that, in many ways, the lives of Wasteland's residents mirror their own. Just like American farmers, farmers in Wasteland are asking how one can know if a place has developed enough; are there limits to our transformation of a landscape, of a community, of a way of life? What if the present state really is as good as it gets? And how can we know?
The book has received wide praise in the United States. What has been the reaction of Manchurian citizens and the government?
The Chinese edition [of the book] comes out in early 2016, so I'll have a better answer then. Thus far, the censor has not raised any concerns over content, including the history of the Japanese occupation of the region. That is both a surprise and a relief for me. I have done press and talks in Beijing, and the reaction has been positive, very similar to what I've received in the United States. Chinese media, however, is much more interested in my wife's story. I moved to Wasteland because she was raised there as a child, before going to university in Beijing and law school at the University of California at Berkeley.
What projects are you currently working on?
I am spending this summer in Singapore. I've been thinking about Singapore as a topic, since Chinese leaders study its governance closely. It's also a fascinating, multicultural nation that became independent in 1965, against its will. There isn't a good book about Singapore that I can think of, which meets my test for the need to write one.
I've also spent the past year reading the personal papers of Benjamin Franklin, which are housed in Philadelphia. I was looking for a Pennsylvania story to report, and I didn't expect it would be one from 250 years ago. I'm particularly interested in Franklin's last will and testament, and how it continues to fund surprising things, such as the mortgages for some Philadelphians who had been turned down by banks.
In doing my research, I have found a major difference between American and Chinese archives: In the United States, a librarian will hand you an original Founding Father document, and leave you alone in the room with it! What a country!
Other Stories From This Issue
There are no stories for the issue at this time.
On the Freedom Road

Follow a group of Pitt students on the Returning to the Roots of Civil Rights bus tour, a nine-day, 2,300-mile journey crisscrossing five states.
Day 1: The Awakening
Day 2: Deep Impressions
Day 3: Music, Montgomery, and More
Day 4: Looking Back, Looking Forward
Day 5: Learning to Remember
Day 6: The Mountaintop
Day 7: Slavery and Beyond
Day 8: Lessons to Bring Home
Day 9: Final Lessons