Q&A with Professor and Business Consultant, Audrey Murrell
By Liberty Ferda
Issue Date:
May 16, 2016
As director of the Katz School's David Berg Center for Ethics and Leadership, Audrey Murrell focuses her research on several areas, including mentoring, breaking the "glass ceiling," diversity, and workplace discrimination. She is an associate professor of business administration and associate dean of Pitt's College of Business Administration. She is also a Kenneth R. Woodcock Faculty Fellow and serves as a consultant for a roster of clients, including Alcoa, IBM, Heinz, Bayer, and Eli Lilly. Her specialties are organizations and entrepreneurship. The Pitt Chronicle asked her about a trending news topic in a U.S. election year—the importance of small businesses.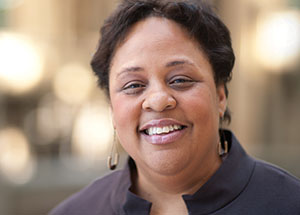 What exactly is a small business?
Typically, the federal Small Business Authority regards "small business" as companies with 500 employees or less within most manufacturing and mining industries—and companies with less than $7.5 million in average annual receipts in nonmanufacturing industries.
How does Pitt contribute to the success of these businesses?
The University of Pittsburgh has a range of resources that support the growth and development of small businesses, in general, and women, minority, and disadvantaged businesses, in particular. We have undergraduate and graduate business students who work as student consultants or interns on projects—and then seek jobs that use their knowledge and technical expertise to support the success of these businesses. We also have centers such as the Institute for Entrepreneurial Excellence and the Small Business Development Center that provide an array of business development and technical support. We host programs such as the Urban Entrepreneurship effort that provide specialized networking, mentoring, and development for business owners, particularly in urban environments like the City of Pittsburgh. Also, the research produced by Pitt faculty has a tremendous impact on changing how we think about and approach business development, especially for women, minority, and disadvantaged businesses.
Why is it important to support opportunities for women- or minority-owned businesses? Why make that distinction?
First, business development opportunities should provide access to all types of business owners to ensure that invisible boundaries—such as racial or gender discrimination or lack of access to financial resources—are not preventing some business owners from being successful. Second, the growth of minority- and women-owned businesses as well as disadvantaged businesses (that face discrimination or lack access to networks) helps to support local, regional, and national economies. Having a diverse array of businesses can help support these economies as well as provide support for diverse employees through workforce development opportunities. Third, providing equal access to opportunities for women- and minority-owned businesses, especially in areas that utilize public funds, is a matter of social justice and equality.
What's an example of a small and/or minority- or woman-owned business that thrived with support?
Some of my research has focused on helping women and minority business owners gain access to public contracting opportunities—such as construction, transportation services, or legal work. We have examined public contract opportunities, especially those that are considered "prime contract" (large-scale business opportunities of $25,000 or more) in cities such as Pittsburgh, Chicago, and Boston. While women and minority businesses have gained some access to local government contracts during the past few decades, they continue to receive a small share of local government contract spending relative to the number of available firms.
Several measures can be implemented to turn this around. First, local, city, state, and federal government officials should make a greater effort to adequately monitor that access is being provided to a larger number of prime contract opportunities for those who are qualified. They should provide support to make the process of being selected as a contractor fair and competitive. Second, we found that access to information and professional networks—the foundations that we call human and social capital—is critical to increasing these types of opportunities for women and minority businesses. Access to networks of information and resources can help secure large-scale or "prime contract" work, helping these businesses to be sustainable over a longer time horizon.
What difference does this make for the local/regional economy and larger national economy?
Access to opportunities for small businesses, including minority and disadvantaged businesses, is a strong component of our local, regional, and national economies. First, business development growth in many parts of the country, including Pittsburgh, is being fueled by small-, women-, and minority-owned businesses. Small businesses contribute to employment opportunities, economic activity, and tax revenues that all stay local and have a local impact. There is also some evidence that women and minority businesses do a better job of supporting employee diversity, focusing on social responsibility in addition to financial gain. Small businesses are also more flexible in serving special markets that larger companies are not nimble enough to address.
Are there any businesses that personally inspire you?
I am most inspired by organizations and people who serve as a resource and advocate for business development, especially for women, minorities, and disadvantaged business. A few examples include the African American Chamber of Commerce for Western Pennsylvania; the Pittsburgh Technology Council; and business accelerators such as Idea Foundry, C-leveled, and Innovation Works.
Other Stories From This Issue
There are no stories for the issue at this time.
On the Freedom Road

Follow a group of Pitt students on the Returning to the Roots of Civil Rights bus tour, a nine-day, 2,300-mile journey crisscrossing five states.
Day 1: The Awakening
Day 2: Deep Impressions
Day 3: Music, Montgomery, and More
Day 4: Looking Back, Looking Forward
Day 5: Learning to Remember
Day 6: The Mountaintop
Day 7: Slavery and Beyond
Day 8: Lessons to Bring Home
Day 9: Final Lessons