Q&A with Russian Culture Scholar Nancy Condee
By Sharon S. Blake
Issue Date:
April 5, 2017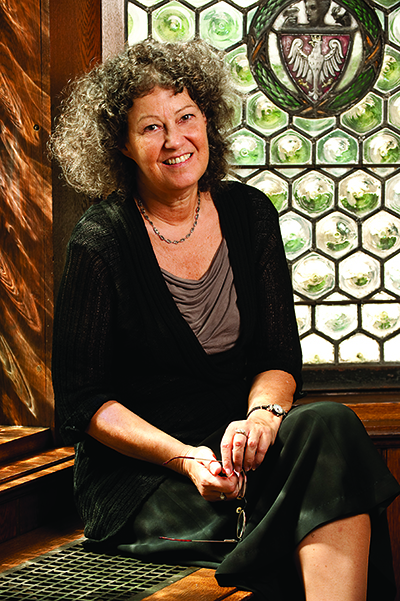 Nancy Condee — a scholar of contemporary Russian culture, cinema, and cultural politics — assumed her new role as director of Pitt's Center for Russian and East European Studies (REES) in January. She is helping to foster international research, develop student programs, lend support to technical and economic collaborations in that part of the world, and is overseeing a range of interdisciplinary studies certificates to complement traditional degrees. REES, a Title VI National Resource Center, draws on faculty from departments throughout Pitt, ranging from law and education to public health and engineering.
Is Russian Studies different today than it was five years ago?
Profoundly different, though I should stress that we are in no way a "Russian Studies" center. This misnomer is shorthand for (what some consider) a sphere of influence, but shorthand that disregards broader research commitments both East and West (Central Asia and what we now call East Central Europe). In that respect, REES faces different conceptual challenges from those in Latin American Studies or European Studies: as we keep saying, one country does not a region make. Pitt is particularly proud of its offerings in Polish and Slovak studies, as well as its focus on Central Asia.
What are those new conceptual challenges?
The cascade of divisive issues since 2011 — the multi-city demonstrations (in 2012 and today), the separatist conflicts in eastern Ukraine, the seizure of Crimea, and ensuing bilateral sanctions — have supported the tendency toward sharp and, at times, vituperative dialogue. It is easy for us to forget, in the midst of these crises, that these events are also witnessed by a highly educated Russian intelligentsia who are themselves a varied and divided community of writers, performers, scholars, and film directors no less talented than our own.
As we saw at the US premiere of the Russian film Leviathan, which was awarded a 2015 Golden Globe for Best Motion Picture (Foreign Language), Russia's directors, producers, and actors are fully capable — in the face of serious challenges — of finding ways to speak to the contemporary moment. For those who might be interested in this example, Pitt's annual Russian Film Symposium will screen Leviathan on May 4 at Pittsburgh Filmmakers. We would welcome readers to come see this extraordinary film.
And what in the field has remained the same?
First of all, of course, the past and present is always informed by size: Russia's surface area is larger than Pluto's, and we know almost as much about the Russian Federation as about this former planet. As the world's largest country, Russia is roughly the size of Europe and the U.S. combined; with three quarters of its expanse in Asia.
Second, all during the first Cold War, as well as Perestroika through today, our two cultures are hyper-preoccupied with our differences. We prefer Russia to remain "that thing we are not." And a further wrinkle: it is no coincidence that one specific, common feature — that each of us is a large, rough-and-tumble culture with an inconsistent and ambivalent attitude to European traditions — seems to rile us most.
Some would say that REES is an anomaly because — unlike European Studies or Latin American Studies — you "study the enemy," not just provide a research and community resource. Do you consider that to be the case?
I would not shy away from the assertion that U.S. and Russian societies continue to have profoundly different models of social cohesion, civic commitment, spirituality, private life. Immediately, however, we must add: which "Russians" are we talking about? The intelligentsia, some of whom resemble some of us? Residents of small towns? The proverbial Russian heartland? We prefer a singular "Russia," because it can be easily contrasted to our own heterogeneity and richness. In fact, there is enough diversity on both sides to confound the best sociologist.
So "enemy" is too telegraphic to capture this dynamic: it simplifies a mobile puzzle. I am not someone who believes our differences need be resolved or even mutually accepted: it is the very opportunity to examine a culture whose state structure is in profound disagreement with our own beliefs that makes Russian culture recurrently interesting. The balance, in my view, is not an inventory of "difference/similarity," but rather a distinction between, on the one hand, issues on which we cannot compromise and, on the other hand, matters of trivial, pugnacious contrast.
What new projects or events does REES have in the works?
In addition to our calendar of events, let me share two sets of larger-scale initiatives of potential interest for Pitt faculty and students, as well as the community beyond the Pitt campus.
First, in keeping with the REES mission (and in response to the Pitt's Global Plan), we are actively building new partnerships with three major institutions across Eurasia: Herder Institute (Marburg); Central European University (Budapest); and the Presidential Academy of National Economy and Public Administration (RANEPA) in Moscow (more on that effort here). These partnerships aim to foster international research collaborations, student exchanges, and opportunities to host global professorships — that is, visiting scholars who come to Pitt to teach and conduct research.
Second, for professional-school students across campus in business, engineering, law, and public policy, REES is developing a study-abroad course on the global impact of contemporary trends in the natural gas and other energy sectors.
What kind of profile does Pitt's REES have in the field?
Two things distinguish Pitt's REES from similar centers at other universities. First, through generous funding from the University Center for International Studies (UCIS), REES selects two early-career scholars for our nationally-recognized postdoctoral program. This year, Ainur Begim (Yale PhD 2016) and Patryk Reid (U of Illinois PhD 2016) have joined both REES and their respective Pitt departments of anthropology and history.
A second distinctive feature is the REES Summer Language Institute, for both Pitt and non-Pitt students in a variety of programs, including Project GO, which offers critical languages to ROTC students, and STARTALK, an intensive Russian language classes for high-school students.
What strengths do you bring to the center?
I bring to REES a half century of study and research in the Soviet Union and Russia, as well as the GDR (East Germany), supported by U.S. government fellowships from the Department of Education and Department of State. These years have included semesters at Leningrad and Moscow State Universities, Gorky Institute of World Literature, and the Union of Cinematographers. While UCIS Center directors are often social scientists, I am from the humanities. My field is contemporary Russian cinema, including films in negotiation for co-production and pre-production.
What do you enjoy most about your work at Pitt?
At the risk of sounding like a member of the Politburo, I would say that REES's legacy of strong leadership — Ron Linden, Bob Hayden, Andy Konitzer, Dawn Seckler — as well as the contributions of David Birnbaum, chair of Slavic, is the enduring dimension I value most here at Pitt. A community of experts, be they scholars or staff, is a source of enormous intellectual and psychological support, even when we disagree — or especially in the midst of our disagreements. It is university life at its most engaging level.
This interview has been edited for length.
Other Stories From This Issue
There are no stories for the issue at this time.
On the Freedom Road

Follow a group of Pitt students on the Returning to the Roots of Civil Rights bus tour, a nine-day, 2,300-mile journey crisscrossing five states.
Day 1: The Awakening
Day 2: Deep Impressions
Day 3: Music, Montgomery, and More
Day 4: Looking Back, Looking Forward
Day 5: Learning to Remember
Day 6: The Mountaintop
Day 7: Slavery and Beyond
Day 8: Lessons to Bring Home
Day 9: Final Lessons