Q&A: School of Social Work's Valire Carr Copeland
By B. Denise Hawkins
Issue Date:
January 11, 2017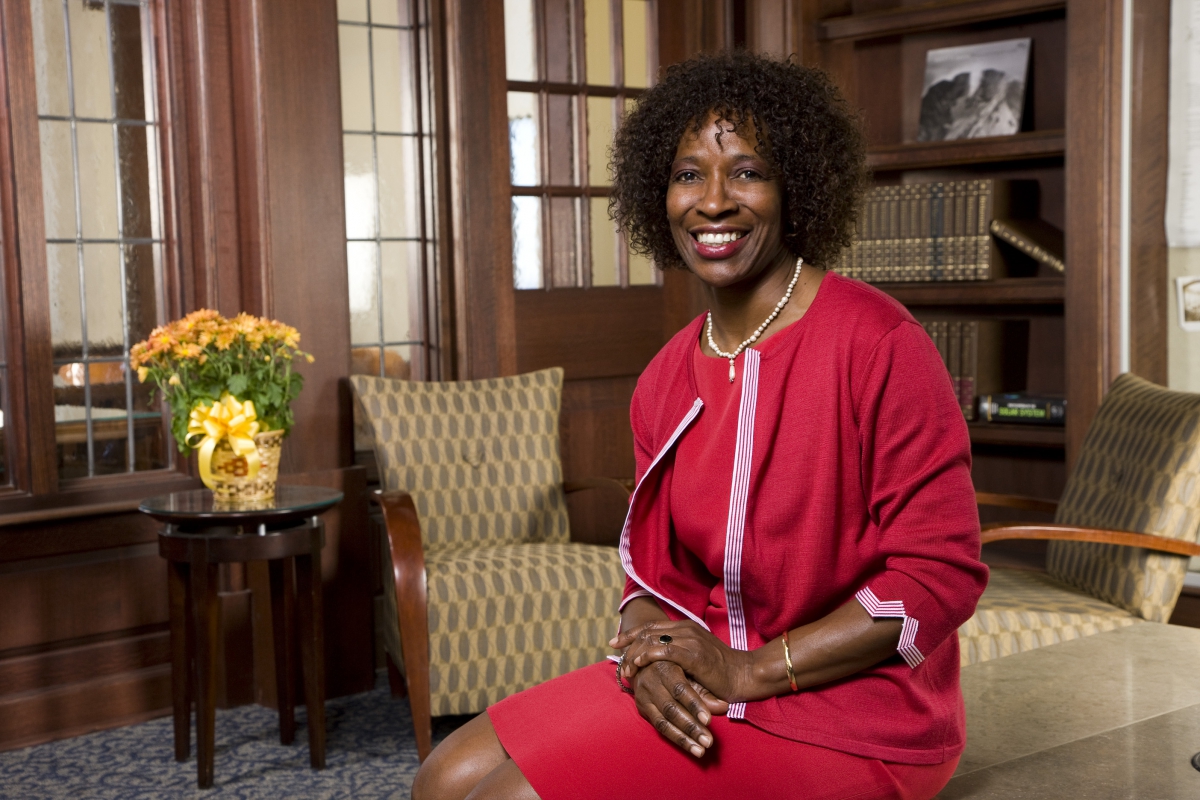 Valire Carr Copeland is the School of Social Work's associate dean of academic affairs, the associate director of the Public Health Social Work Training Program, and faculty affiliate in the Center for Health Equity at the University of Pittsburgh's Graduate School of Public Health. She earned her PhD in social work from Pitt in 1989.
She said much of her scholarship on black women and the impact of racism and stress is influenced by the African-American women she knew growing up in small, racially segregated Salisbury, N.C. Many women there had little or no formal education and worked as domestic workers, including Copeland's mother, and aunts.
Can you tell us more about the women who were part of your community growing up and why they continue to inspire the work that you do?
They were "the matriarchs" of families, always the ones to give when others didn't have, or to nurse someone back to health. But being the consummate caregivers came with a price — they didn't take care of themselves. In addition, society's ills sickened them, too. When these black women stepped outside of their community, they were never treated with the respect they deserved or with the same respect that white women were given.
Living with relentless discrimination and racism crippled their spirits and burdened their bodies. Their experiences were real, but it's just been about a decade since scholars confirmed the negative impact of racism and discrimination on the mental and physical health status of African Americans.
You've devoted your work to the elimination of disparities in child welfare and maternal and child health. What continues to concern you on this topic?
When I was entering the field of social work, the emphasis was on the pathology of women and children in the system. What was missing were the stories about the reality and value of strong African-American women — the matriarchs that I saw growing up. Even today, women of color have to deal with discrimination, racism, violence, and oppression. These are factors that exacerbate the daily stress already present in their lives, including struggling to be caregivers to all.
When it comes to the field, no doubt, much has changed since you earned your undergraduate degree.
Looking at projections over the next 10 years, we know that the majority of jobs in social work will be in health care. That's why I'm working mostly on workforce training for social workers. The health care field is moving toward more interprofessional and interdisciplinary work and bringing others, including social workers, onto the health care team. What that means for Pitt students is that they will be able to take advantage of new opportunities opening up in primary care and in traditional health care organizations.
The School of Social Work applied for and was awarded a three-year federal grant to train master's level social work students to work in integrated behavioral health care settings where they can identify and treat young adults between the ages 16 and 25. We also developed a curriculum for graduate-level social work students and now offer an Integrated Healthcare Certificate.
Where will your writing and research efforts take you next?
I am extending my research focus to examine end-of-life care and the implications for African-American women who have traditionally fulfilled a matriarchal role in their families. What concerns me is the way in which they come to terms with and reconcile their imminent death.
I've also edited a four-volume reference book titled People of Color in the United States: Contemporary Issues in Education, Work, Communities, Health, and Immigration, published in October 2016 by ABC-CLIO Greenwood Press.
Did you know early on that you wanted to be in social work?
I didn't. My mentor helped me get a part-time job as a community worker when I was an undergraduate at Livingstone College in 1973, and he helped convince me that social work was my calling. As a community worker, my assignment was to develop social and recreational programs to keep a community of black children living in a public housing development off the streets so that they wouldn't become juvenile delinquents. My family narrowly missed landing on the welfare rolls, but the children I worked with were all on welfare. I looked like them and they opened up to me about their frustrations. I learned from them about what it was like to be in the child welfare system. Their social workers, mostly white women, would often come by their apartments, but they didn't have a clue about what it meant to be black and poor.
That was more than 40 years ago. What's changed when it comes to child welfare and those who are responsible today for providing services?
In many ways, the system today resembles the one I learned about back then. Now, I can use my teaching in courses like "Clinical Social Work with African-American Families" to help prepare a new generation of enlightened, Pitt-trained social workers. I want them to be able to deliver culturally relevant services and programs to women and children who are different from them. And I want them to be willing advocates for social justice in a system where families of color are still overrepresented.
This interview has been edited for clarity and length.
Other Stories From This Issue
There are no stories for the issue at this time.
On the Freedom Road

Follow a group of Pitt students on the Returning to the Roots of Civil Rights bus tour, a nine-day, 2,300-mile journey crisscrossing five states.
Day 1: The Awakening
Day 2: Deep Impressions
Day 3: Music, Montgomery, and More
Day 4: Looking Back, Looking Forward
Day 5: Learning to Remember
Day 6: The Mountaintop
Day 7: Slavery and Beyond
Day 8: Lessons to Bring Home
Day 9: Final Lessons