Q&A with Slavic Languages and Literatures Professor Oscar Swan
Issue Date:
May 30, 2016
When Oscar Swan began a graduate program in Slavic languages and literatures at the University of California, Berkeley, he had intended to study Bulgarian as his second language after Russian. But the absence of a Bulgarian language professor and tight competition for fellowships in Russian changed his plans. He received a fellowship to study in Poland instead and became fascinated with the European nation's culture and language. While Swan is not of Polish ancestry, he has taught and authored books for more than 40 years that reflect his passion for decoding Poland and its culture. He was the first American to be selected for the Thesaurus Poloniae Award, presented by the International Cultural Centre in Krakow in 2010. He also received the 2007 Polonicum Award from the University of Warsaw for his outstanding promulgation of Polish language, literature, and culture outside of Poland. The author of more than 15 books and an online Polish dictionary, Swan's most recent work is Kaleidoscope of Poland (University of Pittsburgh Press, 2015), a collection of around 900 short articles on Polish history and culture.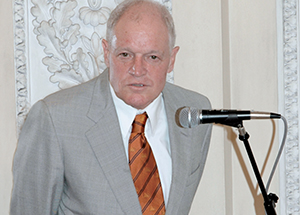 Kaleidoscope is described as a cultural encyclopedia and contains 900 text entries and 600 illustrations. How did the project originate?
Kaleidoscope grew out of my online dictionary of Polish. I noticed from the start that a lot of the words I was registering had a cultural component that was best described in a format other than a dictionary. There seemed to me to be no point to defining "Marzec"—Polish for "March"—without mentioning that this was the month in 1968 when street protests about cultural censorship broke out across Poland. To this day, journalists in Poland use the word "Marzec" all by itself to refer to those events. I began to collect other words and terms that are commonplace in Polish culture and history. These words and phrases are usual terms of discourse among Poles, but people on the outside have no way of knowing about them except by being told. That became the task of my book: to write a Polish cultural decoder for foreigners.
Do you have a favorite entry?
My favorite entries are probably the ones that I neglected to include. I am currently working on a translation of a fascinating description of Polish culture from the mid-18th century, written by a little-known eyewitness of those times, Jedrzej Kitowicz. I see him as a kind of kindred spirit, someone who was trying to pin down Polish culture at a time of rapid cultural transition. I barely had the opportunity to slip in a dedication to him before Kaleidoscope went to press, but I think he deserves a full entry. My favorite entries that made it into Kaleidoscope are ones that have a personal nostalgic meaning for me; like the entry on the now-defunct Berlin-Warsaw-Prague bicycle Peace Race, or the description of hitchhiking booklets with coupons that, in the 1960s-80s, you would give to a driver according to the number of kilometers he or she would take you. The drivers would use the coupons to enter lotteries for prizes.
What might surprise readers of this book?
The Polish-Jewish contribution to world culture is probably more considerable than most people realize. I was surprised by how many Israeli politicians were born in Poland. So many moguls and other personalities of the early Hollywood film industry had Polish-Jewish roots, including the Warner Brothers and Samuel Goldwyn. Max Factor, who supposedly coined the term "makeup," was a Polish-Jewish cosmetologist and wigmaker before he became makeup artist to the stars in the early 1900s.
What one idea do you want readers to get out of reading Kaleidoscope of Poland?
That whatever country of Europe one chooses to become interested in or wants to visit, there's much more to discover than can possibly be known by a single individual, no matter how diligently he or she pursues the interest. This is true even if the interest becomes one's life's work. Poland is a pretty large country, and I realize how ignorant I still am of vast stretches of its geography. It's impossible to keep up with current events in a place without being there all the time.
You've taught Polish language, literature, and culture at Pitt for more than 40 years. When students leave your classroom, what would you like them to take with them?
When showing videos of a certain vintage in my classes, I understand that none of my students shares my enthusiasm for identifying the kinds of automobiles once driven or of cigarette brands once smoked. I have to leave it up to students to find their own kind of fascination with the country as it exists now, and on their own terms. All I can do is to facilitate travel to and study in Poland, which no one in my memory has ever remotely regretted. In the end, I try to teach facility in the language, which is no trivial task.
Other Stories From This Issue
There are no stories for the issue at this time.
On the Freedom Road

Follow a group of Pitt students on the Returning to the Roots of Civil Rights bus tour, a nine-day, 2,300-mile journey crisscrossing five states.
Day 1: The Awakening
Day 2: Deep Impressions
Day 3: Music, Montgomery, and More
Day 4: Looking Back, Looking Forward
Day 5: Learning to Remember
Day 6: The Mountaintop
Day 7: Slavery and Beyond
Day 8: Lessons to Bring Home
Day 9: Final Lessons