Quartet of Mentors Honored by Provost for Dedication to Doctoral Students
By Sharon S. Blake
Issue Date:
April 19, 2017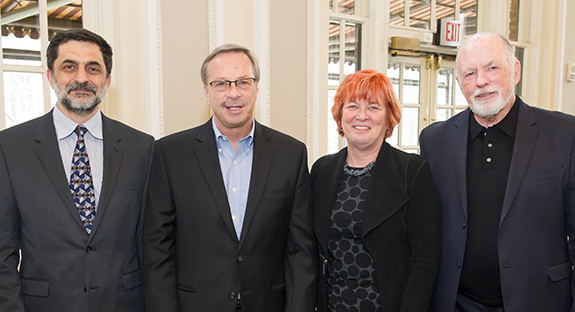 Maria Harrington (SIS '08) recently flew from her home in Orlando, Florida, to Pittsburgh so she could personally congratulate her former instructor Peter Brusilovsky for making such a difference in her life.
"I owe everything to Peter," said Harrington, now an assistant professor of digital media at University of Central Florida. "Not only did he advise me as a student, he was 100 percent behind all my job searches. He went above and beyond."
Brusilovsky, a Pitt professor of information sciences, was one of four Pitt faculty members who received the 2017 Provost's Award for Excellence in Mentoring at an April 3 ceremony in the William Pitt Union. The annual award, which includes a check for $2,500, is given to faculty members who demonstrate outstanding mentoring of a student seeking a research doctorate degree.
In her remarks, Provost Patricia E. Beeson said that mentors are "the people who have the most lasting impact on us." Brusilovsky, she noted, not only encouraged students to broaden their scientific horizons, he showed them how to handle the life-work balance by taking them to concerts, the ballet and on picnics.
Harrington says Brusilovsky allowed students to discover their own voices and directions.
"He worked hard to make sure we all found the right place to flourish," she said.
William Dunn, professor in Pitt's Graduate School of Public and International Affairs, is another award winner. He has supervised more doctoral dissertations than anyone else in GSPIA's history, and his mentees have gone on to leadership positions in think tanks and universities the world over. He says he has maintained a lifelong relationship with them.
"In graduate studies," Dunn said, "mentoring is probably the most important thing we do."
One of his mentees on hand to congratulate him was Kevin Kearns (GSPIA '80), who is now director of Pitt's Johnson Institute for Responsible Leadership. "Bill inspired me to look at a problem from many perspectives, not just one," he said, adding "It was the personal example he set."

Professor of epidemiology Andrea Kriska was the third winner announced, though she was unable to attend the ceremony. Among her professional accomplishments, Kriska led the development of the physical activity component of the U.S. Diabetes Prevention Program and developed a questionnaire that is now used globally for health-related research.
Alan Utter calls himself fortunate to be one of Kriska's mentees. He says he learned to continually challenge himself. To that end, he has just accepted a new position as provost of Texas Woman's University.
"It was through Andrea's encouragement that I was able to study the association between physical inactivity and gallstone disease," he said. "To be one of the first to explore this relationship got me excited about the research and the generation of new knowledge."
"The smartest things I have ever done was to choose my own mentors wisely," Kriska said. "They still support me to this day and they are a large part of the reason I am able to be a good mentor."
Next at the podium was John Prescott, who also said that mentoring is "the central job of being a professor." As the Thomas O'Brien Chair of Strategy and professor of business administration at the Joseph M. Katz Graduate School of Business, he has served on some 70 dissertations committees and seen his students become professors at universities all over the world, from New York to Dublin.
One of his students, third-year PhD student Emily Bulger, is a major in the U.S. Air Force. When she earned her master's degree, she taught at the Air Force Academy in Colorado Springs, Colorado. Soon she'll go back there with a PhD to teach high level strategic management courses to cadets.
"He's always getting me to think differently," she said of her mentor. "He gives me feedback, but also lets me figure things out on my own."
Other Stories From This Issue
There are no stories for the issue at this time.
On the Freedom Road

Follow a group of Pitt students on the Returning to the Roots of Civil Rights bus tour, a nine-day, 2,300-mile journey crisscrossing five states.
Day 1: The Awakening
Day 2: Deep Impressions
Day 3: Music, Montgomery, and More
Day 4: Looking Back, Looking Forward
Day 5: Learning to Remember
Day 6: The Mountaintop
Day 7: Slavery and Beyond
Day 8: Lessons to Bring Home
Day 9: Final Lessons