Randall Family Big Idea Competition Gives Golden Tickets to Student Business Endeavors
By Micaela Fox Corn
Issue Date:
April 5, 2017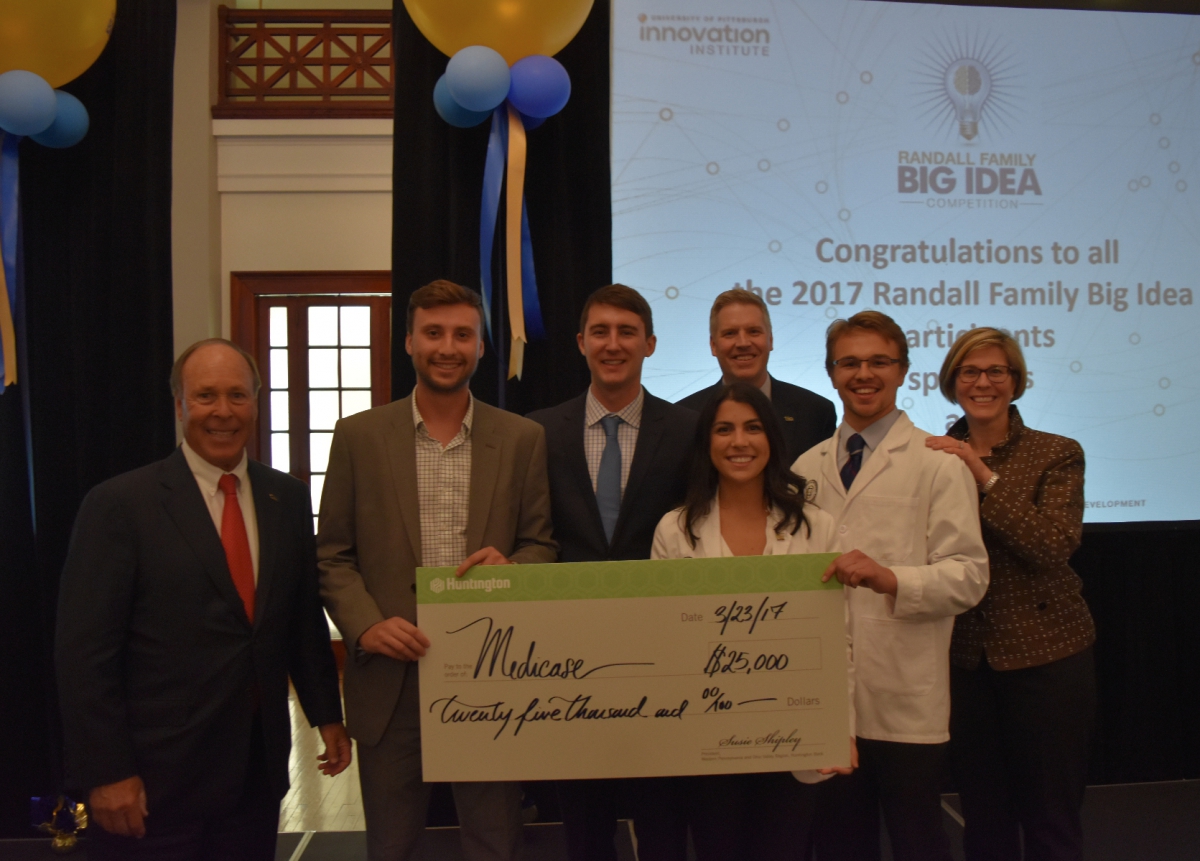 A computer science graduate student, two pharmacy students, and a computer science major walk into a Hackathon.
They walk out 24 hours later with caffeine jitters, a small, cardboard-Pez-dispenser-combination box, a rudimentary phone app, and a second place prize in the day's innovation challenge.
From these unlikely beginnings came MediCase: the idea for a phone case that doubles as a pillbox, connected to an app that reminds users when to take their medication.
More recently, MediCase was one of 35 entrepreneurial finalist teams at another event: Pitt's ninth annual — and biggest ever — Randall Family Big Idea Competition, the premier student innovation challenge in Western Pennsylvania.
For the competition's finale, Alumni Hall's Connolly Ballroom was transformed into a Big Idea Awards Showcase on a Thursday evening in late March. Teams of hopeful Pitt students (freshmen to postdocs from nearly all 16 schools) pitched their startups and prototypes to a roomful of mentors, judges, business professionals, and the general public. Robert Randall, the arbiter of the competition, made the rounds to ask how each competitor would fill an unmet need to make the world a better place.
The innovations ranged from biodegradable, flavored edible utensils, to fade-resistant tattoo ink, to an app that helps people stay on track with their physical therapy exercise regimens.
"This is what universities need to be doing." Randall said. "Creating real world education, value, and experience. This is pure."
Somewhere in the hubbub, keynote speaker Jason Putorti (A&S '02) tweeted from the floor, "There's higher quality startups here at @PittInnovates from Pitt students than at most startup competitions" — high praise from the Pitt grad turned Silicon Valley venture designer. Putorti now works at the startup hub, AngelList.

By the end of the night, the Randall Family donated a total of $100,000 in cash prizes to 14 of the 35 finalists, giving them support to get their Big Ideas to market. MediCase took home the grand prize of $25,000. Awards for best video sales pitch and a people's choice Big Idea were also given.
The University is a microcosm for the future of innovation, Randall noted, saying to the students, "It isn't whether you win or lose at this stage; it's what you gained going through the process.
"What's happened here can happen anywhere. It takes the right people, the right commitment, and the right ideas," he said.
Previous winner Noah Snyder concurred: "This isn't just a game or fun activity," he said at the start of the Big Idea awards ceremony. "This is opening up new opportunities, new career pathways."
"MediCase is exactly the kind of team we want to work with," said Babs Carryer, Big Idea Competition coordinator. "From an idea the team has flourished under the Innovation Institute's programming like the Randall Family Big Idea Competition. It's what we do. MediCase is why."
See more from the pitch competition with the hashtag #PittBigIdea.
The Case for MediCase
Two pharmacy students, Lauren Brock and Collin Wolf, independently arrived at the idea for a product like MediCase while taking a special topics course introducing pharmacy students to business endeavors.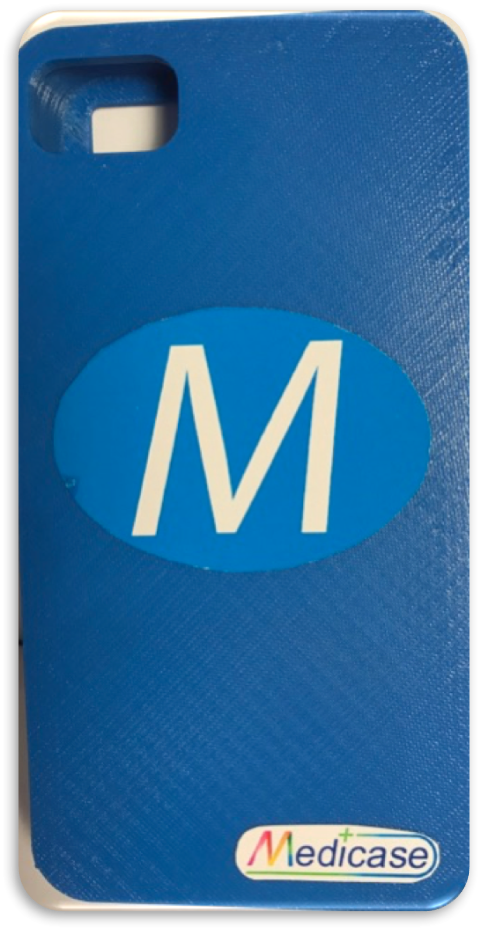 "We learn a ton about science in pharmacy, but not so much about all the business across the pharmaceutical industry," says Lauren Brock, a first-year student and MediCase team member.
Brock and Wolf joined two software engineering buffs, Edwin Mellet and Chris Corsi, to brainstorm logistics for a phone case that interacts with an app to increase medication adherence.
Their idea is based on numbers. Approximately one third of participants who begin studies drop out along the way from failing to take their medication as directed, and nonadherence can critically skew clinical trial data. It's also extremely costly for researchers to find and replace study participants — to the tune of thousands of dollars per enrollment, Brock says. Estimates across the American pharmaceutical industry indicate a $189 billion per year deficit when all studies are accounted for.
Beyond clinical trials, the average American, who takes three or more medications at a time, doesn't always adhere to their regimen either: Morning or evening? With food or without? Once a day? Twice? It can be hard to keep track. It isn't just that we're forgetful; it's hard to take medication throughout the day when it isn't always on hand.
But nowadays, almost no one leaves the house without their cellphone.
Here's how MediCase works. It has four built in chambers for four types of pills. The integrated app reminds the user when it's time to take a pill, and the user confirms reading the reminder with their fingerprint. Then the case dispenses the appropriate pills. One more fingerprint and the app locks — more secure even than a childproof pill bottle.
The MediCase team plans to use the $25,000 prize from the Randall Family Big Idea Competition to design a sleeker case and market the product.
Other Stories From This Issue
There are no stories for the issue at this time.
On the Freedom Road

Follow a group of Pitt students on the Returning to the Roots of Civil Rights bus tour, a nine-day, 2,300-mile journey crisscrossing five states.
Day 1: The Awakening
Day 2: Deep Impressions
Day 3: Music, Montgomery, and More
Day 4: Looking Back, Looking Forward
Day 5: Learning to Remember
Day 6: The Mountaintop
Day 7: Slavery and Beyond
Day 8: Lessons to Bring Home
Day 9: Final Lessons