Ravenstahl: More Progress Needed on City Diversity
By Jason Togyer
Issue Date:
October 8, 2007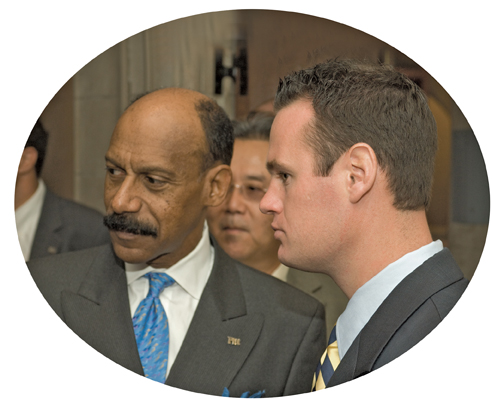 From left: Larry E. Davis, dean of Pitt's School of Social Work; Hidenori Yamatani, associate dean for research in the School of Social Work; and Pittsburgh Mayor Luke Ravenstahl.
The region's long-term population decline could be stemmed or reversed by encouraging in-migration and making the area more hospitable to underrepresented populations, Pittsburgh Mayor Luke Ravenstahl said Wednesday.
"Pittsburgh is once again America's most livable city, but to continue to make progress, we must become a more partnership-oriented and diverse city," he said. "Strong, vital cities have diverse populations as a rich resource."
Ravenstahl spoke to more than 100 people, including members of the general public and the University community, at a lecture sponsored by the Center on Race and Social Problems (CRSP) in the Charity Randall Theatre of the Stephen Foster Memorial.
The mayor's remarks were part of the center's Speaker Series, now entering its fourth year, said Larry Davis, CRSP director and dean of the School of Social Work.
Davis invited Ravenstahl to speak after learning about the mayor's initiative to increase diversity in city hiring. It was the second visit to the Oakland campus in less than two weeks by Ravenstahl, who is seeking election in November to complete the term of late Pittsburgh Mayor Bob O'Connor. On Sept. 18, Ravenstahl spoke with students at William Pitt Union at a forum for young voters.
His CRSP speech came one day after a three-and-a-half hour summit on racial equality at the Regional Enterprise Tower, Downtown, where Ravenstahl and Allegheny Chief Executive Dan Onorato were told by community leaders and educators—including John M. Wallace Jr., Pitt professor of social work, and Ralph Bangs, associate director of CRSP—that Pittsburgh is heavily segregated along racial lines. A CRSP study completed in June under Davis' leadership revealed that African Americans lag behind Whites and Hispanics in employment, annual income, and rates of home ownership.
"We need to talk about this openly and honestly," Ravenstahl said, "and we have to show that we're willing to do so at the top." Since taking office in September 2006, he said, his administration has tried to make the city's leadership "more reflective" of its population; in the past year, 53 percent of the vacancies on city authorities, commissions, and boards were filled by women, while 32 percent were filled by African Americans. In addition, both the fire chief and police chief are Black for the first time in Pittsburgh's history, Ravenstahl said.
Each of the appointments was made on merit, not to fill quotas, he said.
But several speakers at Wednesday's event questioned whether the city has actively encouraged qualified applicants to seek employment in agencies like the Pittsburgh police bureau, where most of the trainees remain White males, or in the public works department.
Ravenstahl said 24 percent of contracts administered by the city Urban Redevelopment Authority have been awarded to women- or minority-owned businesses, but admitted that the rank-and-file doesn't always reflect that diversity.
The city held 12 neighborhood meetings about job training and opportunities, he said, and sponsored a career fair at the David L. Lawrence Convention Center that attracted 4,500 people.
Others, like George Moses, a Point Breeze resident and chair of the National Low Income Housing Coalition, said gentrification efforts are chasing away poorer residents who can't afford to live in the neighborhoods being rehabilitated. Ravenstahl agreed that redevelopment must include building affordable replacement housing before old housing is torn down.
The redevelopment of the Lower Hill, including the demolition of Mellon Arena, will give Pittsburgh an opportunity to right a decades-old wrong, he said.
"Forty years ago, we tore down a neighborhood to build an arena," Ravenstahl said. "Now we have a chance to tear down an arena and build a neighborhood."
The series is sponsored by the local law firms of Buchanan Ingersoll and Rooney PC and Reed Smith LLC.
Andrew J. Cherlin, a professor of public policy at Johns Hopkins University, is the next scheduled speaker. His Nov. 15 lecture will discuss postwelfare outcomes for African Americans and Hispanics.
Community activist and former Pittsburgh City Councilman Sala Udin is scheduled to speak Dec. 3.
Both events are free and will be held in the Social Work Conference Center, 2017 Cathedral of Learning.
Other Stories From This Issue
There are no stories for the issue at this time.
On the Freedom Road

Follow a group of Pitt students on the Returning to the Roots of Civil Rights bus tour, a nine-day, 2,300-mile journey crisscrossing five states.
Day 1: The Awakening
Day 2: Deep Impressions
Day 3: Music, Montgomery, and More
Day 4: Looking Back, Looking Forward
Day 5: Learning to Remember
Day 6: The Mountaintop
Day 7: Slavery and Beyond
Day 8: Lessons to Bring Home
Day 9: Final Lessons